Bold Conversations: A presidential visit to the Middle East
During a recent trip to Israel, the Palestinian territories and Jordan, a Temple delegation engaged with educators, alumni, civic and business leaders, and government officials to discuss strengthening academic partnerships and exchange opportunities. They made diversity, equity and inclusion initiatives a priority in these conversations.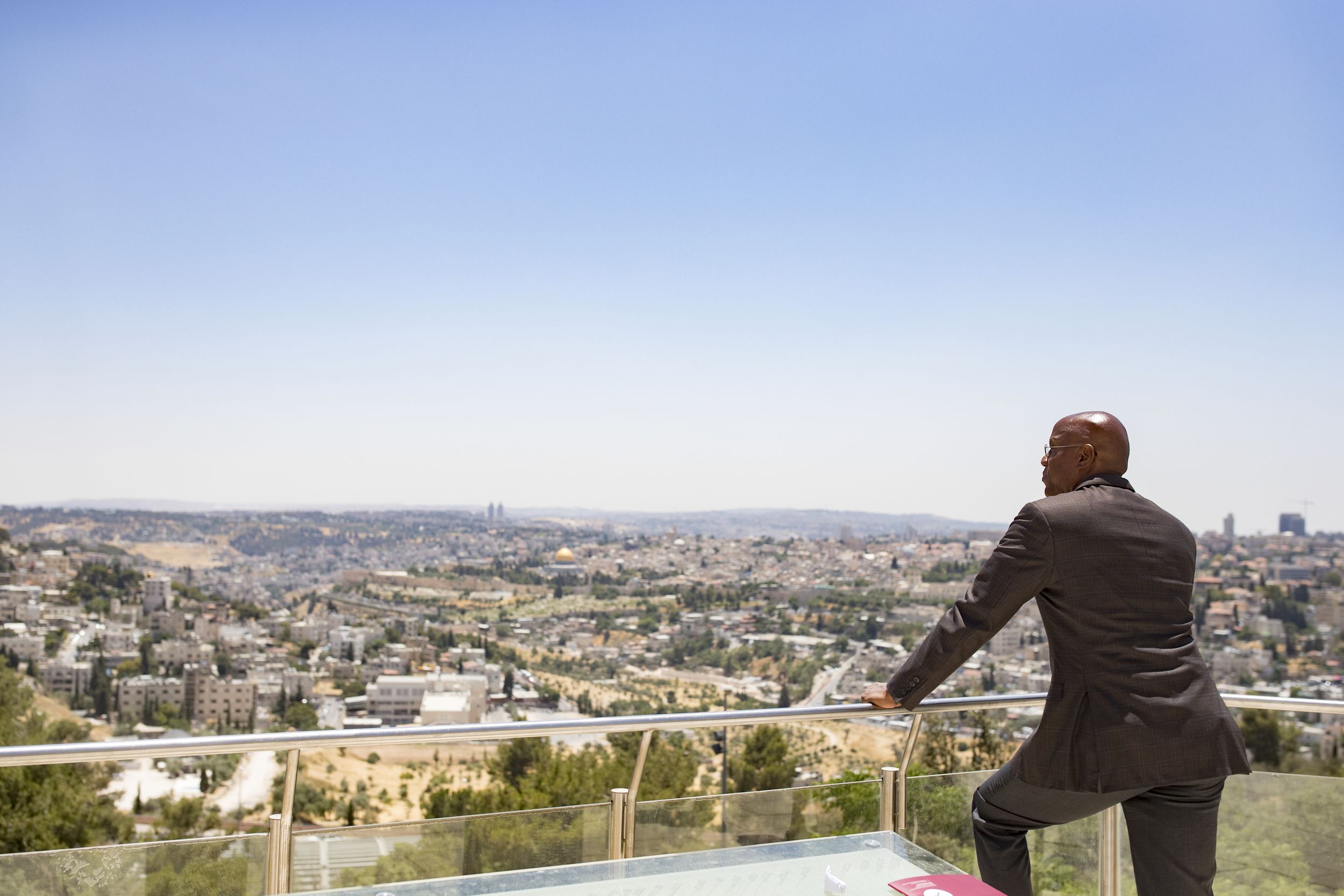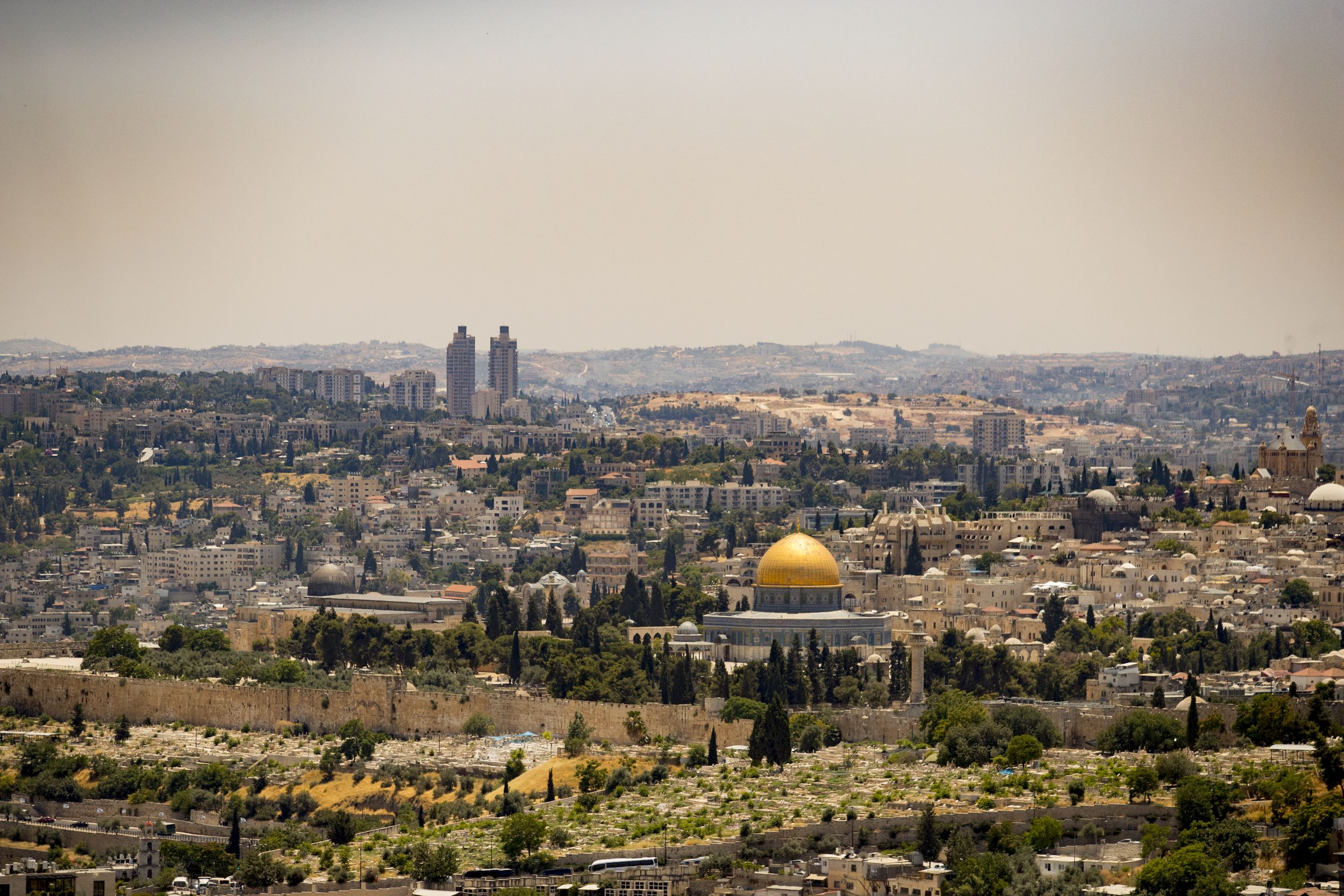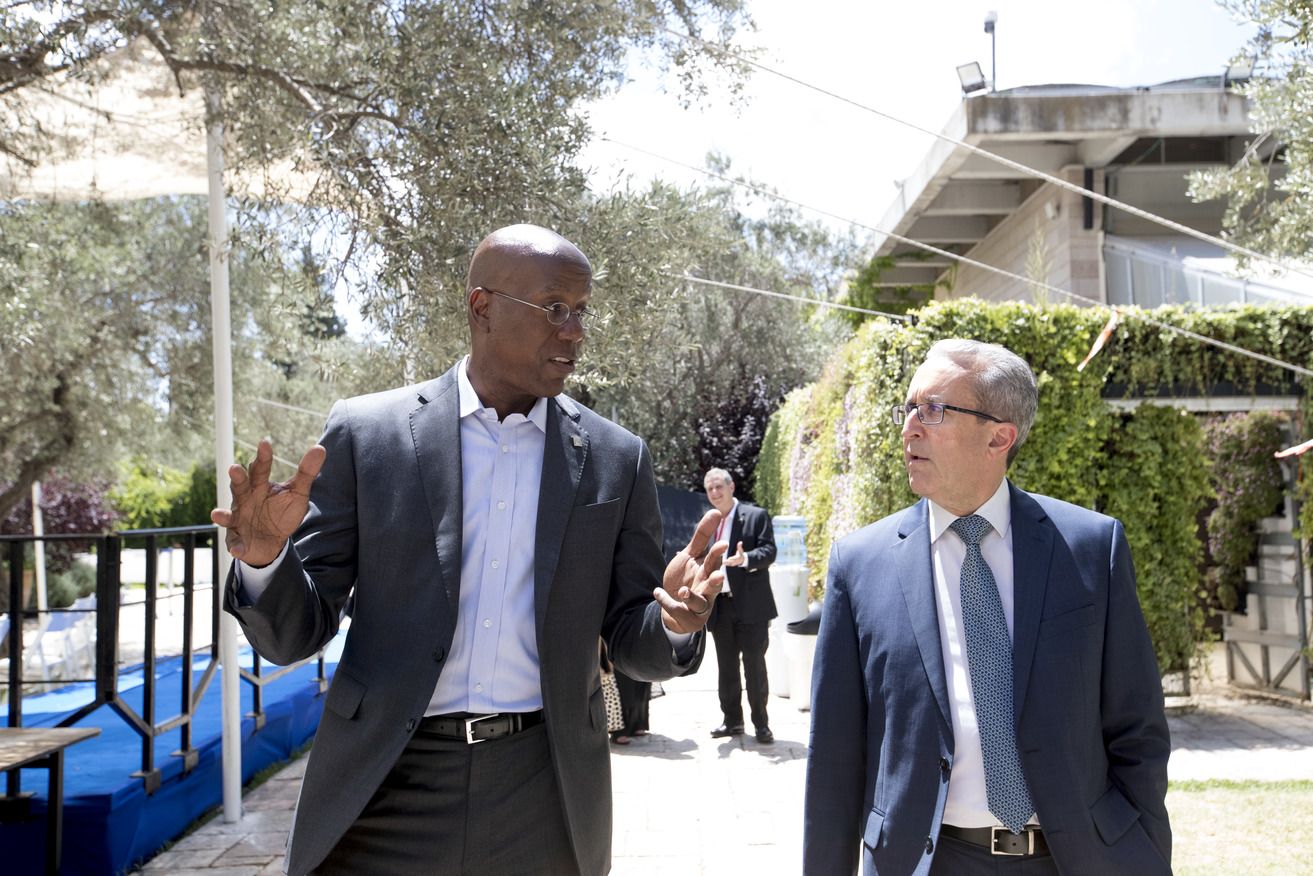 In June, a presidential delegation from Temple set out for an educational journey to Israel, the Palestinian territories and Jordan.
Why do universities take delegations abroad?
"It is essential for top-tier universities, such as Temple, to enhance a commitment to global interconnectedness by partnering with institutions abroad and learning from diverse perspectives and experiences," explained Temple President Jason Wingard.
In addition to President Wingard, the delegation included: Phil Richards, vice chair of the Board of Trustees; Gregory Mandel, provost; Valerie Harrison, vice president for diversity, equity and inclusion; Rabbi Daniel Levitt, executive director of Hillel at Temple; and Martyn Miller, assistant vice president for international affairs.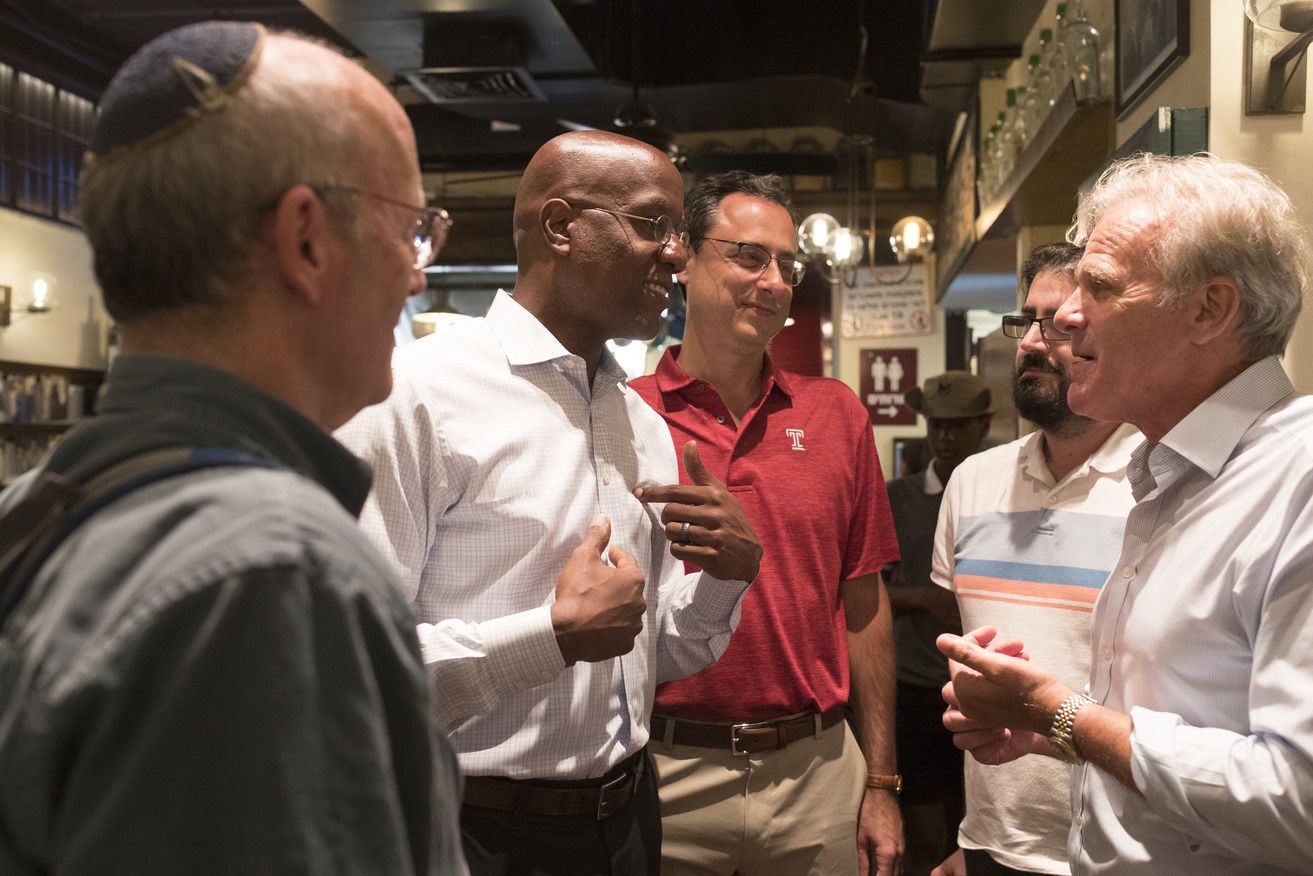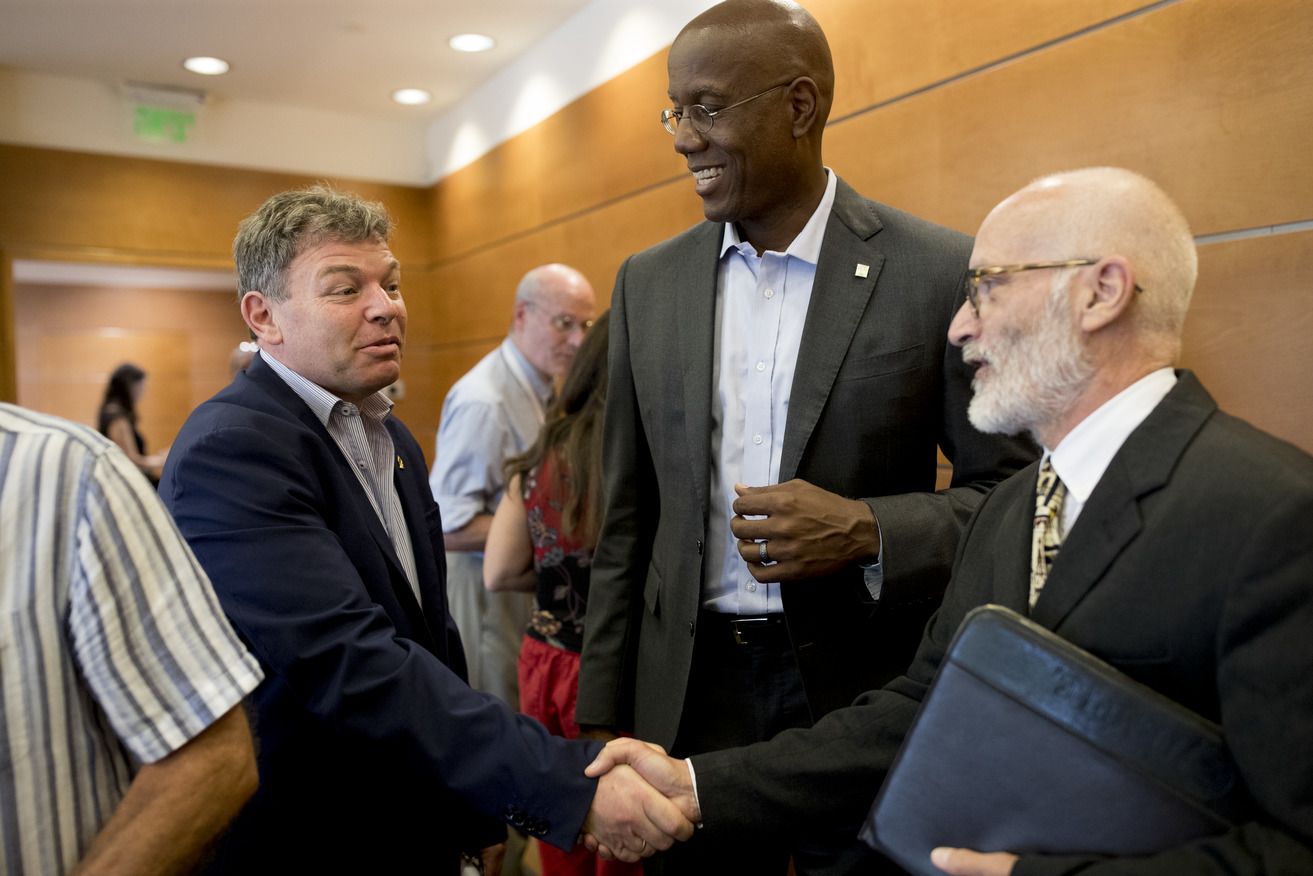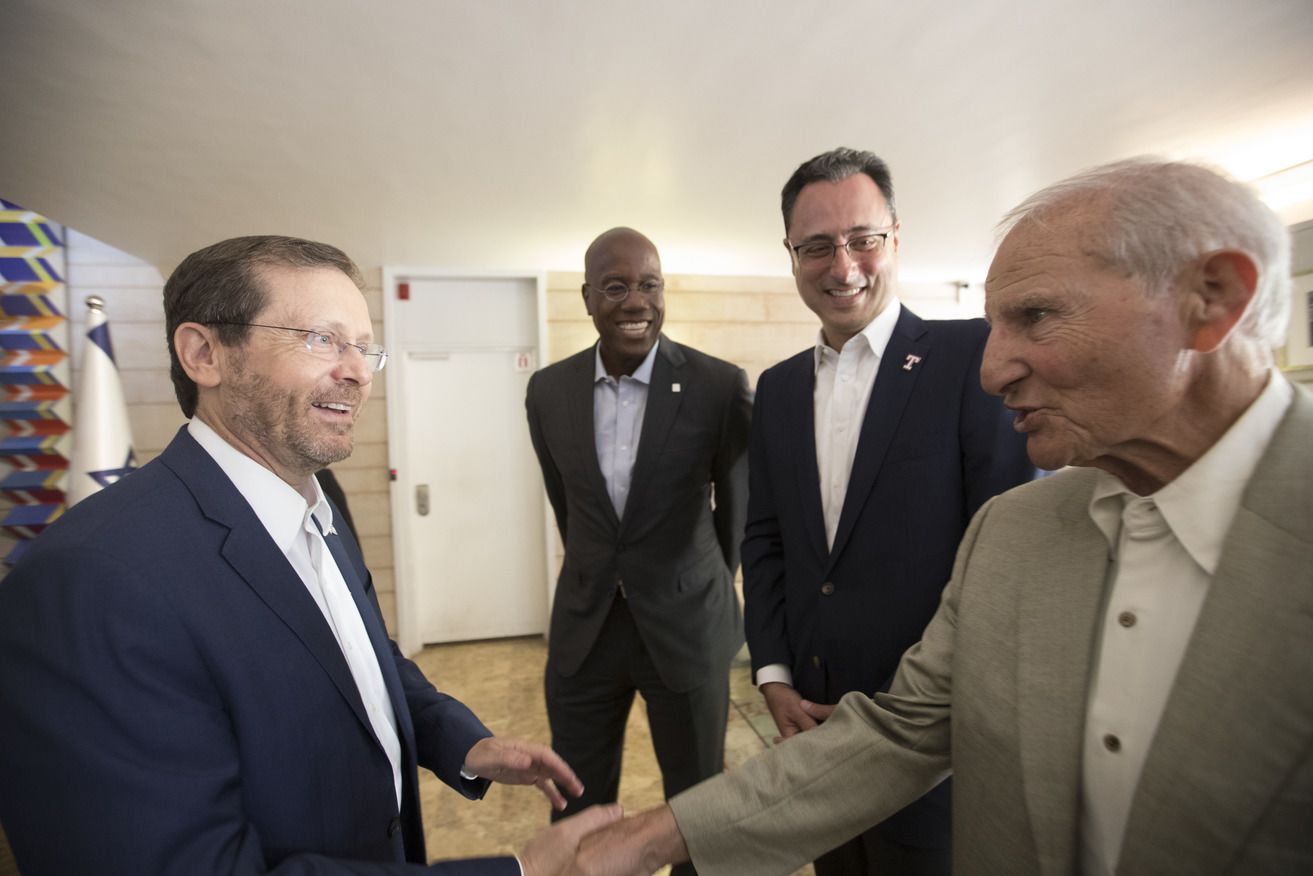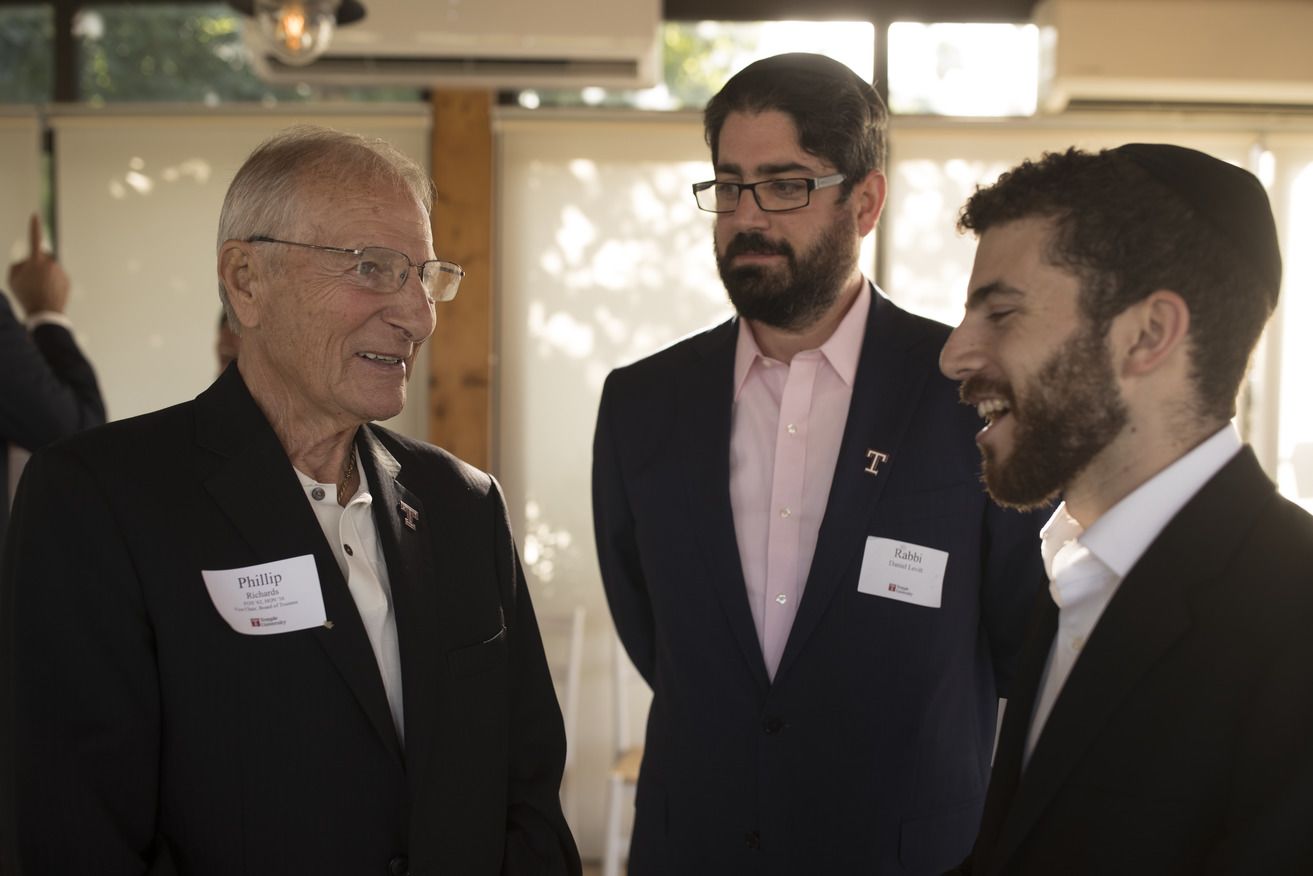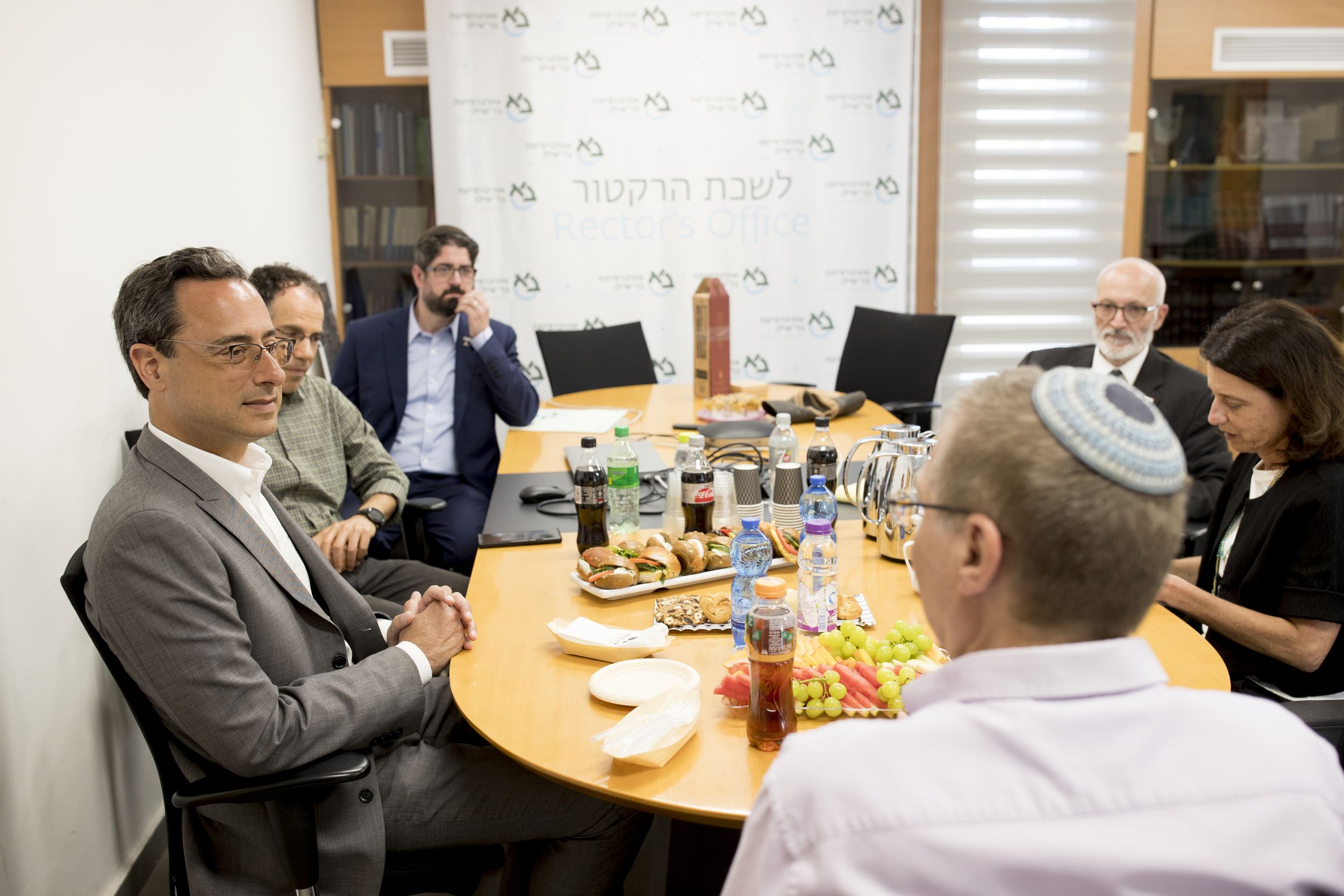 Item 1 of 5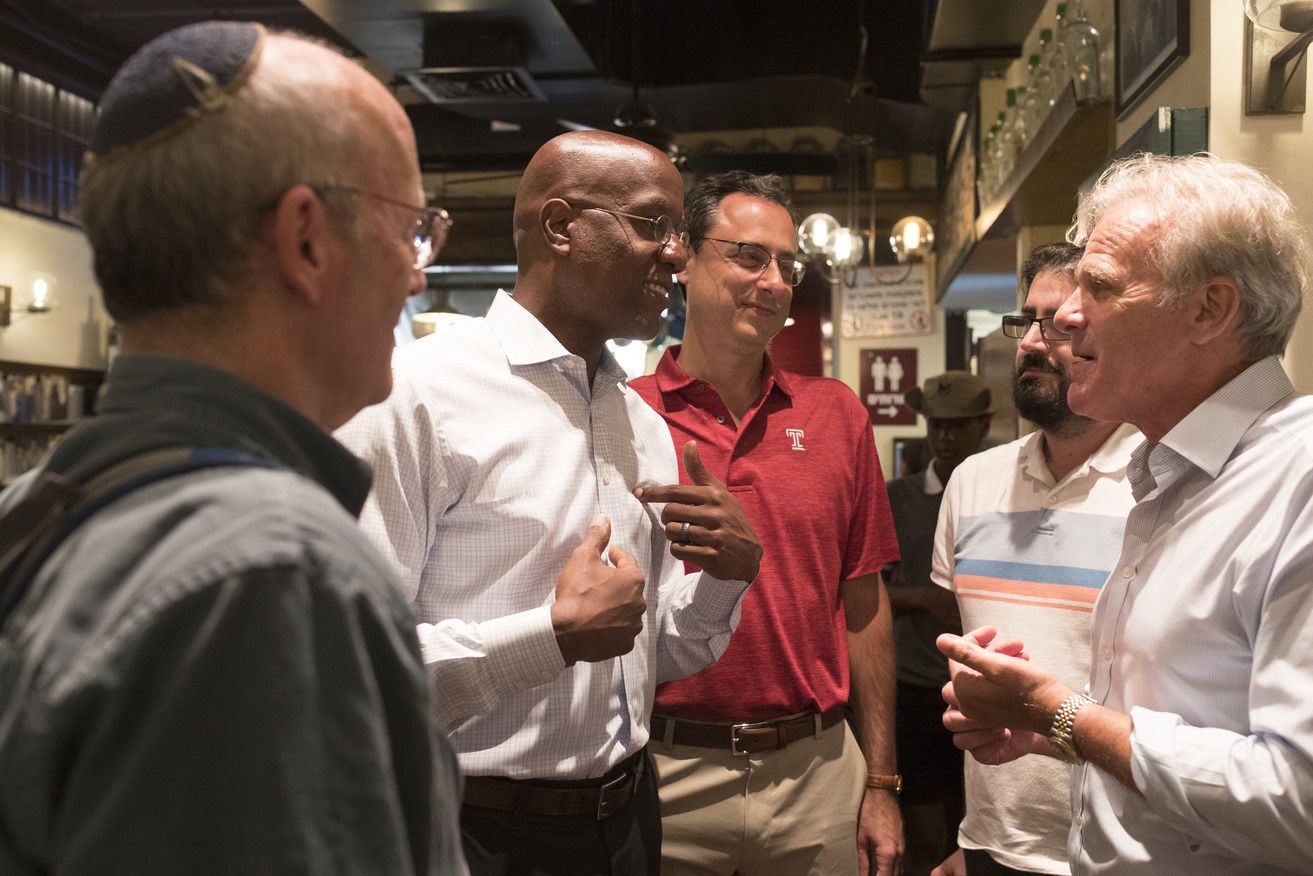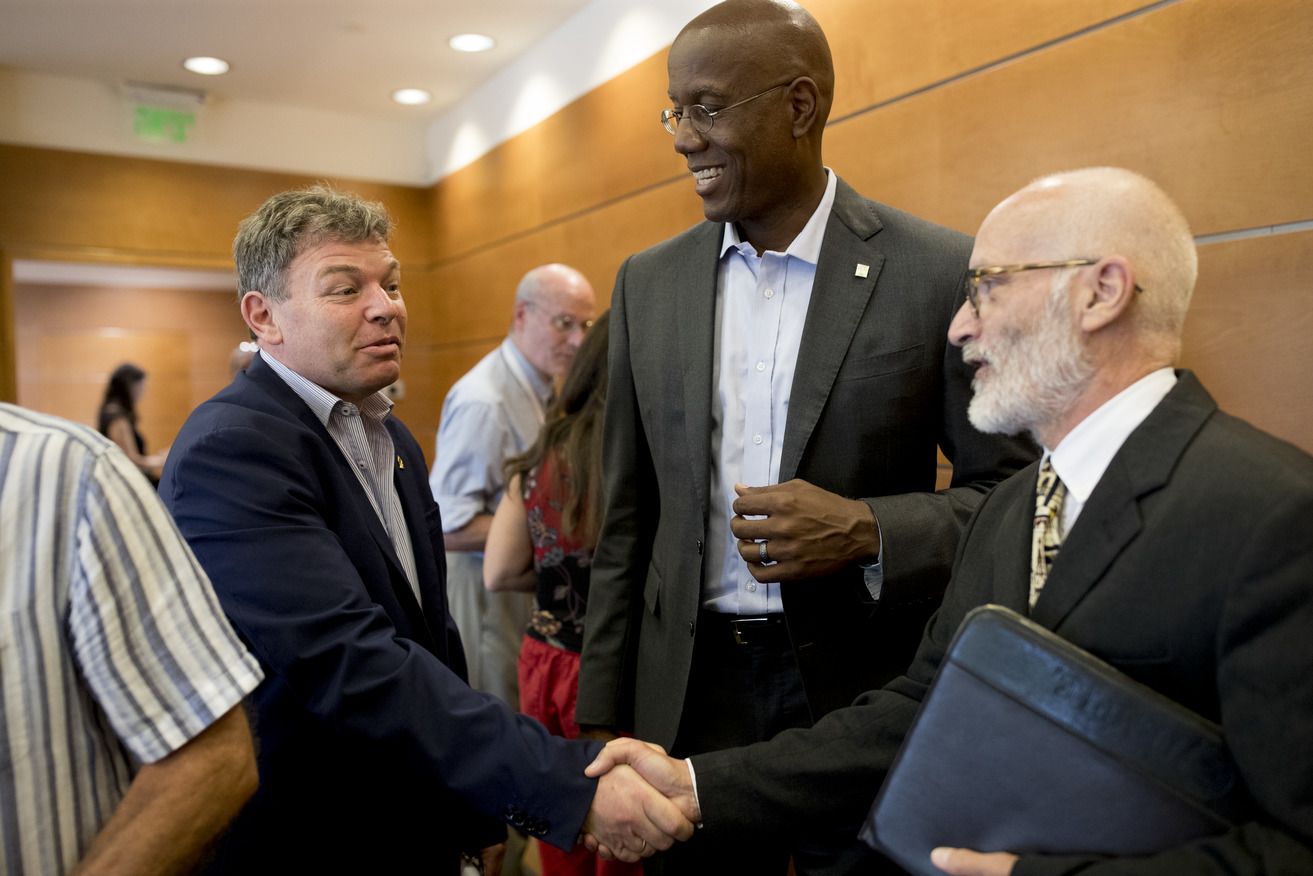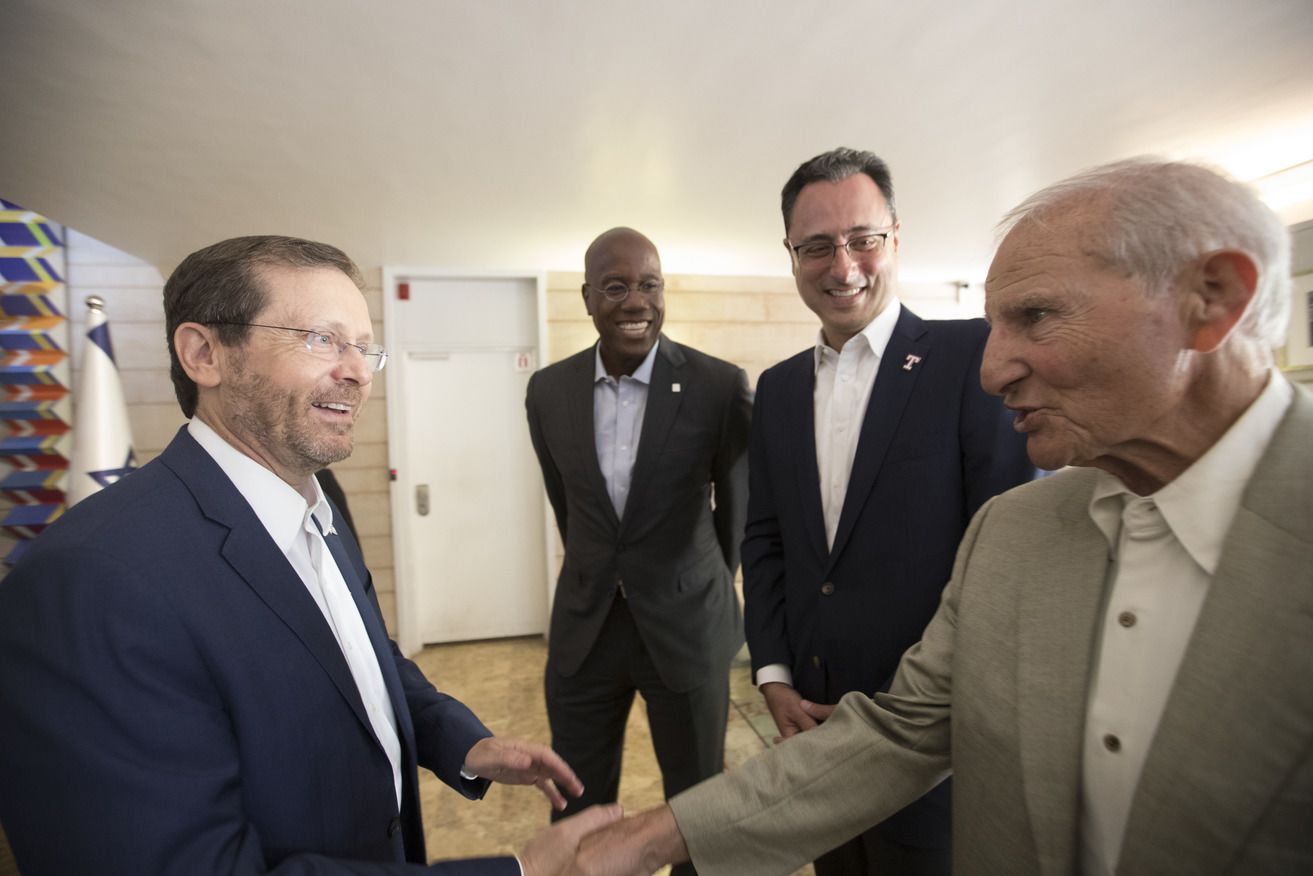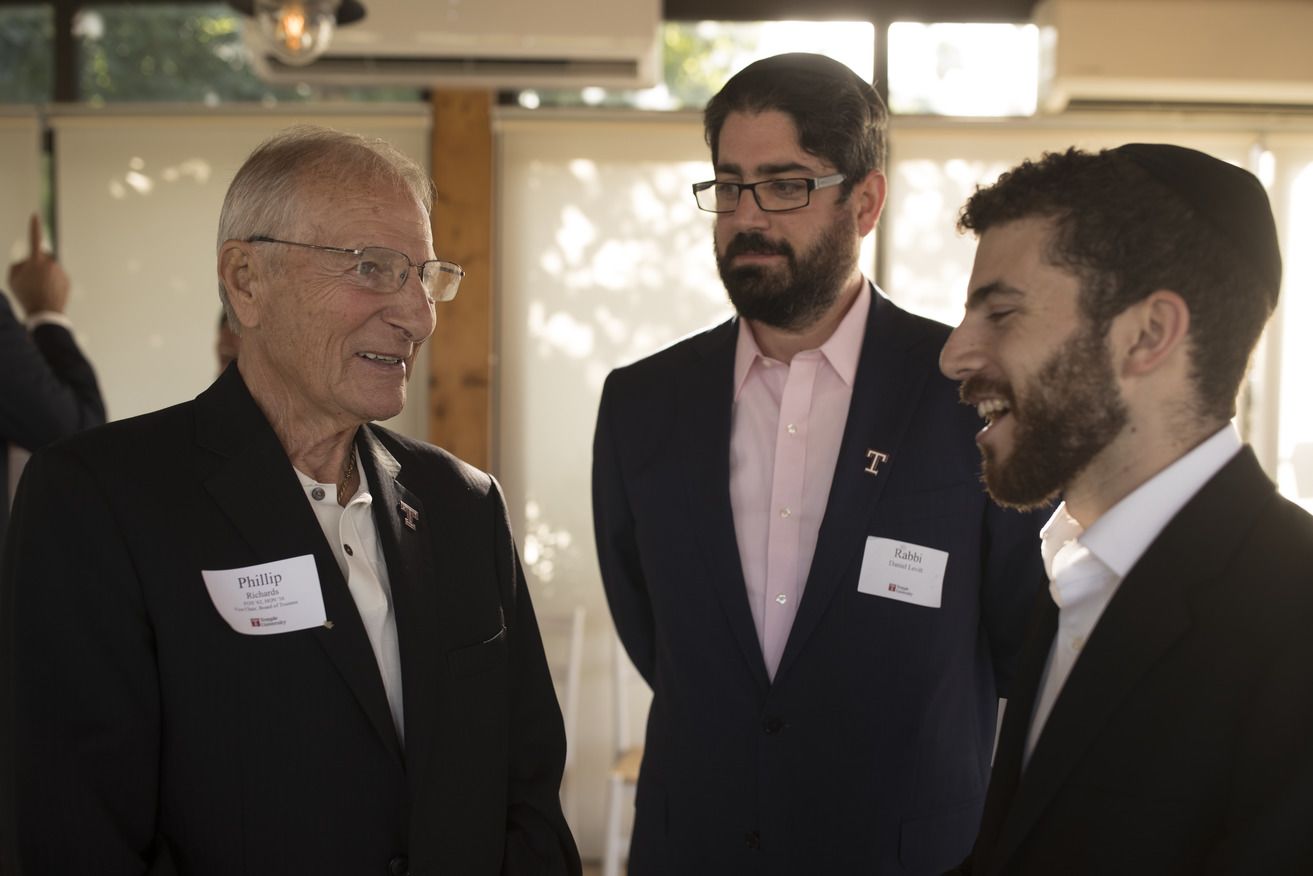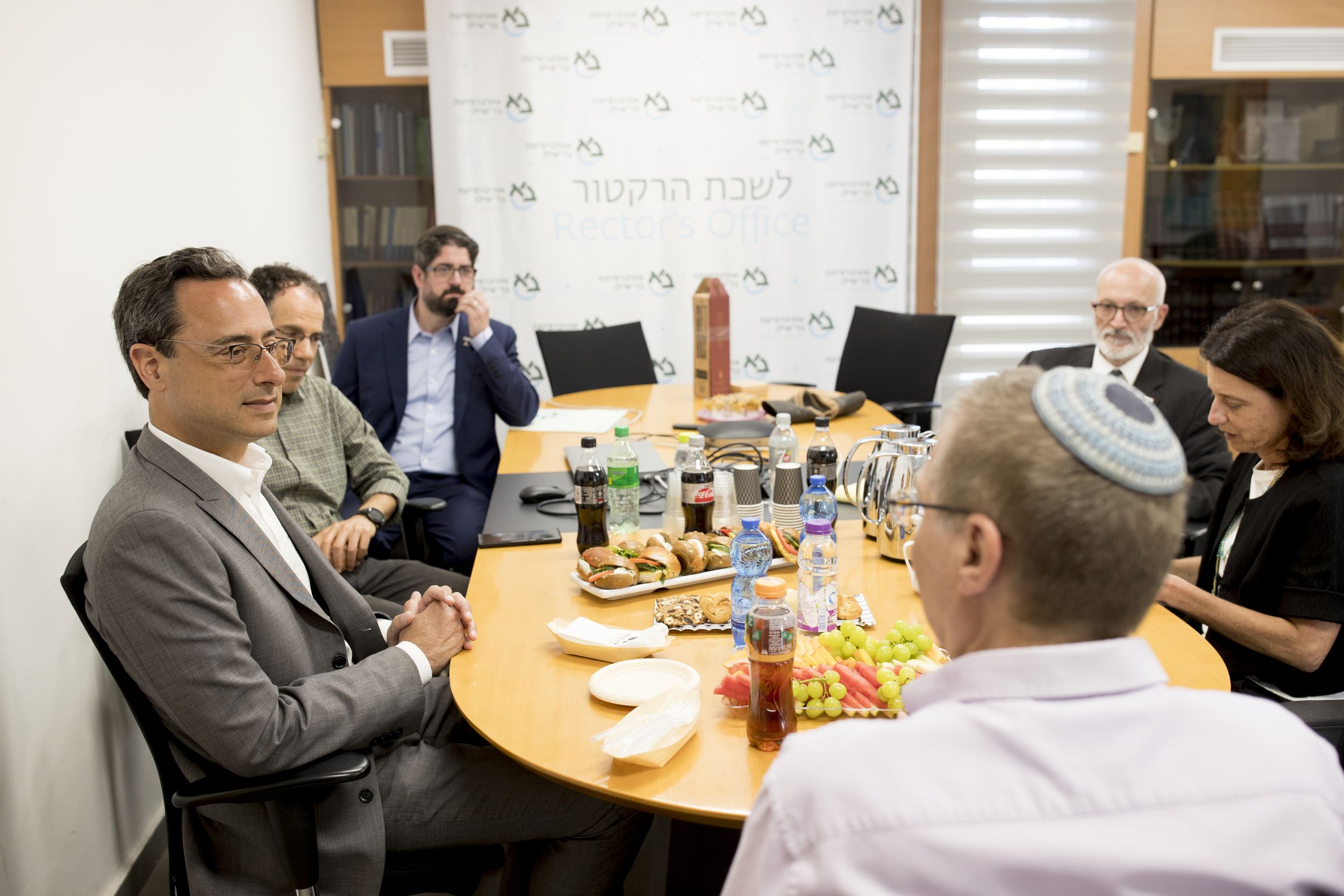 Why did Temple choose Israel, the Palestinian territories and Jordan?
According to President Wingard, the objective of the delegation was to "learn more about those targeted geographies, develop strong partnerships, and understand the complicated geopolitical situations that have manifested in forms of extremism and, in some cases, harassing behavior on campus—whether antisemitic or Islamophobic."
"The challenges faced in this region and around the globe require a continuous investment in new knowledge acquisition and best practice modeling to enhance our ability to respond to instances of extremism and discriminatory behavior," he said. "The insights gained during this visit will bolster Temple's capability and position as a catalyst for the future of learning."
"The insights gained during this visit will bolster Temple's capability and position as a catalyst for the future of learning." –Jason Wingard, president of Temple University
The delegation met with the president of Israel and five of his senior advisors, university presidents and administrators, students, alumni, and business leaders. Topics discussed included international higher education policies, expanding academic partnerships, student enrollment and service trends, and joint research and exchange programs. As well, they discussed the success of public-private university partnerships—especially in fields of technological growth—and how universities can be engines of entrepreneurship and economic development.
What were the key outcomes?
In addition to strengthening existing academic partnerships; building new ones; and connecting with top civic and business leaders, government officials, and alumni to promote economic and workforce development, the delegation learned about the critical importance of fostering dialogue among students of all backgrounds—even when topics are difficult—and brought back creative approaches to diversity, equity and inclusion efforts.
"We must collaborate, proactively engage to bridge ideological divides, and coordinate mutually beneficial relationships with our neighbors and our external partners—in our city, in our country and around the world. That was the vision for this global tour and exchange," Wingard said.
In Jordan, President Wingard led an interactive session at the Columbia University Global Center in Amman on how the scope and pace of technological innovation in the digital age are exploding and how the fundamental nature of work is transforming as a result. It's a topic he addressed in his last book The Great Skills Gap: Optimizing Talent for the Future of Work.
"As an Arab-American who was raised in Syria and Lebanon, I found watching my colleagues experience 'my' part of the world for the first time fascinating." —Martyn Miller, assistant vice president of international affairs
"In my experience, I have seen people in Israel from many different backgrounds, with different beliefs, still able to talk to each other. They truly live diversity here every day." —Rabbi Daniel Levitt, executive director of Hillel at Temple
Academic Partnerships
One of the trip's primary goals was to strengthen existing academic partnerships and build new ones.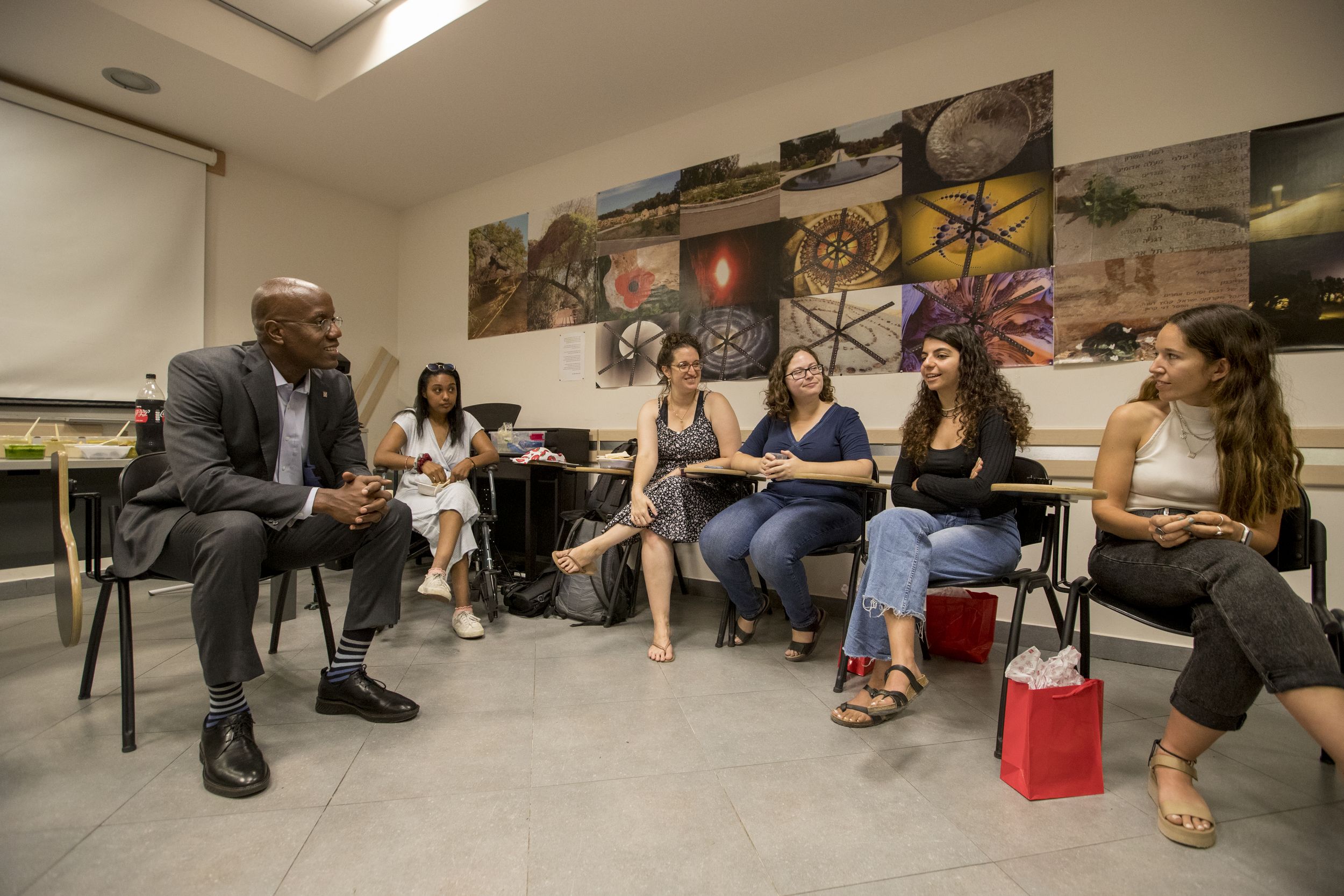 The delegation noted striking similarities between Temple and all four of the universities they visited: Ben-Gurion University of the Negev (BGU), located in Be'er Sheva; The Hebrew University of Jerusalem, located in Jerusalem; Al Quds University (AQU), a Palestinian university with campuses in Jerusalem, Abu Dis, al-Bireh and Hebron; and Bar Ilan University in Tel Aviv. Each institution demonstrated deep commitments to their respective communities, striving to create pathways to careers, forge public-private partnerships, nurture entrepreneurship and foster research.
College of Engineering Professor Peter Lelkes introduced Temple to BGU. In 2017, the two institutions signed a dual PhD program agreement. Since then, Temple and BGU have also developed a student exchange program.
"Like Temple, BGU is located in an underresourced area, and, also like Temple, a core part of its mission is to bring together people of different identities to learn, study and conduct research, recognizing the value in building a community and serving its region," said Mandel. "BGU is breaking down disciplinary walls to encourage students and researchers from a variety of fields to work together and innovate.
"I felt like our students would be able to relate to the BGU students and would get a lot out of partnering with them on some of their projects," he added.
For more than 10 years, faculty and students from The Hebrew University - Hadassah have visited the Kornberg School of Dentistry to observe the clinics and attended lectures during a two-week exchange. In August, leaders from the university will be visiting Temple in preparation for their application to accredit their school with the U.S. Commission on Dental Accreditation.
A highlight of the delegation's visit to The Hebrew University was hearing about how the school partners with technology companies to create a pipeline from university labs to private development.
"Israel is often referred to as 'startup nation' because they have the highest per capita rate of startups anywhere in the world and universities have played a role in that," explained Richards. "The universities are deeply involved in building tech corridors and partnering with private firms, and so it's exciting to be part of these conversations with these institutions and to talk about future collaboration from which I believe Temple can greatly benefit."
The delegation met with AQU leadership in Ramallah and learned about another example of innovative academic programming. Starting in their first year, AQU students are empowered to launch agriculture companies with an eye toward fighting food insecurity in Palestinian areas.
AQU is also home to an ongoing collaboration with Temple's Kornberg School of Dentistry, a collaboration that is in the midst of expansion. In July, for the first time in the history of the program, Palestinian students—joined by AQU's Elham Kateeb, dean for scientific research at the College of Dentistry—will be coming to study at Temple. It's part of an ongoing effort, spearheaded by Kornberg Dean Amid Ismail, to venture beyond religion and political divides and use oral health as a means to improve the quality of life for people of all nationalities.
In 2021, Temple's Beasley School of Law entered into a partnership with Bar-Ilan University, providing awards of up to $10,000 for Temple JD students interested in studying there. As well, Bar-Ilan students who wish to attend Temple's LLM for foreign-trained lawyers program in Philadelphia are also eligible for financial assistance. To date, four students have participated in the program, and Temple is excited to broaden this global opportunity.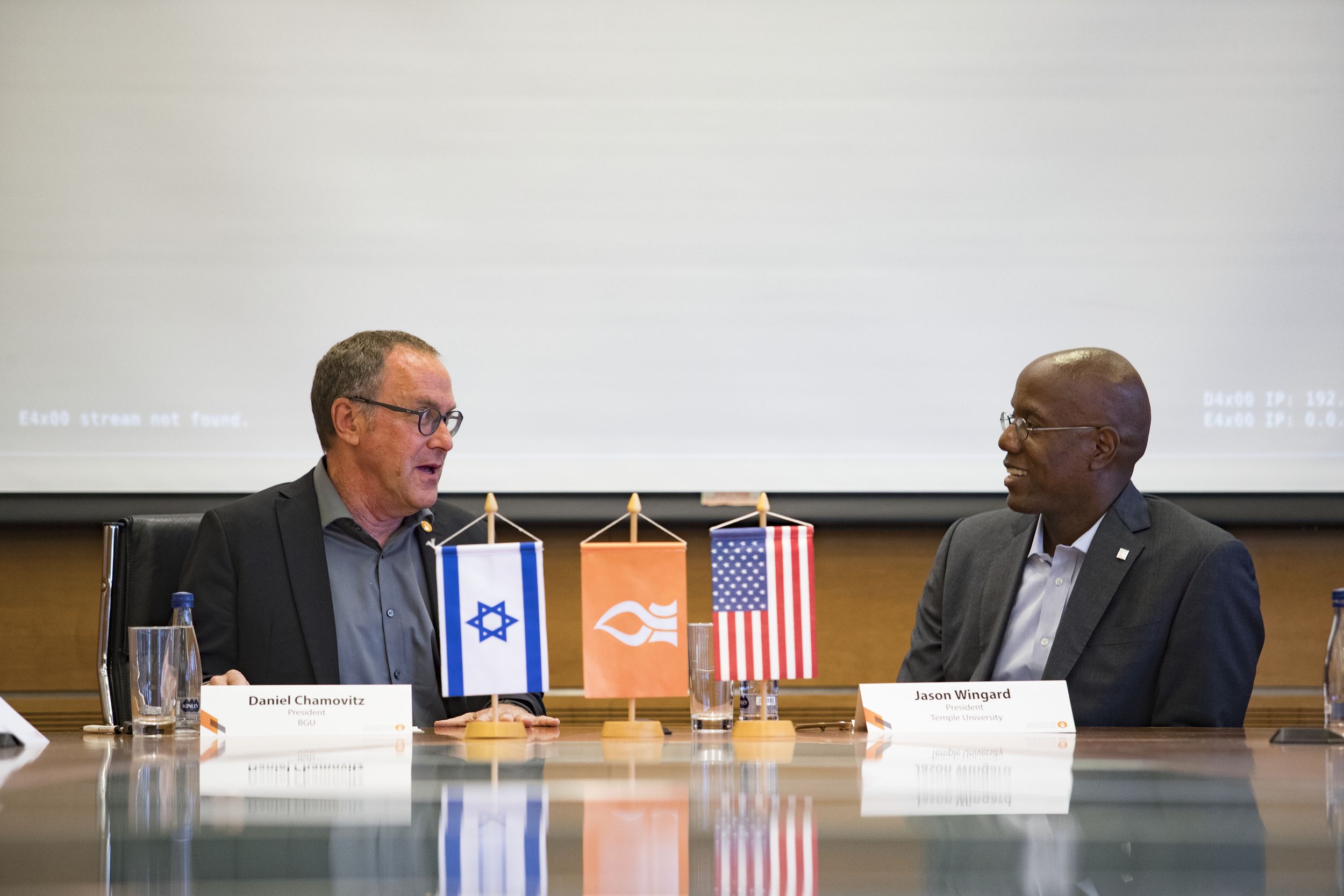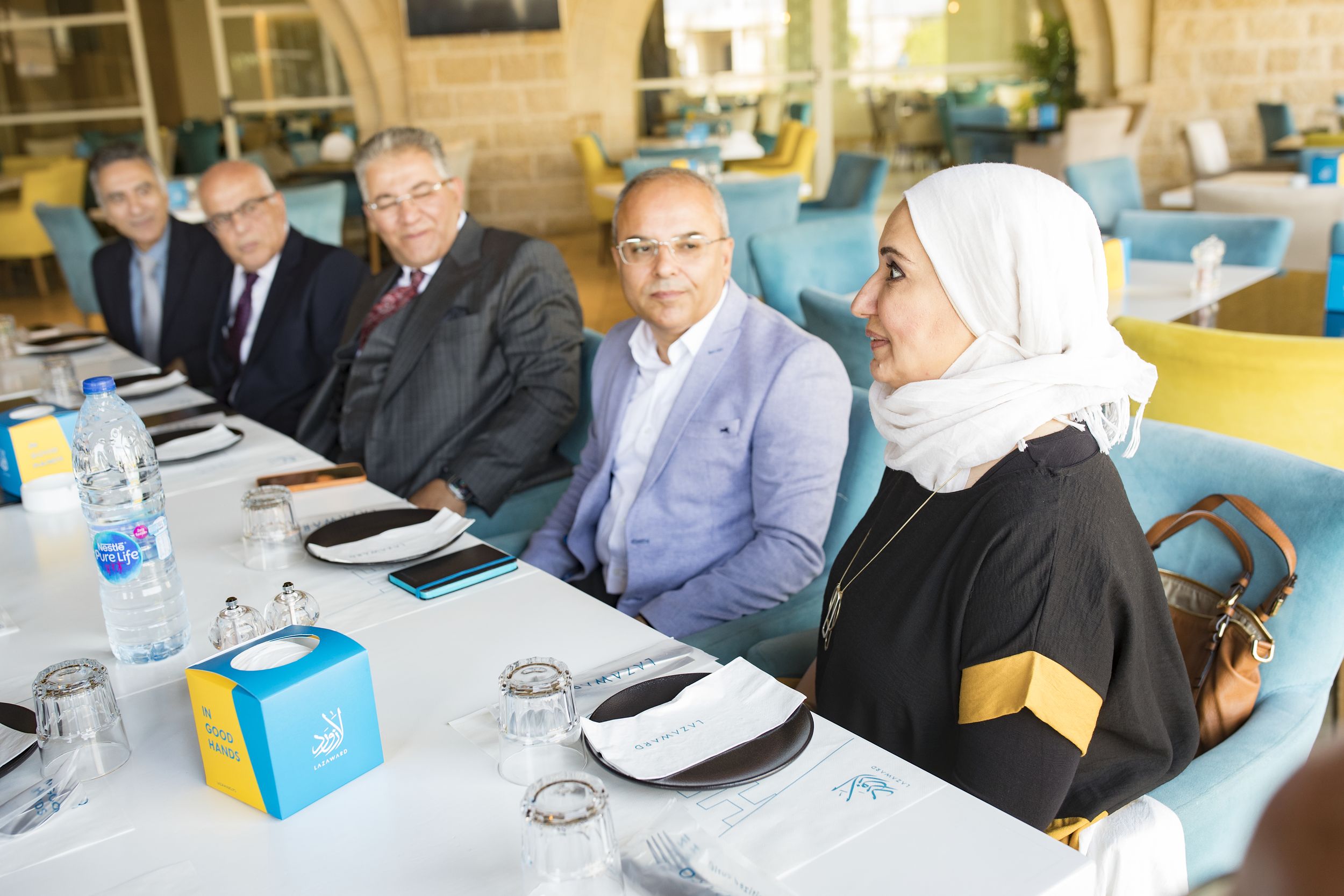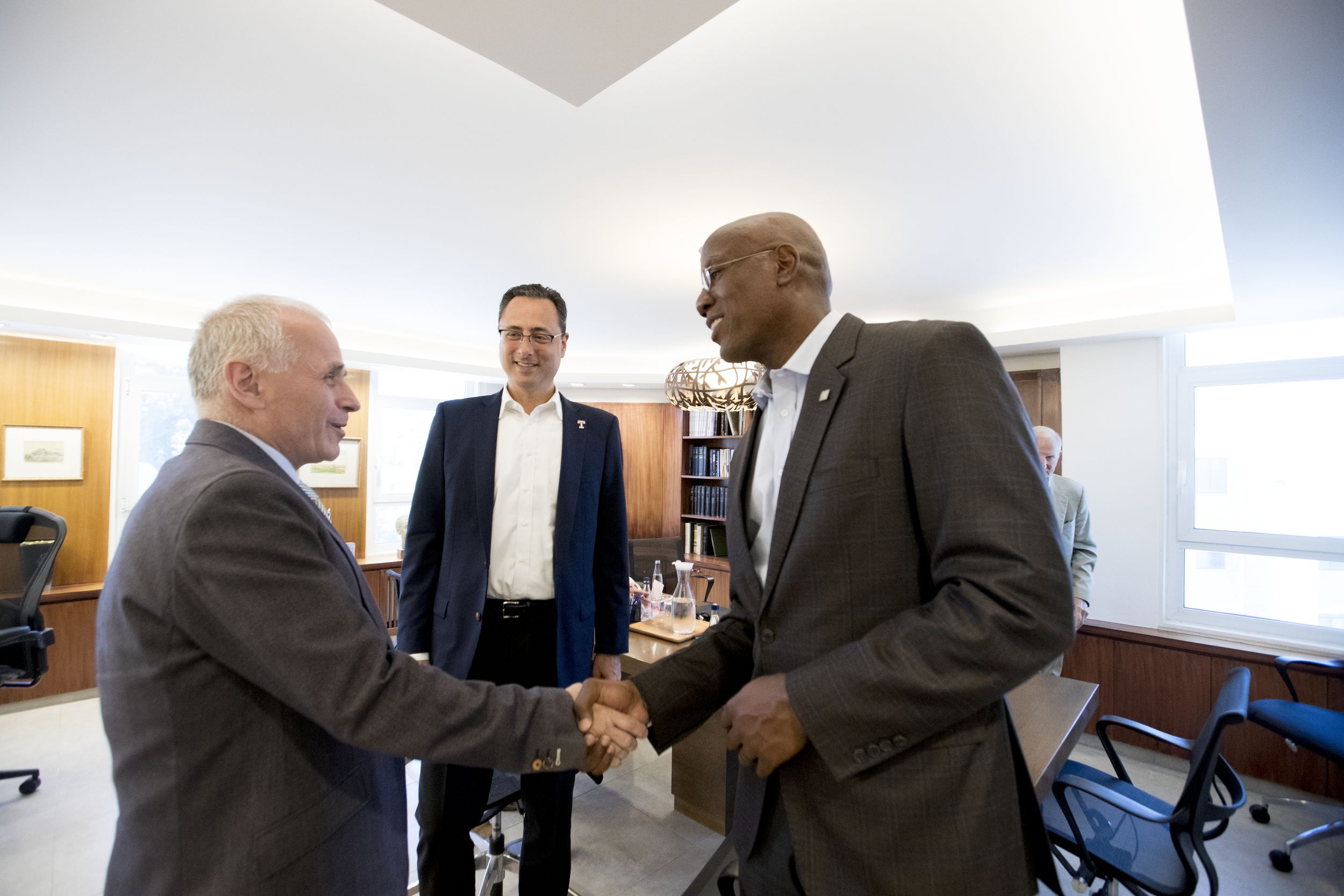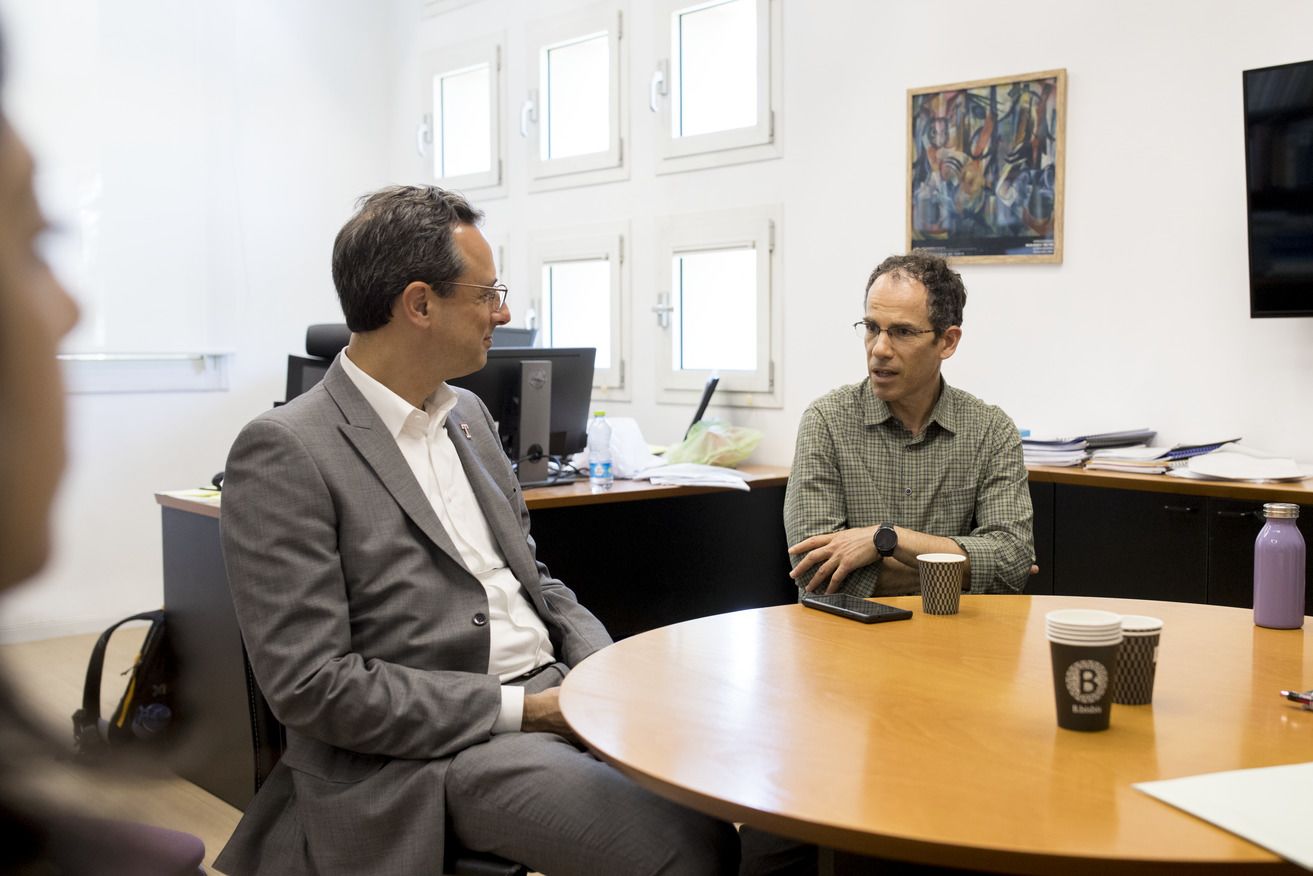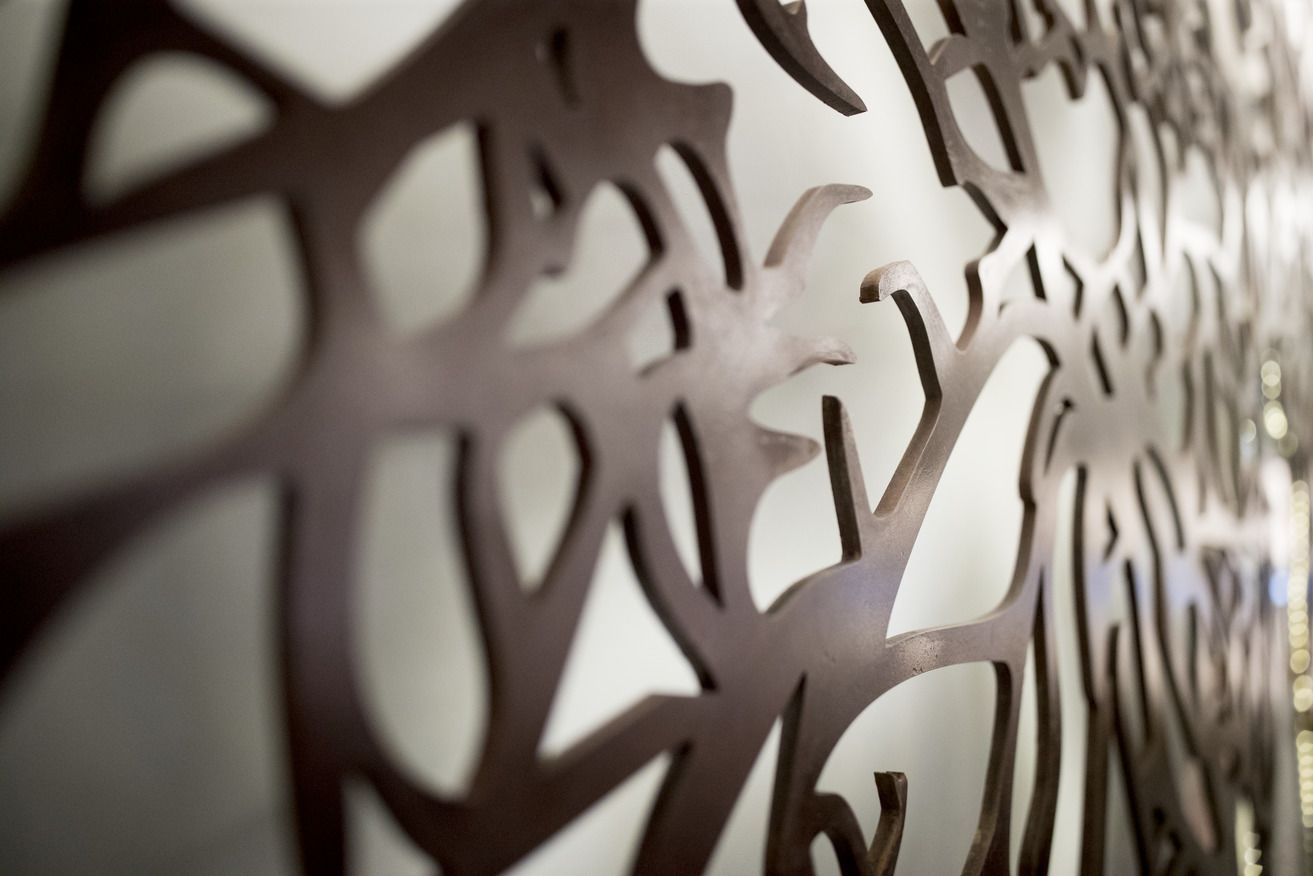 Members of the delegation participated in enlightening meetings with both Palestinian and Jewish students on topics of diversity, equity and inclusion. Speaking from their unique perspectives, the students offered myriad ideas about how to bring seemingly opposed groups together.
The big take-away: the importance of dialogue.
Miller found the experience of interacting with the students especially meaningful: "Discussions with university administrators about building and strengthening partnerships can be had anywhere; discussions with students who learn and live in the historical and political context of a region fraught with such strife are truly unique and educative on many levels."
Harrison is excited to bring back to Temple the powerful insights the Israeli and Palestinian students shared. "They had one common message for us," she said. "You have to have dialogue. You have to share your experiences. It's okay to disagree. It's even okay to be critical of certain policies, but we need to talk."
As a result of what she heard students from all backgrounds saying, Harrison is looking to implement new programming at Temple this fall—including cultural immersion and dialogue opportunities.
"It was so inspiring to meet my counterpart at BGU, Vice President Sarab Abu-Rabia-Queder. She is particularly focused on achieving equitable representation in the student and faculty body of Arabs, women, those with disabilities, Ethiopian immigrants, Haredim [those within Orthodox Judaism who practice strict adherence to Jewish law] and LGBTQ+ individuals. She is the first person to hold that position and she is the first Arab woman from the Negev promoted to professor at BGU." —Val Harrison, vice president of diversity, equity and inclusion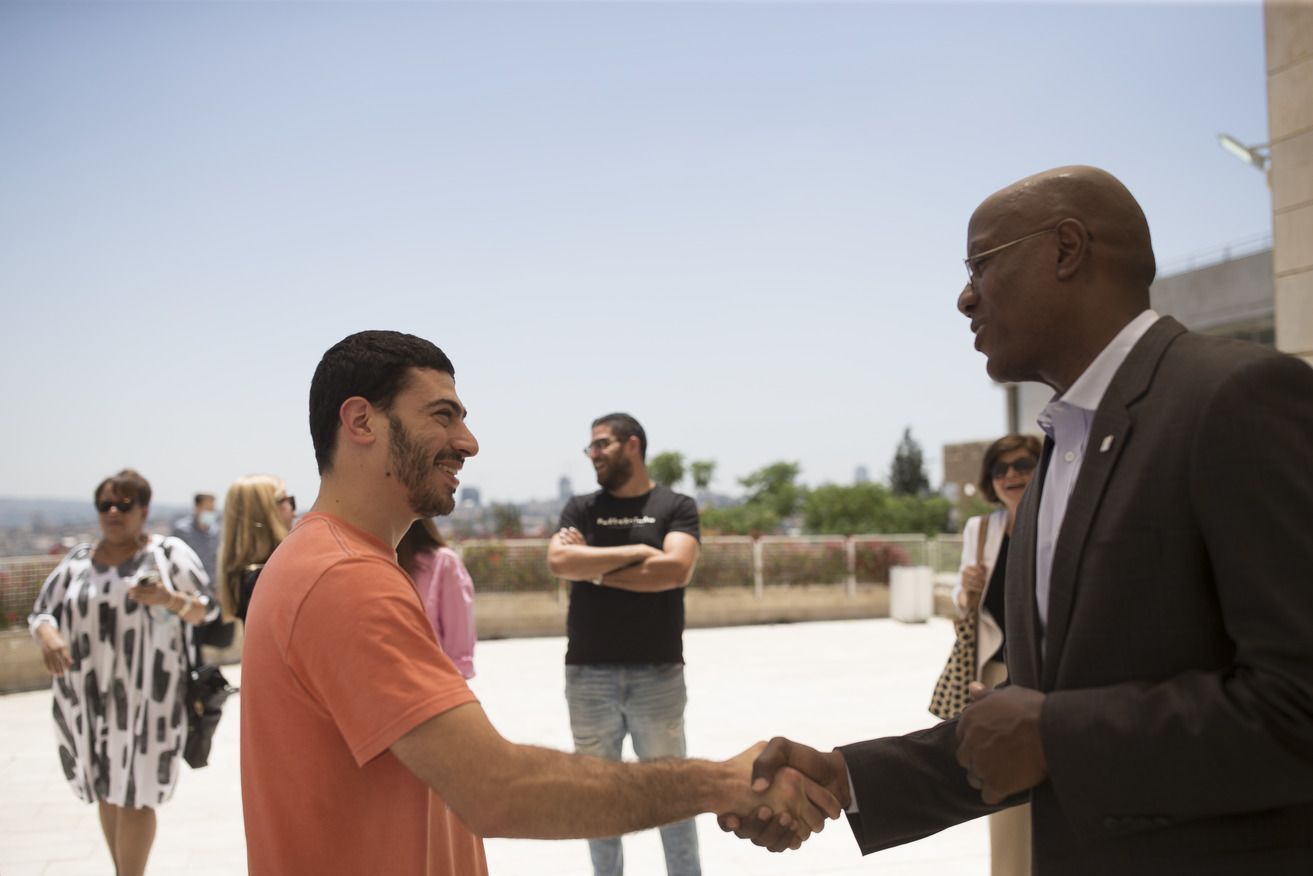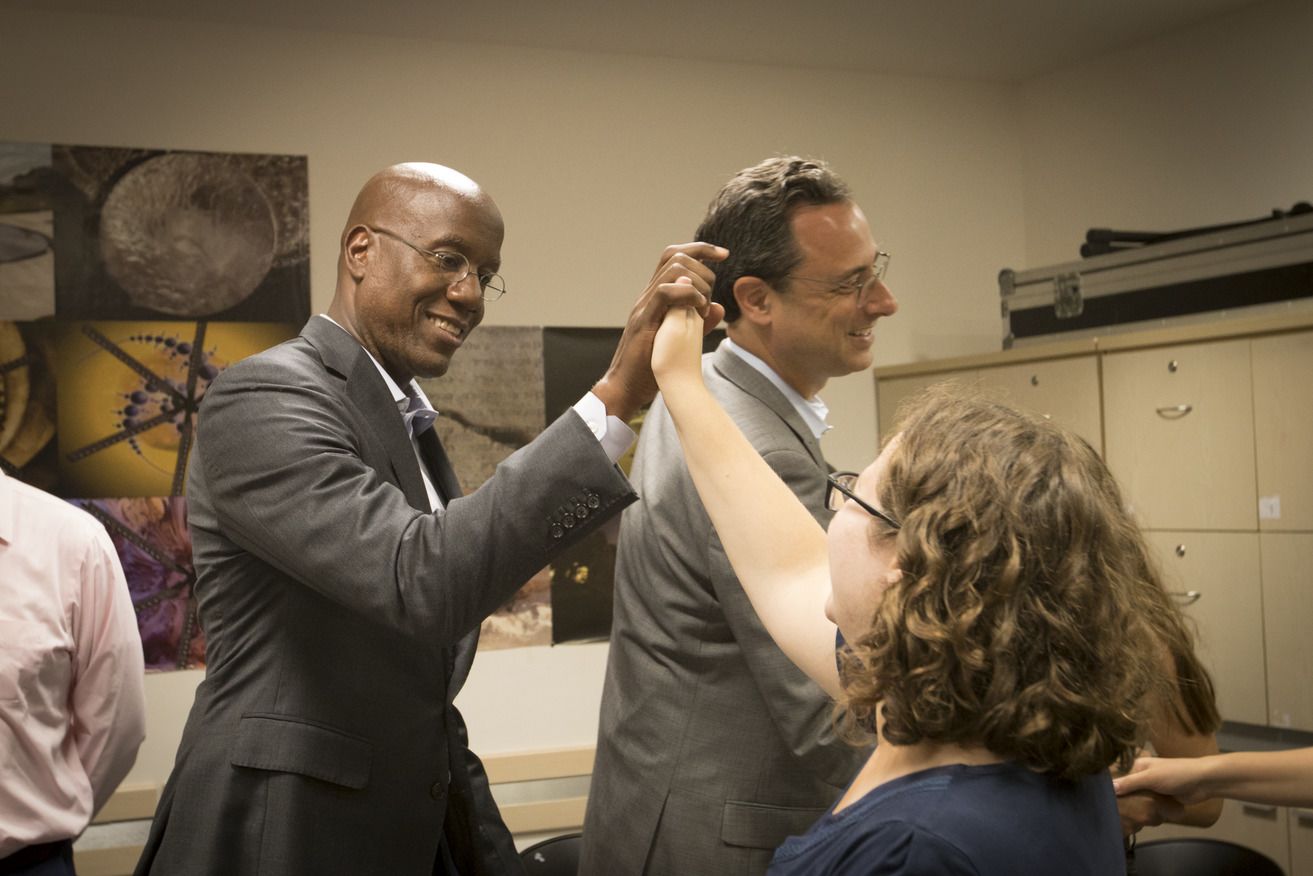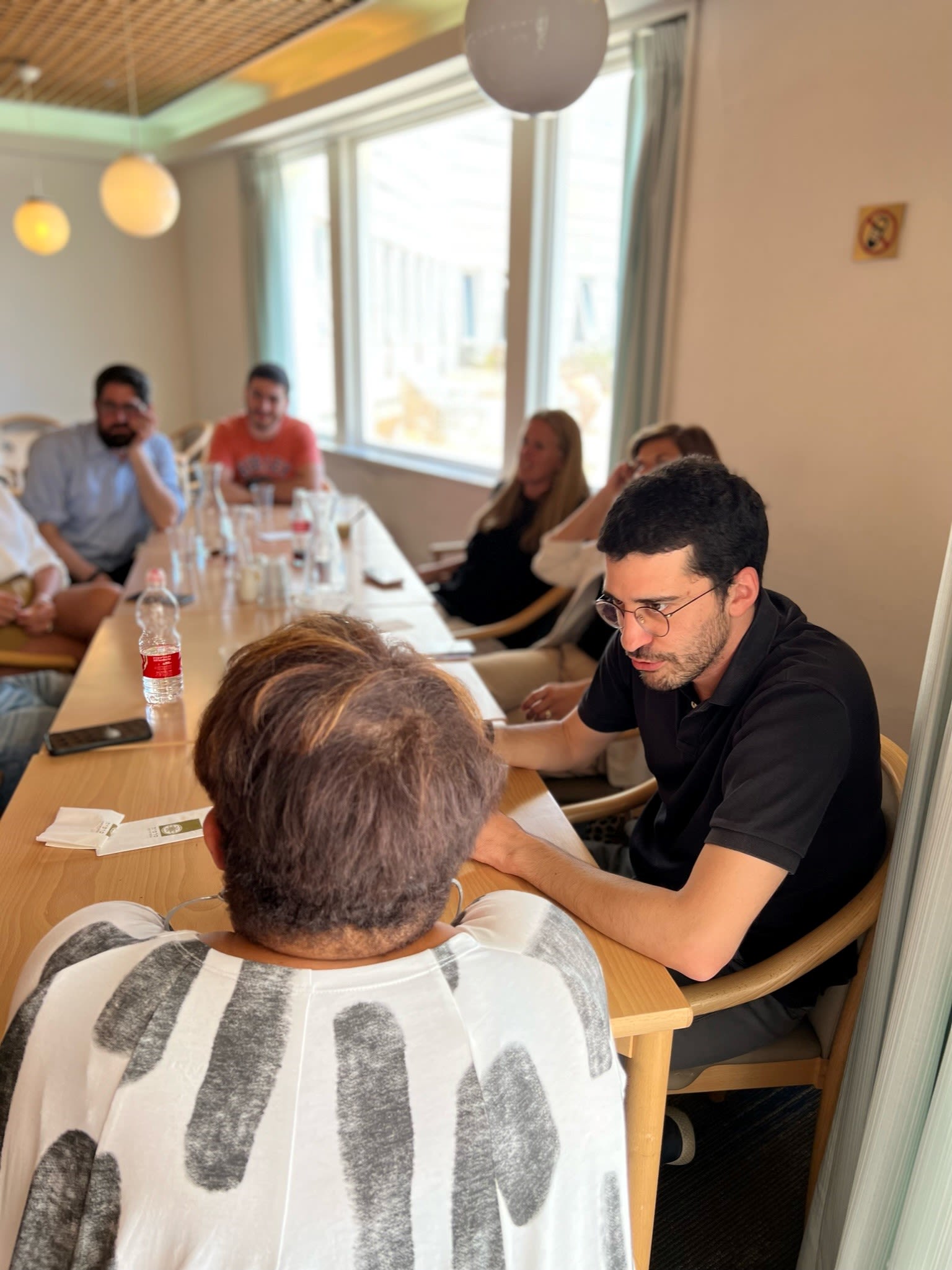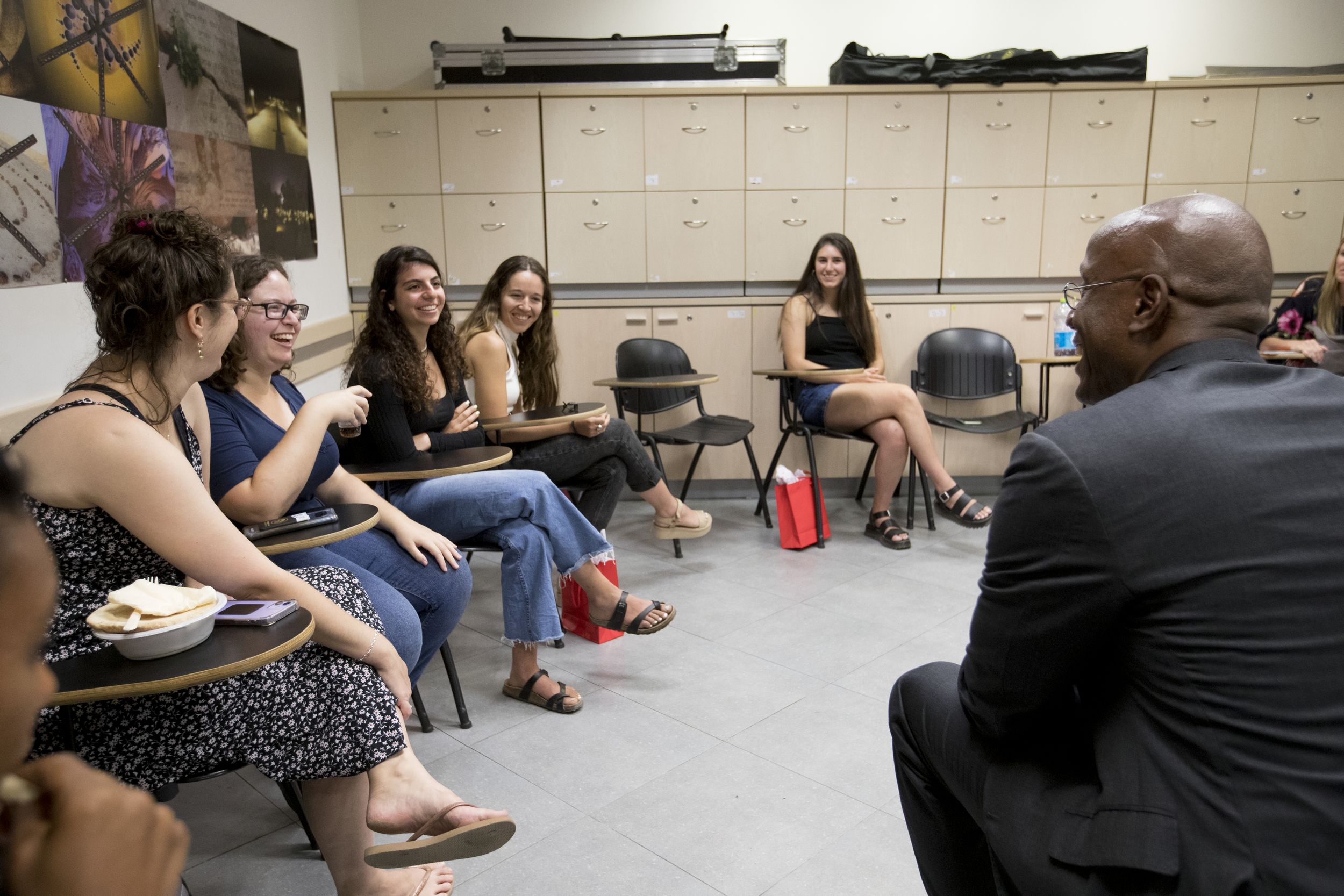 Item 1 of 4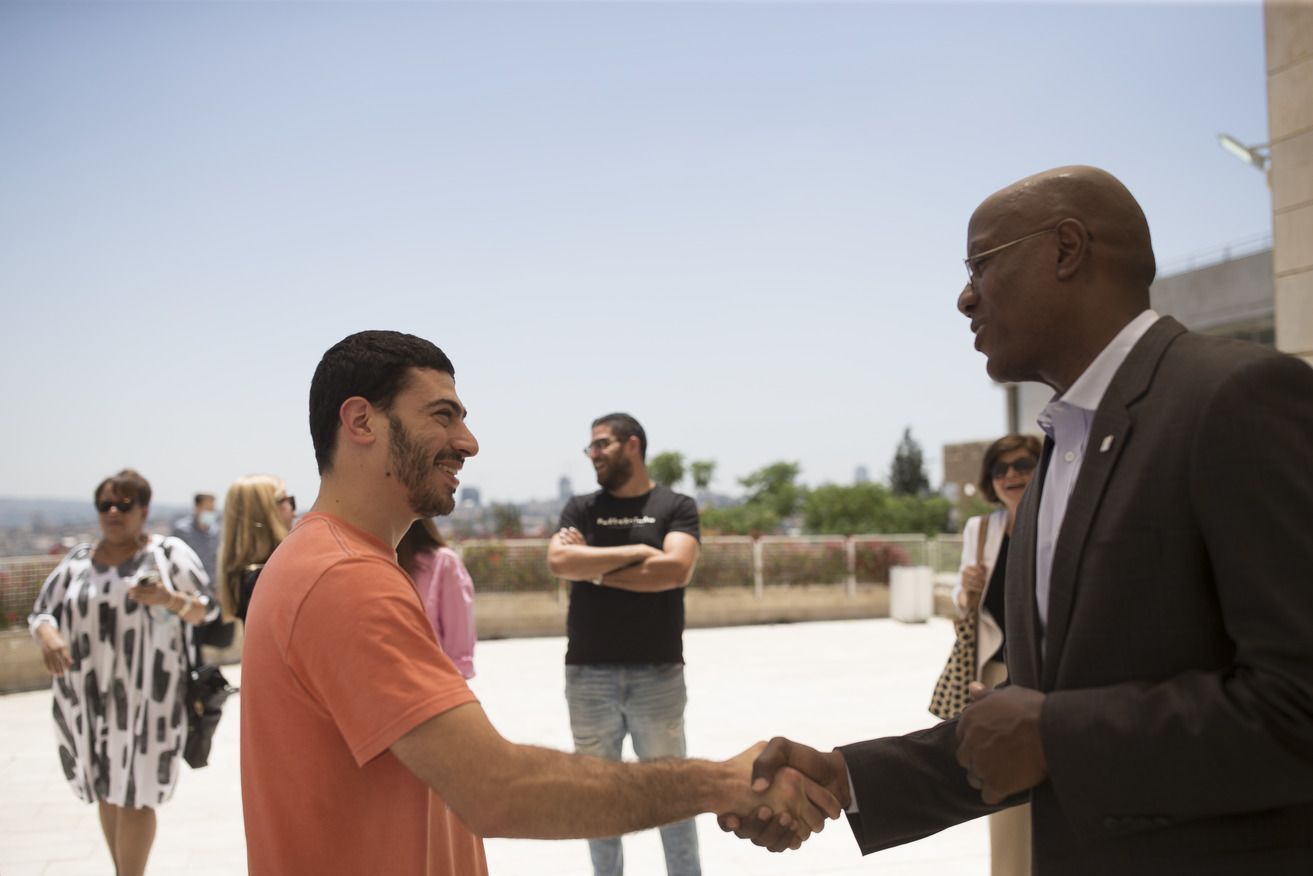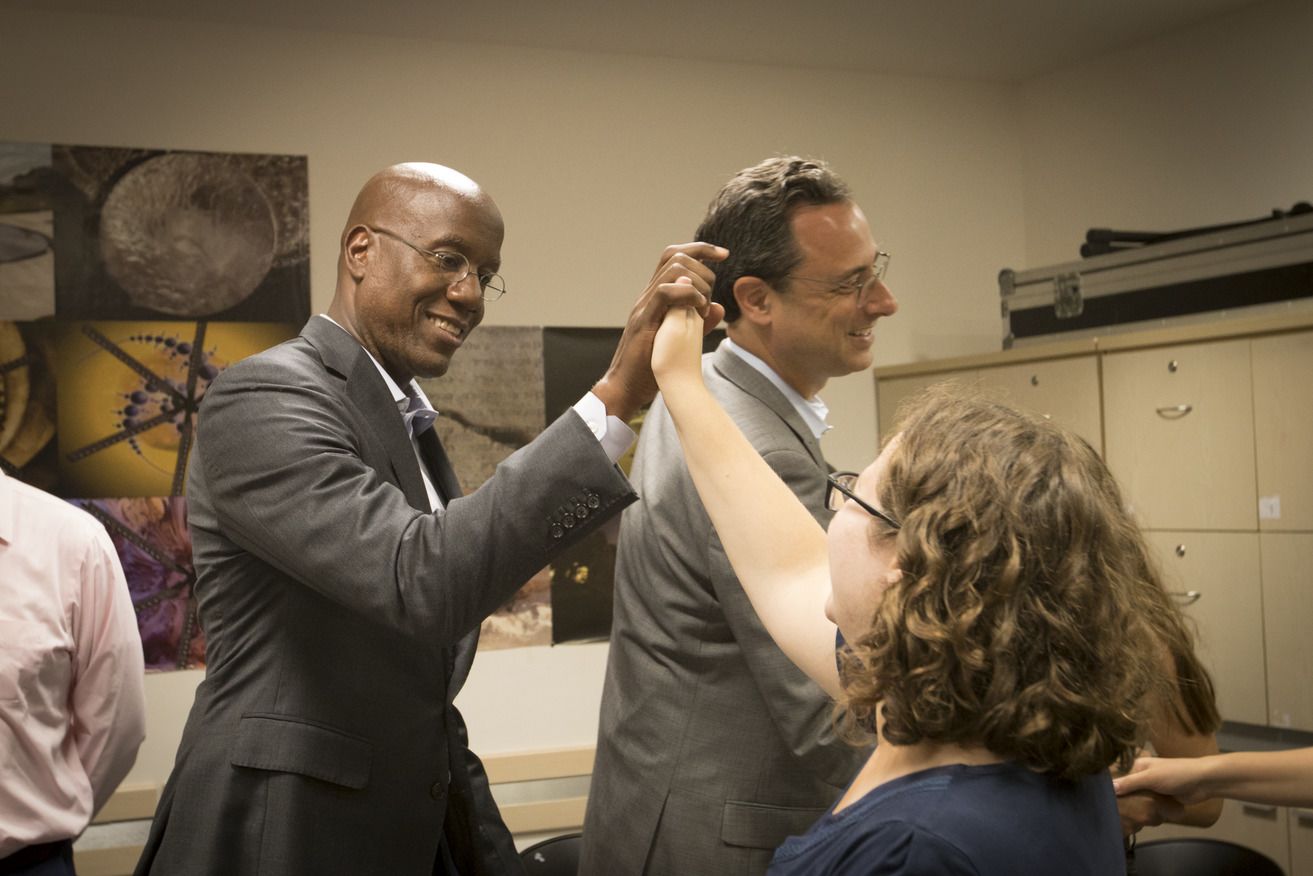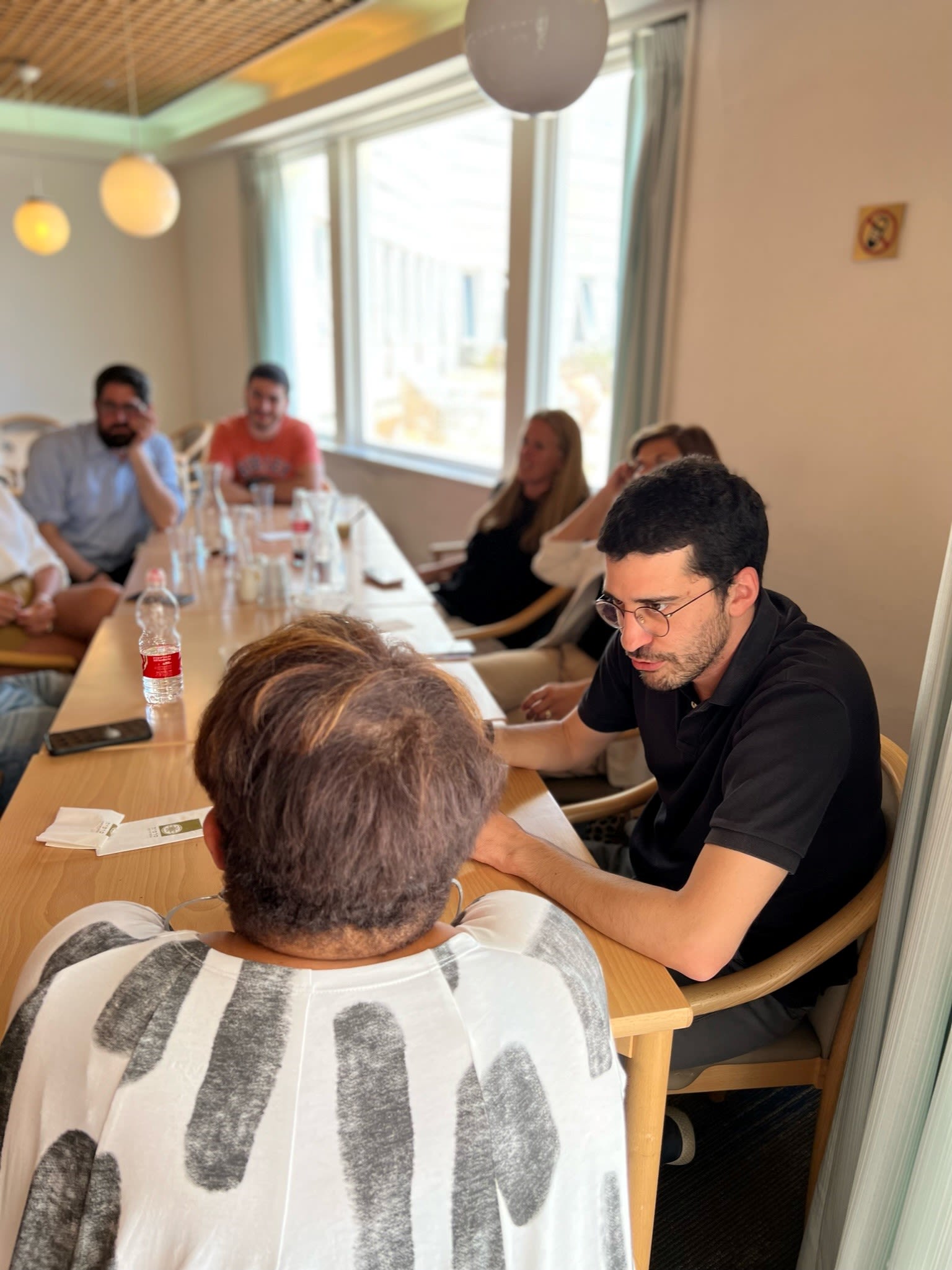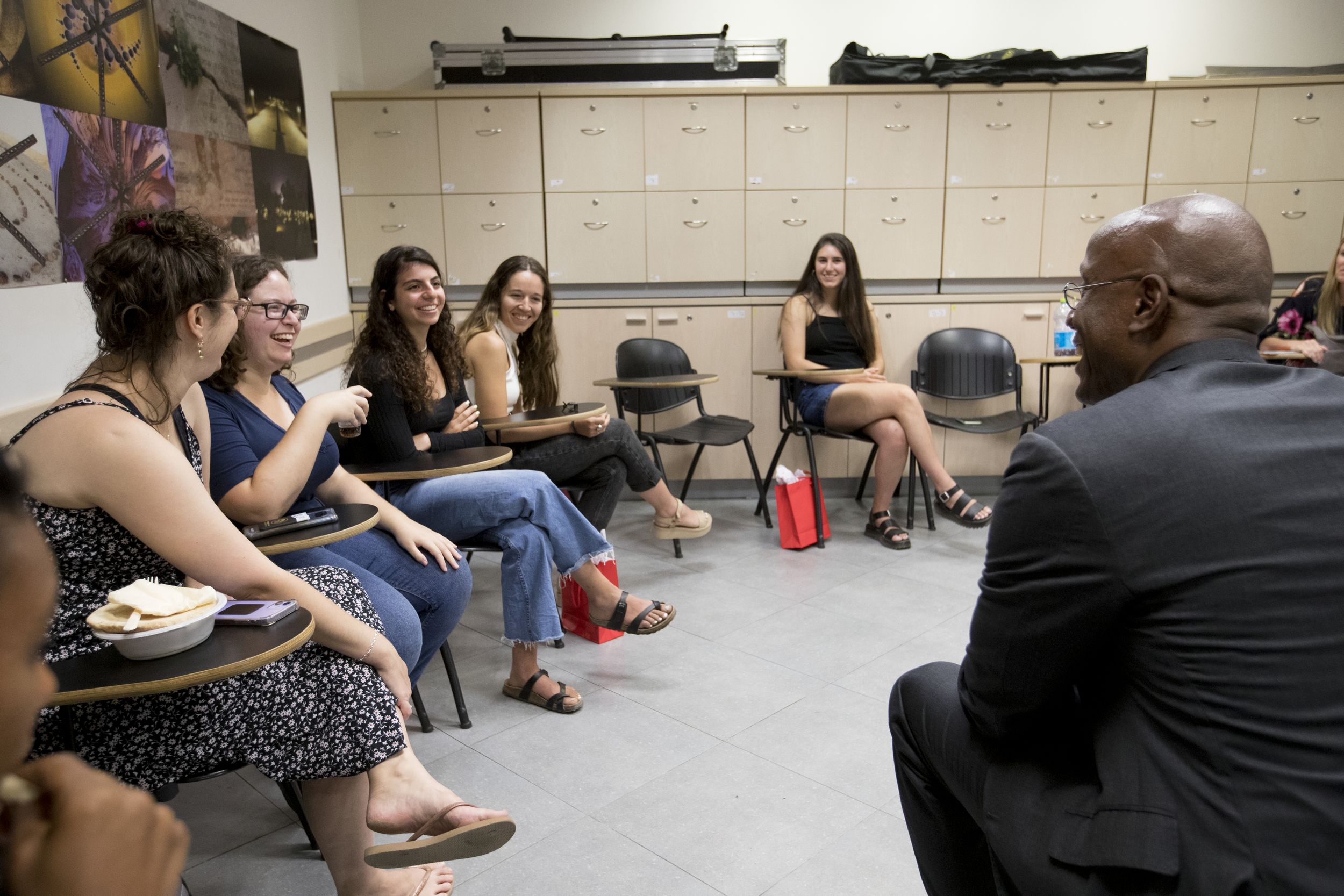 In meetings with students and educators, members of the Temple delegation discussed how to: 1) create opportunities for sharing and dialogue; 2) use their university education and training to benefit society; 3) provide a means for students to voice concerns to university leadership.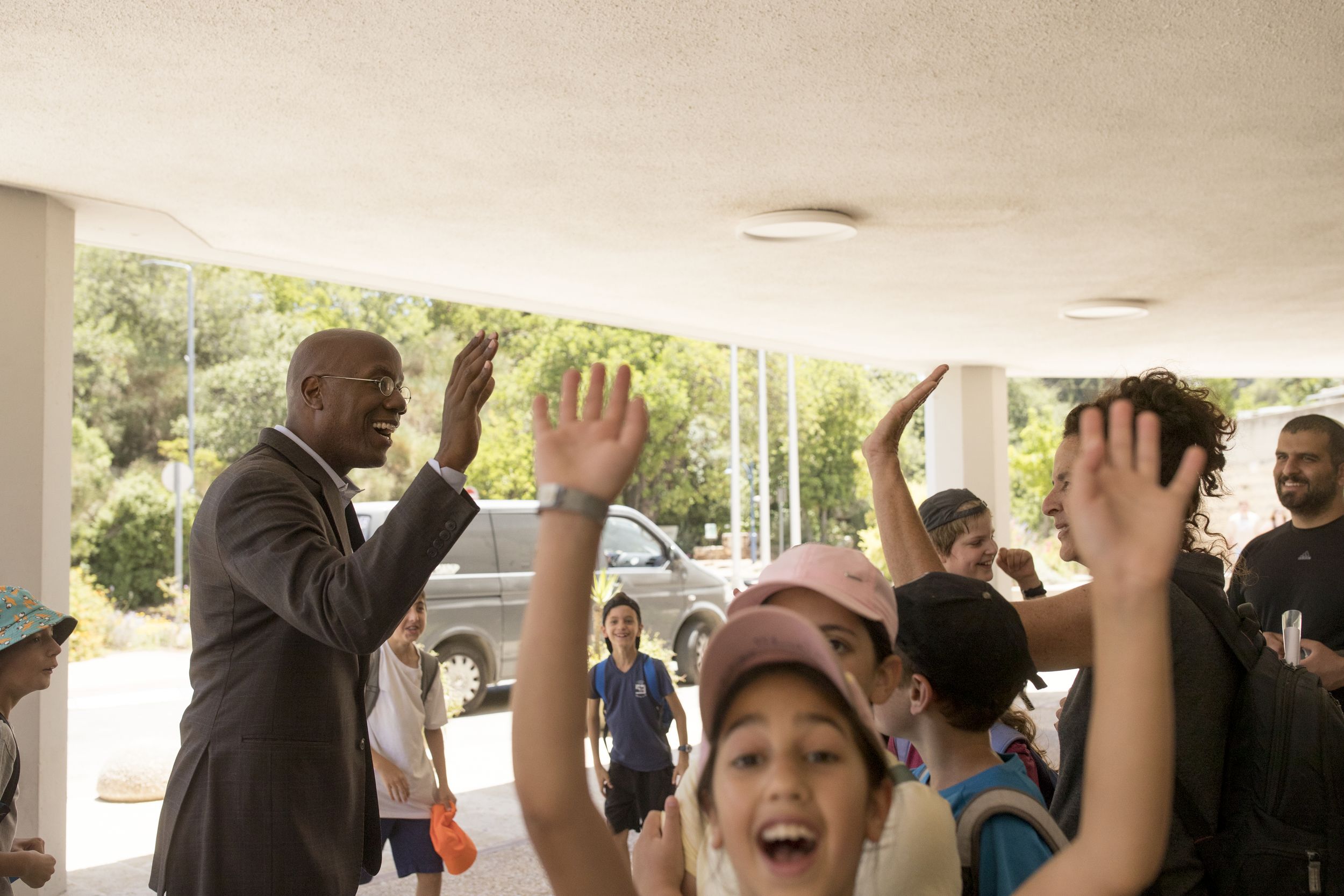 Engaging with alumni, civic and business leaders, and government officials to discuss economic and workforce development and promote Temple was another motivation for the trip. One obvious highlight for the delegation was meeting with President of Israel Isaac Herzog and several members of his cabinet.
President Herzog described the importance of building relationships and a strong commitment to bringing people from different backgrounds together.
"President Herzog and his team were extremely welcoming to our group. It was inspiring to hear him share his perspectives and experiences," said Mandel. "He even mentioned that Temple is very important to him, because his father, who had also been president of Israel, once published an article in the Temple Law Review."
In extended conversation with Zvi Vapni, senior foreign policy advisor to the president of the state of Israel, and B.G. Alaa Abu-Rukun, military secretary to the president, the delegation gained insights into Israel's political history, priorities, choices and values.
While in Jerusalem, Temple hosted an alumni event, during which alumni and their guests along with three current Temple students who happened to be in Israel were able to catch up and network. Among those attending the event was Yair Stern, KLN '70. Stern, an Israeli journalist who received the Lew Klein in the Media Award from his alma mater in 2008, is known as a guiding force behind the development of Israel's television industry.
Additionally, as part of the university's mission to foster connections around the globe and promote the university, the delegation traveled to Amman, Jordan, where President Wingard presented the keynote address to several hundred leaders in the region at the Columbia Global Center on the future of work. The event and following reception was jointly sponsored by Temple and Columbia University.
The future of work, Wingard argues, requires universities to broaden access, leverage industry and corporate partnerships to create scholarships and funding sources, and pursue entrepreneurial ventures to incubate alternative ideas to drive the economy forward.
Later this summer, Associate Professor of Political Science Sean Yom—an expert on comparative politics of the Middle East—will be traveling to Jordan to speak there as a guest of Riad Khoury, who serves as the Jordan board member for the Global Challenges Forum and attended Wingard's talk.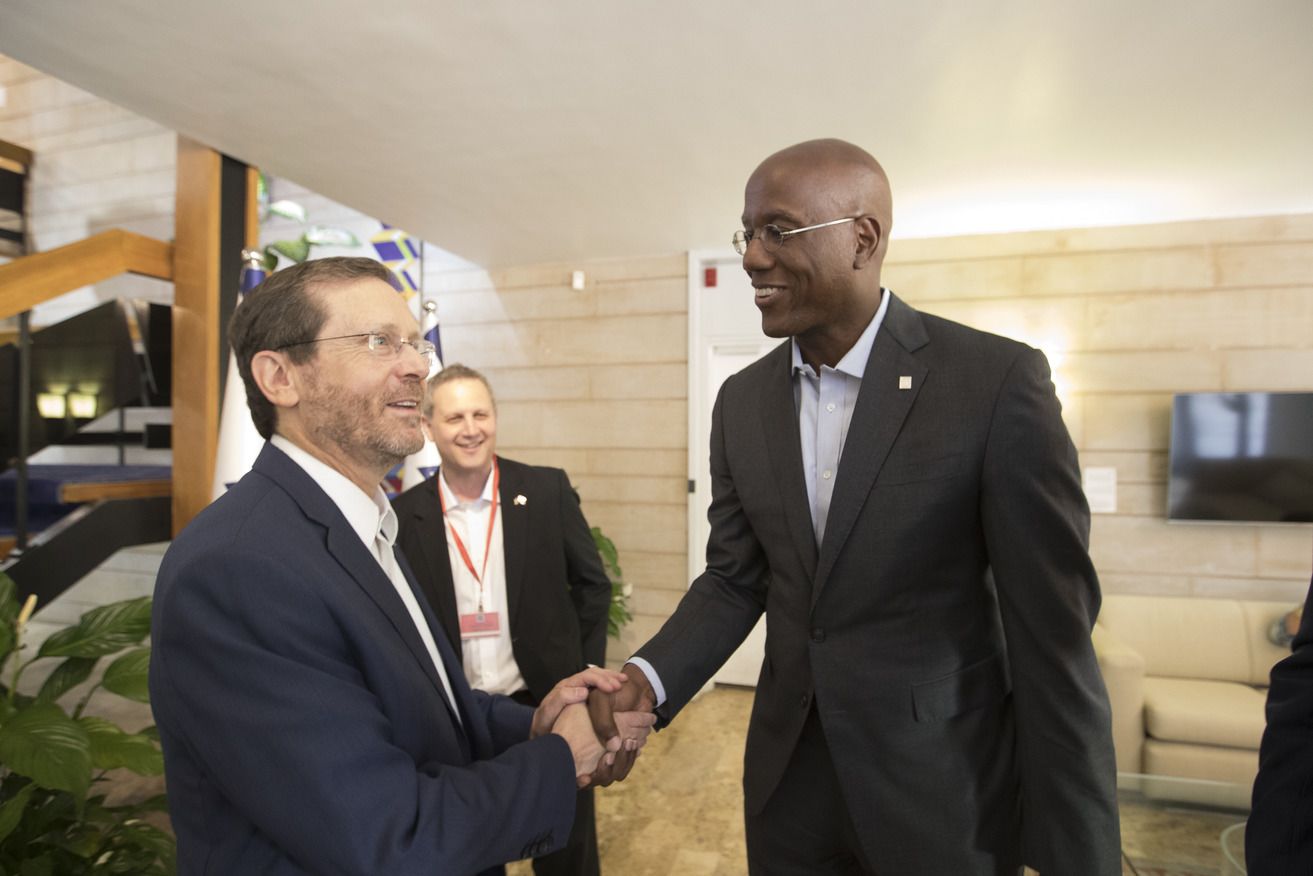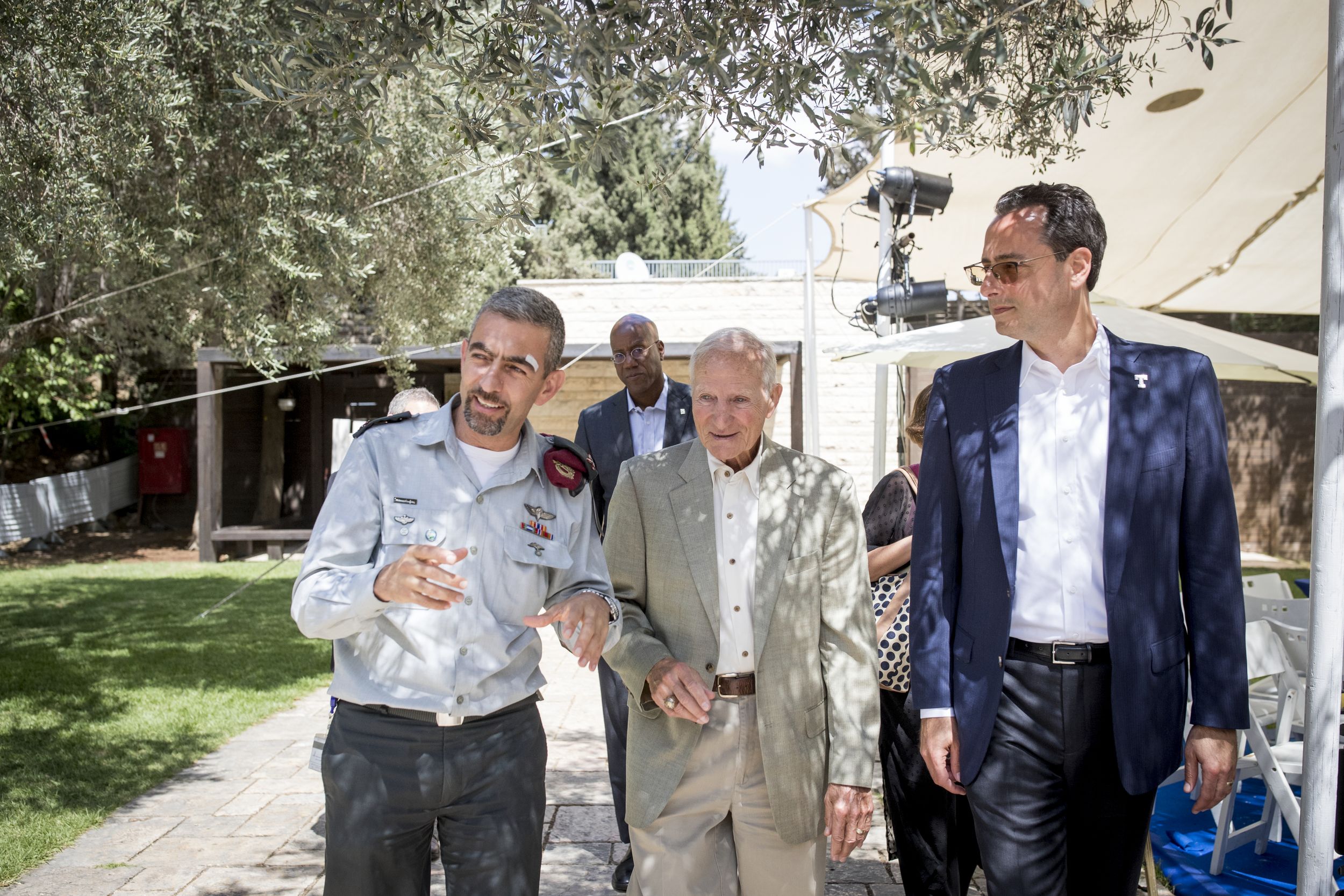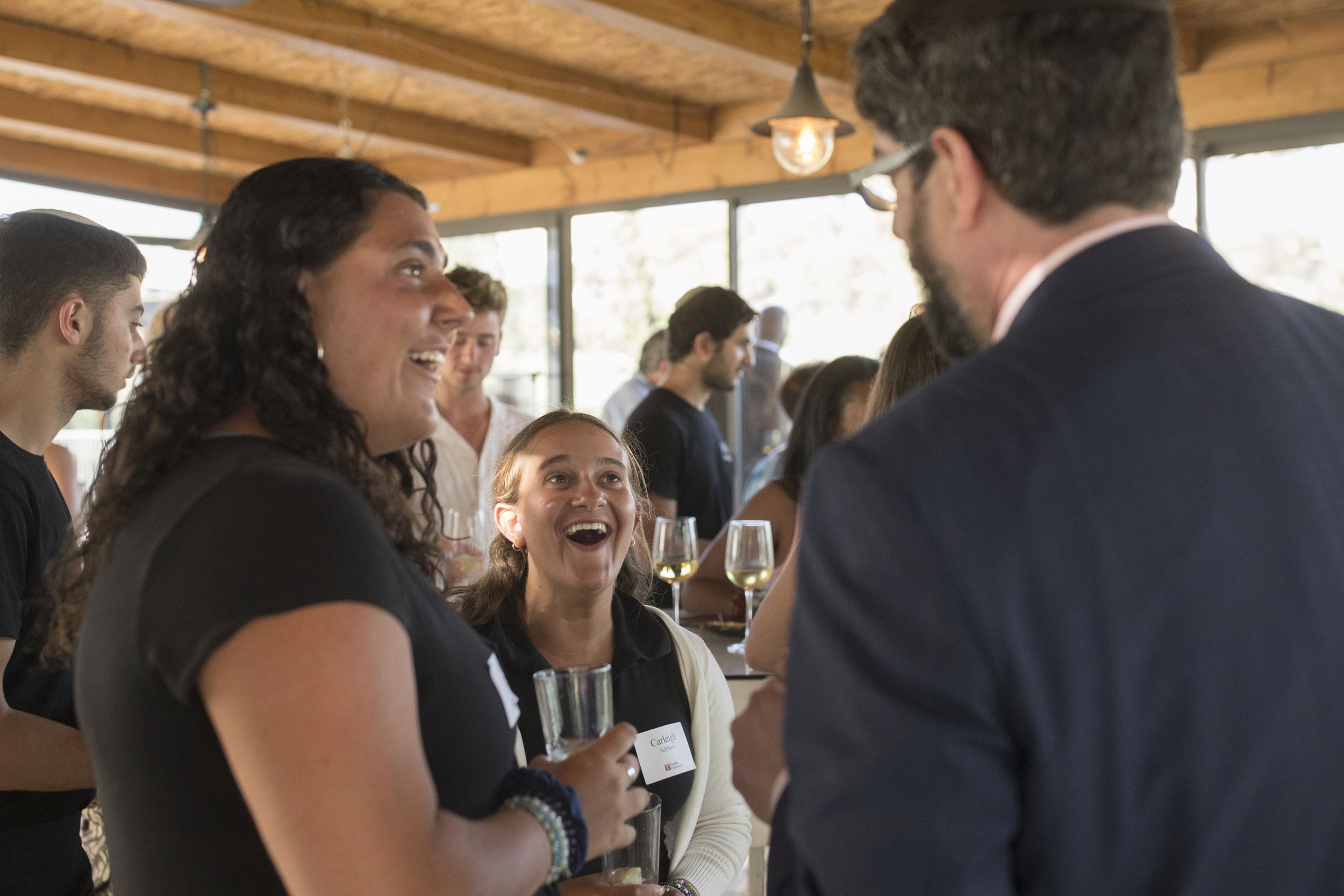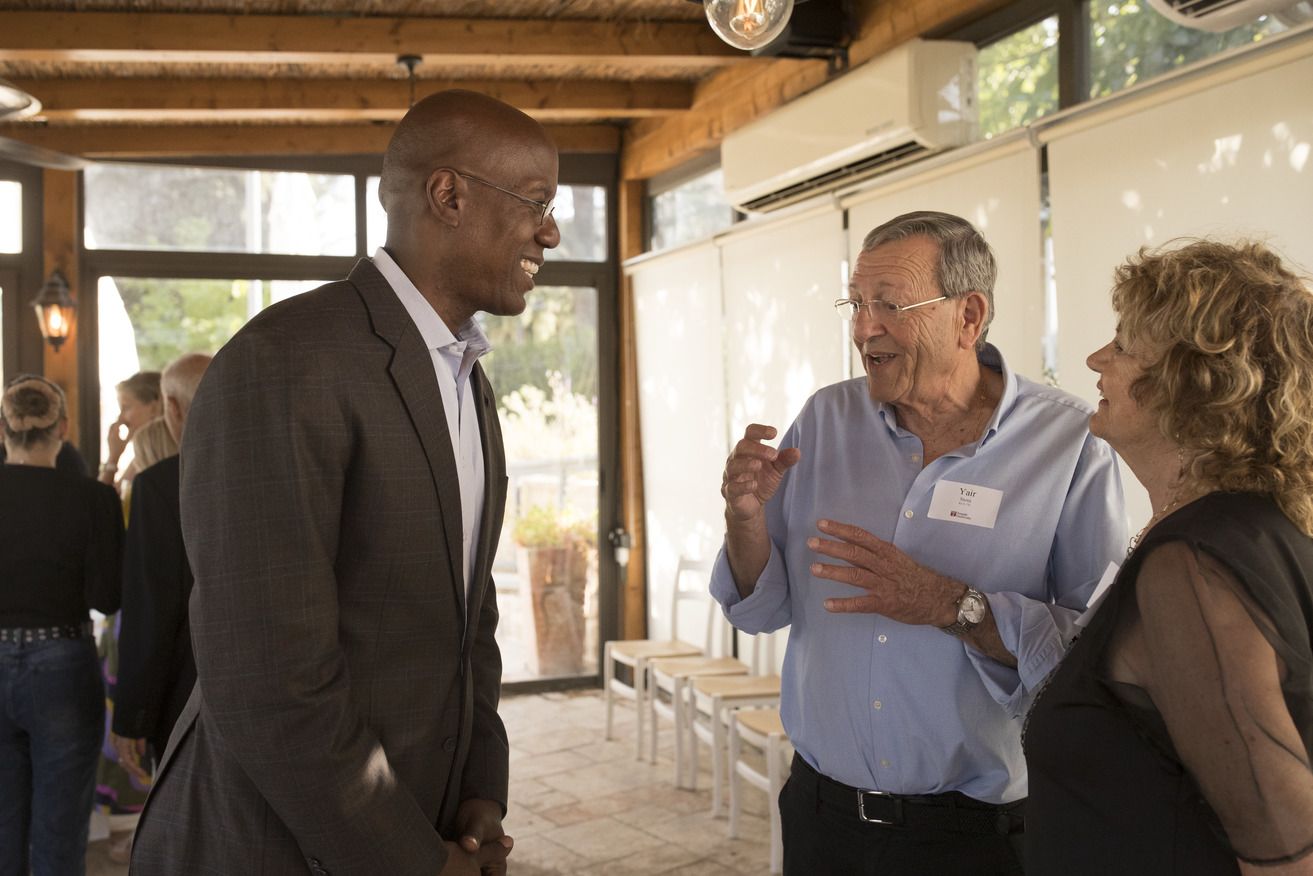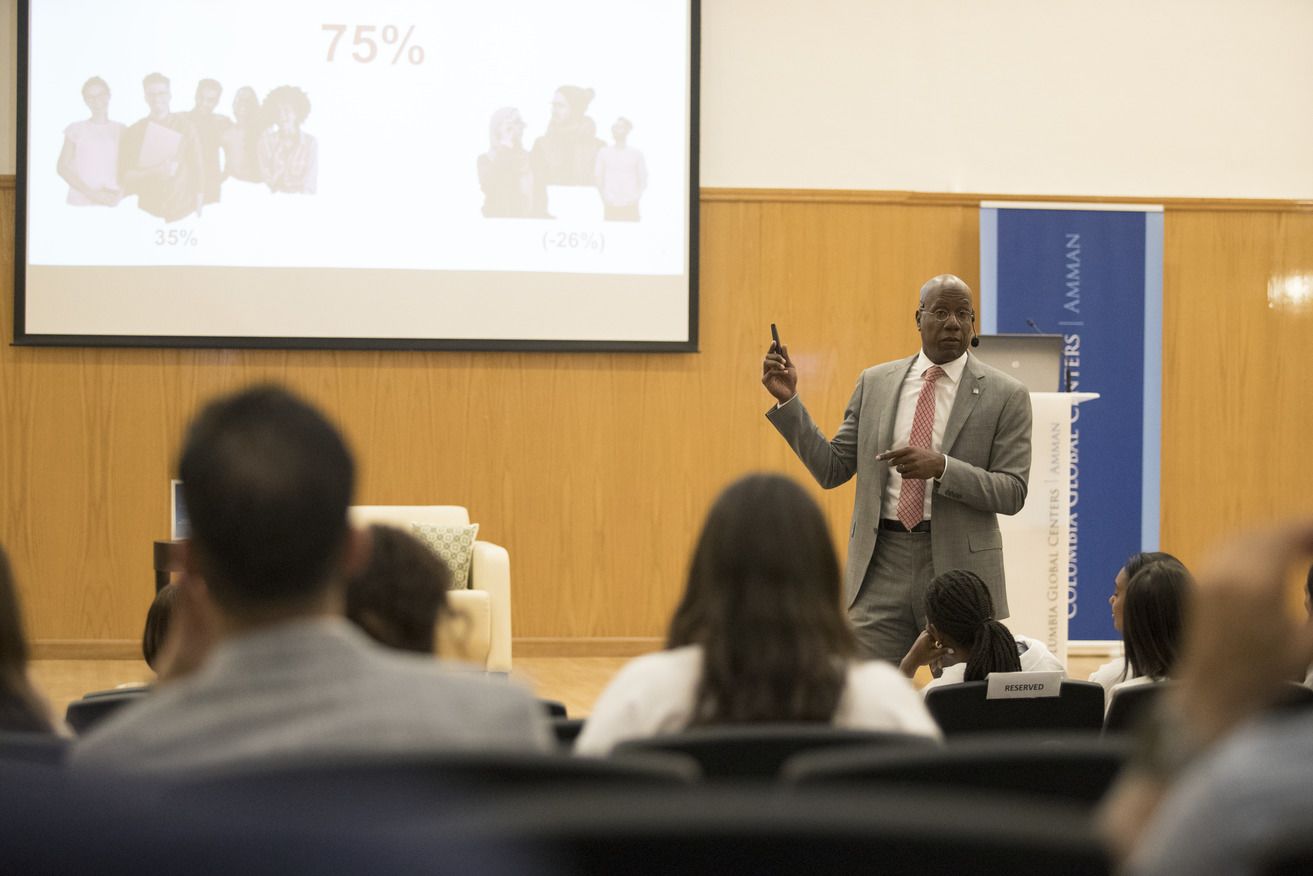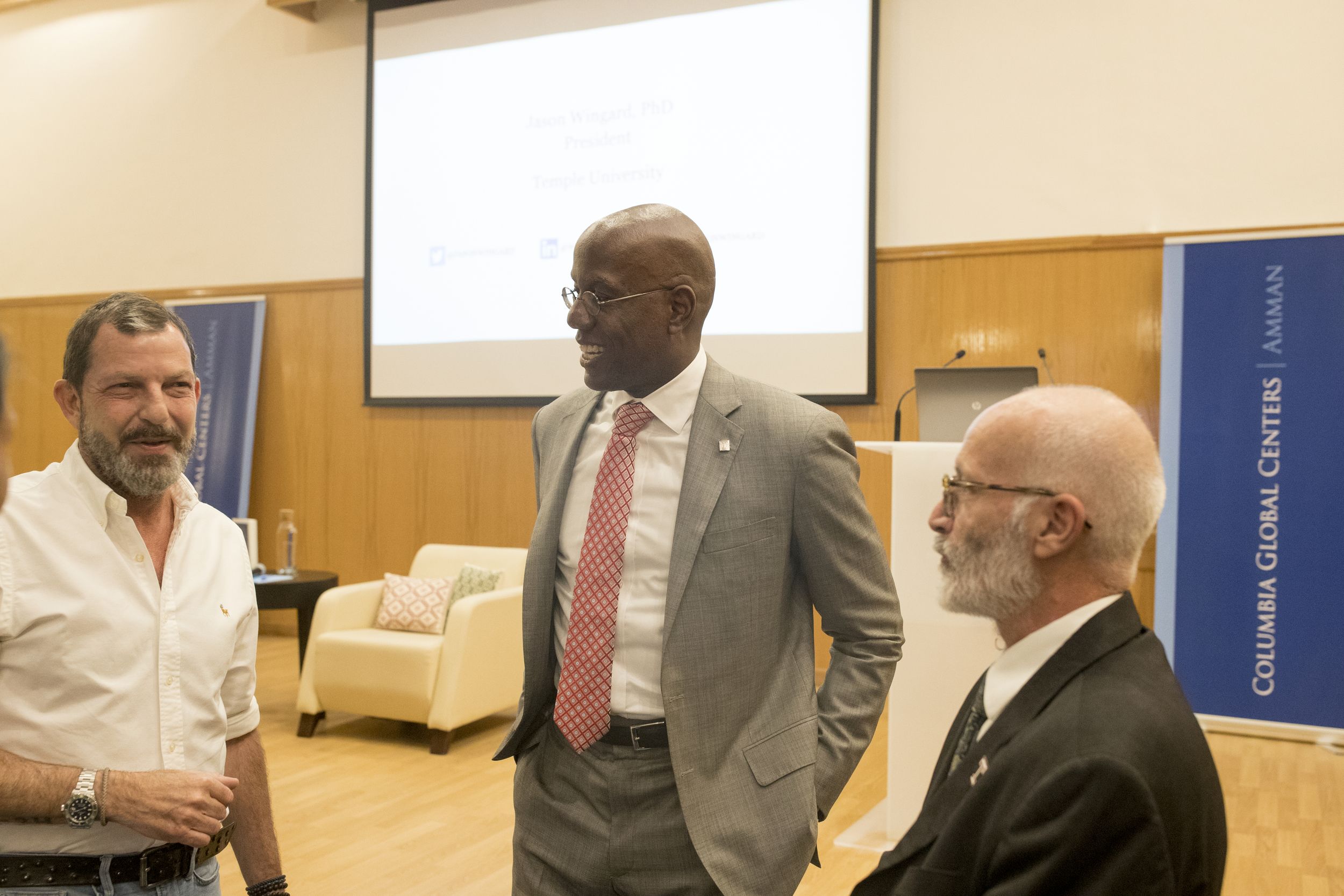 "After President Wingard finished his talk, a gentleman approached us to describe how excited he was that his son had chosen to attend Temple beginning fall 2022. The son learned of Temple from a representative who had visited his high school four years earlier, and, as it turned out, that representative was me! I had given the son the brochure myself when I visited his school on behalf of Temple. The lesson? You never know when what you do will pay off." —Martyn Miller, assistant vice president of international affairs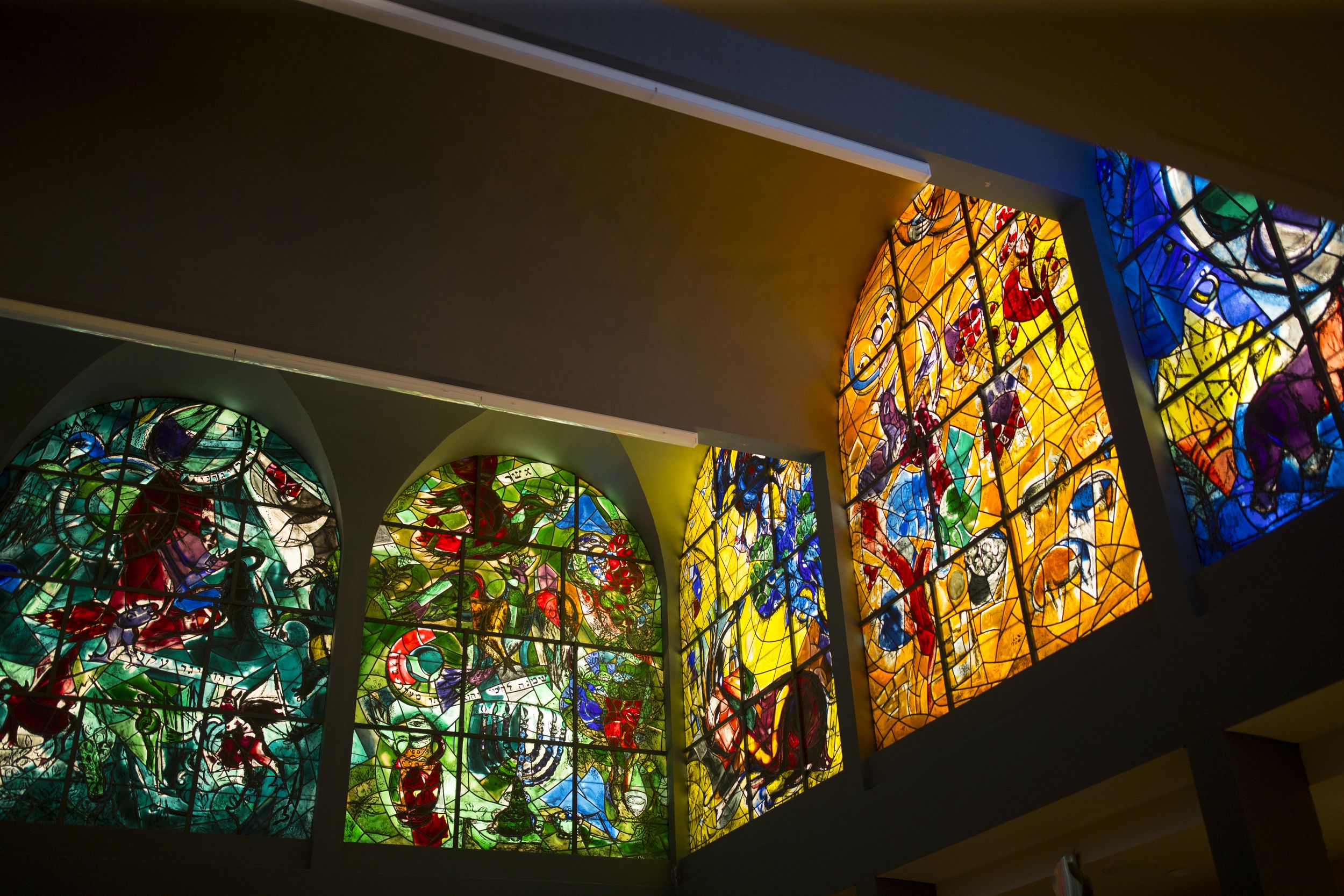 To learn about the history of a place seen as holy by three major faiths, the delegation participated on guided tours of Jerusalem's Old City. To comprehend the historic context of modern antisemitism more fully, they visited the Yad Vashem World Holocaust Remembrance Center. The tours were coordinated with help from Seth Vogelman, Pennsylvania's trade representative for the Middle East.
In an effort to address rising levels of hate across American university campuses and explore how Temple can create a more inclusive and supportive sense of community for our Jewish students, faculty and staff, President Wingard announced last spring the formation of Temple University's Blue Ribbon Commission on Antisemitism and University Responses.
Among its findings, the commission highlighted the importance of investing in educational experiences that expand the campus community's understanding of diversity. It noted that these opportunities should be implemented in ways that reach beyond traditional classroom learning. In particular, the commission pointed to President Wingard as a model for this type of learning and cited his June trip to Israel as an example.
"In sum, our focus for the trip was on learning, listening, exchanging ideas and having bold conversations, and that's exactly what we did," said Wingard. "We engaged in deep reflection on topics dividing us. I am excited about bringing back key learnings related to difficult discourse to enrich the Temple campus community."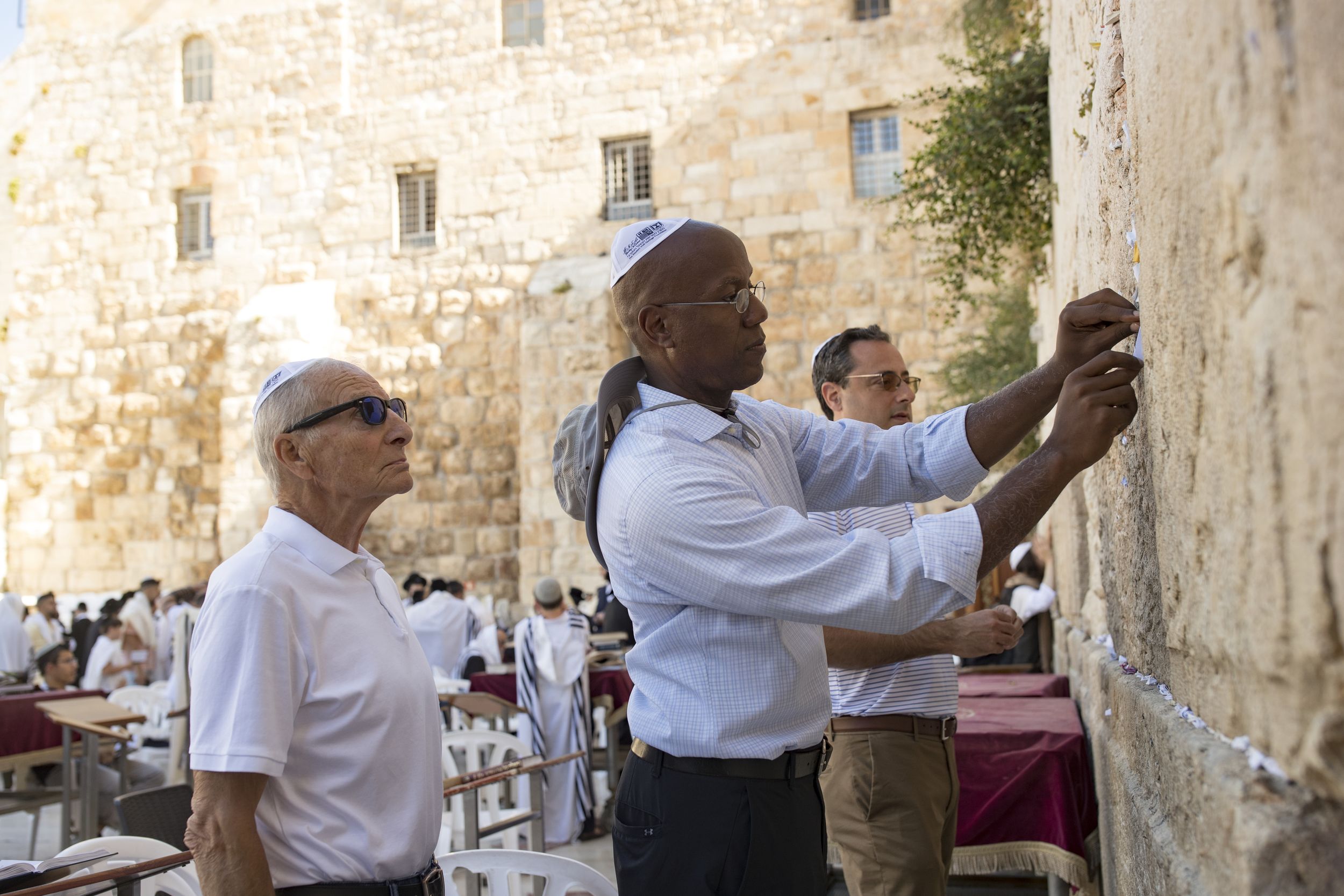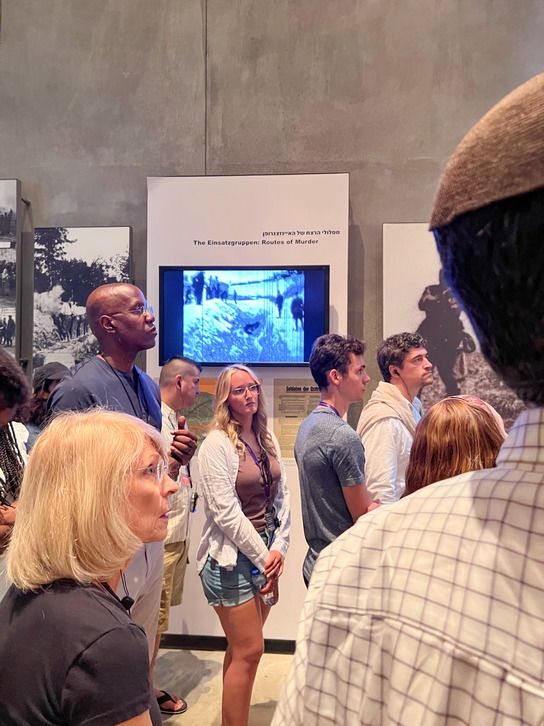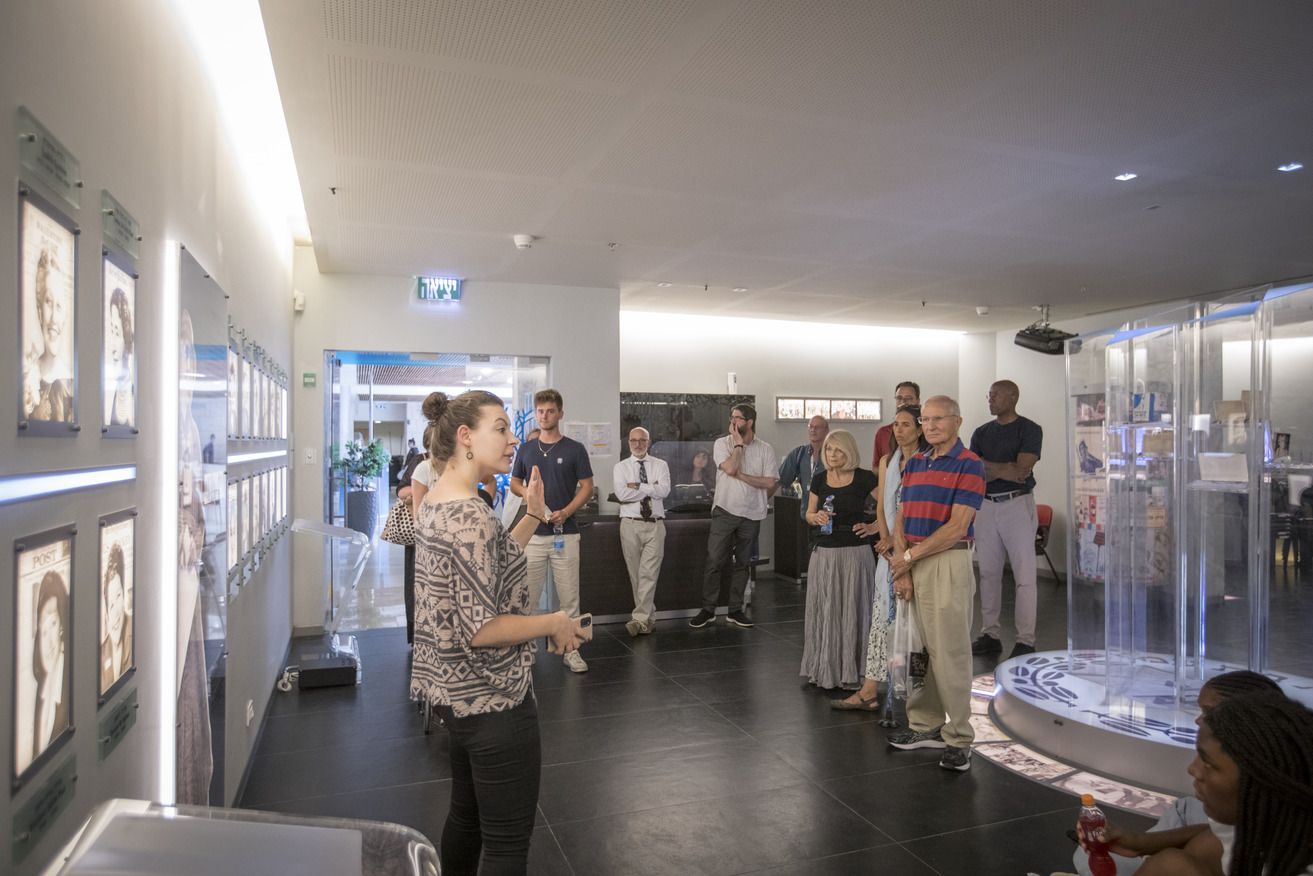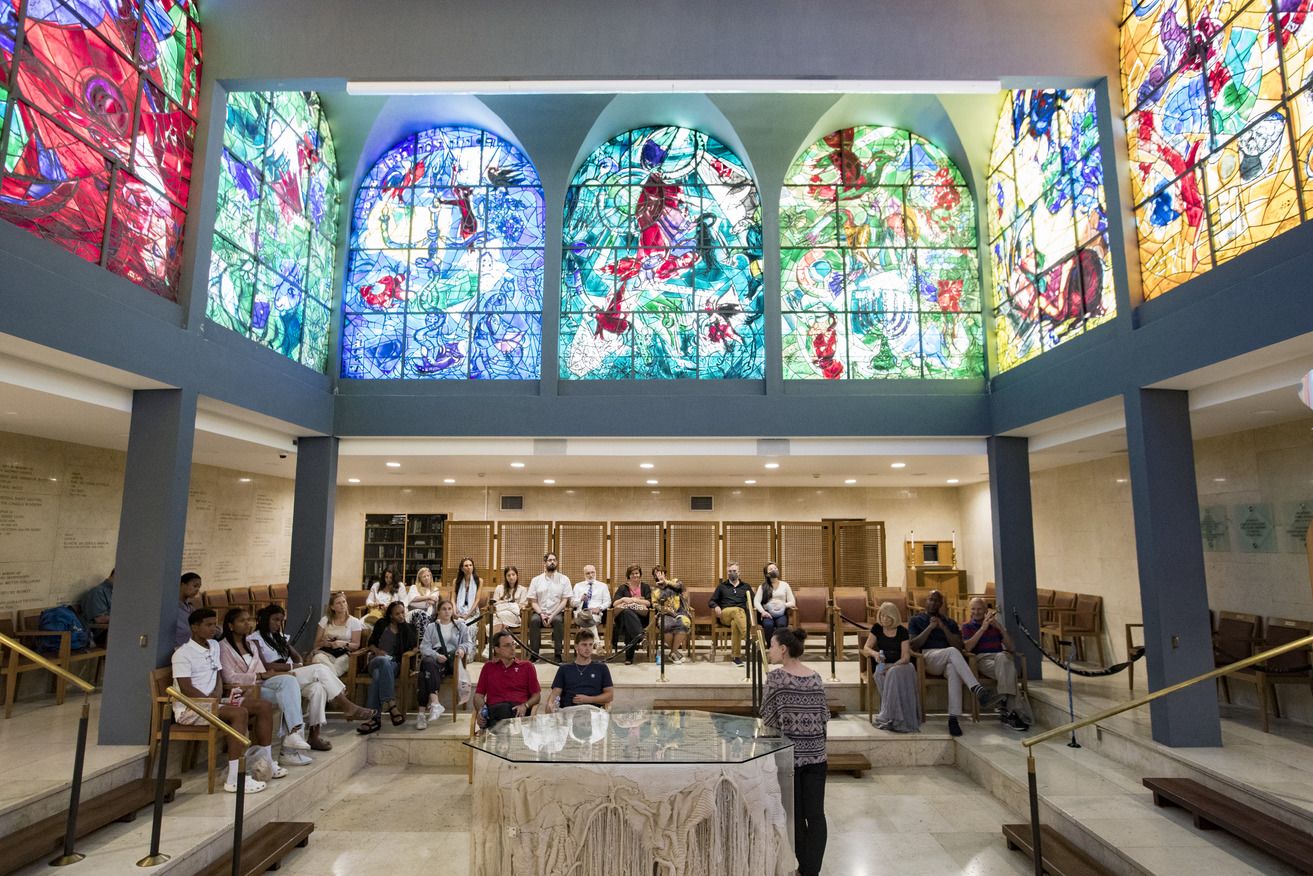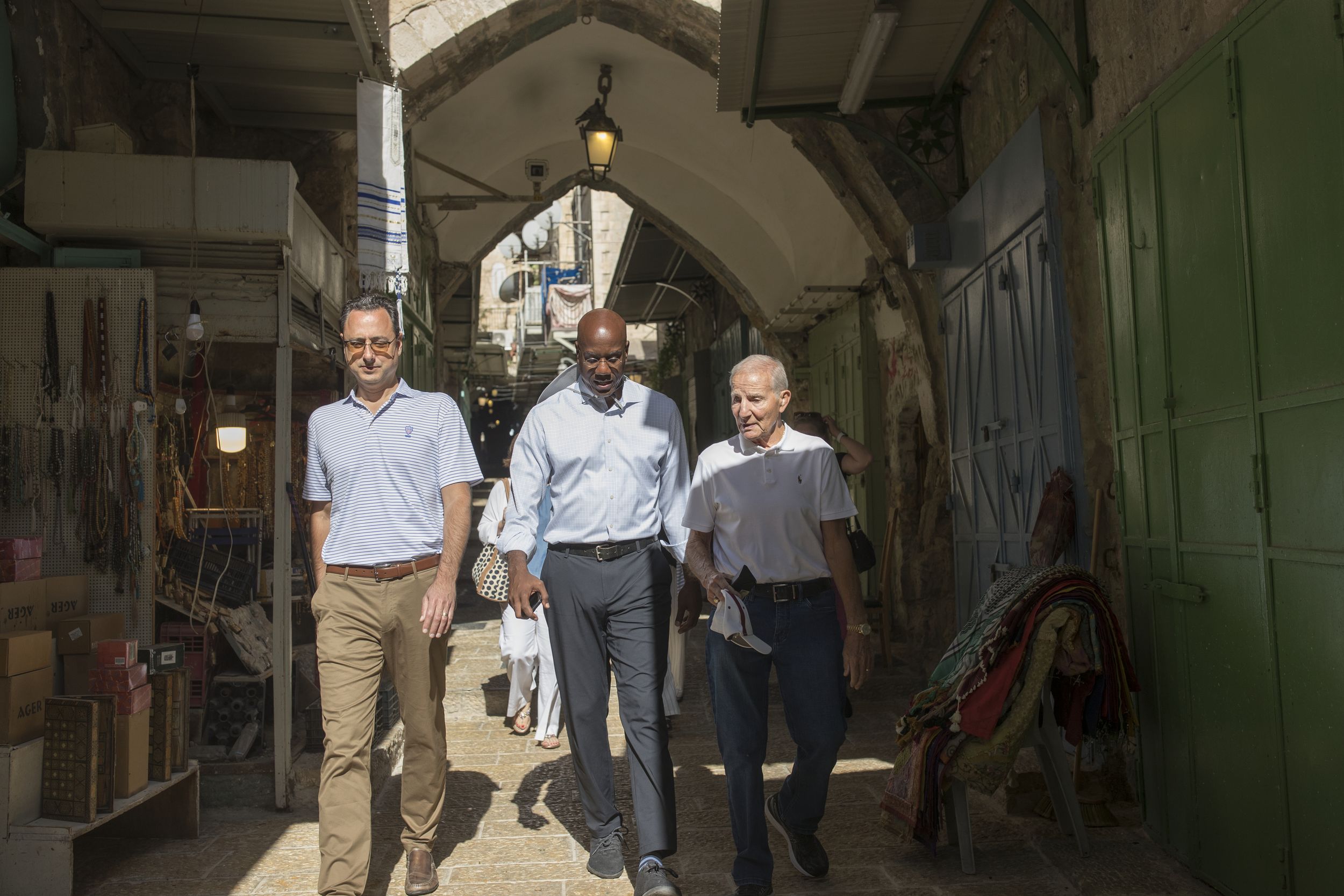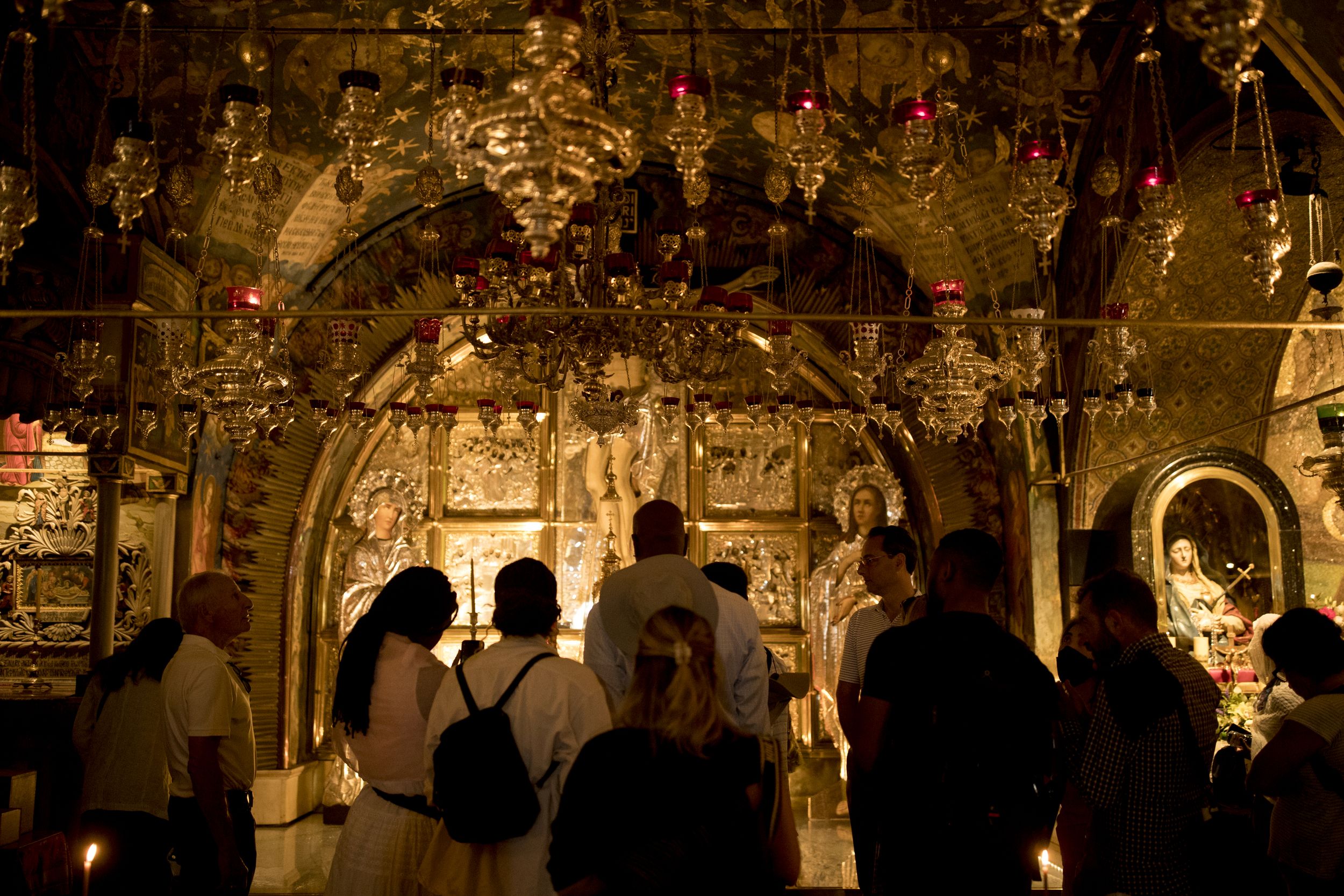 "The Old City contains some of the most important religious sites for the world's three largest monotheistic religions. And even through all of the wars and all the challenges, it still somehow manages to exist." —Greg Mandel, provost