How Temple's only two female student-athlete Army ROTC cadets balance college life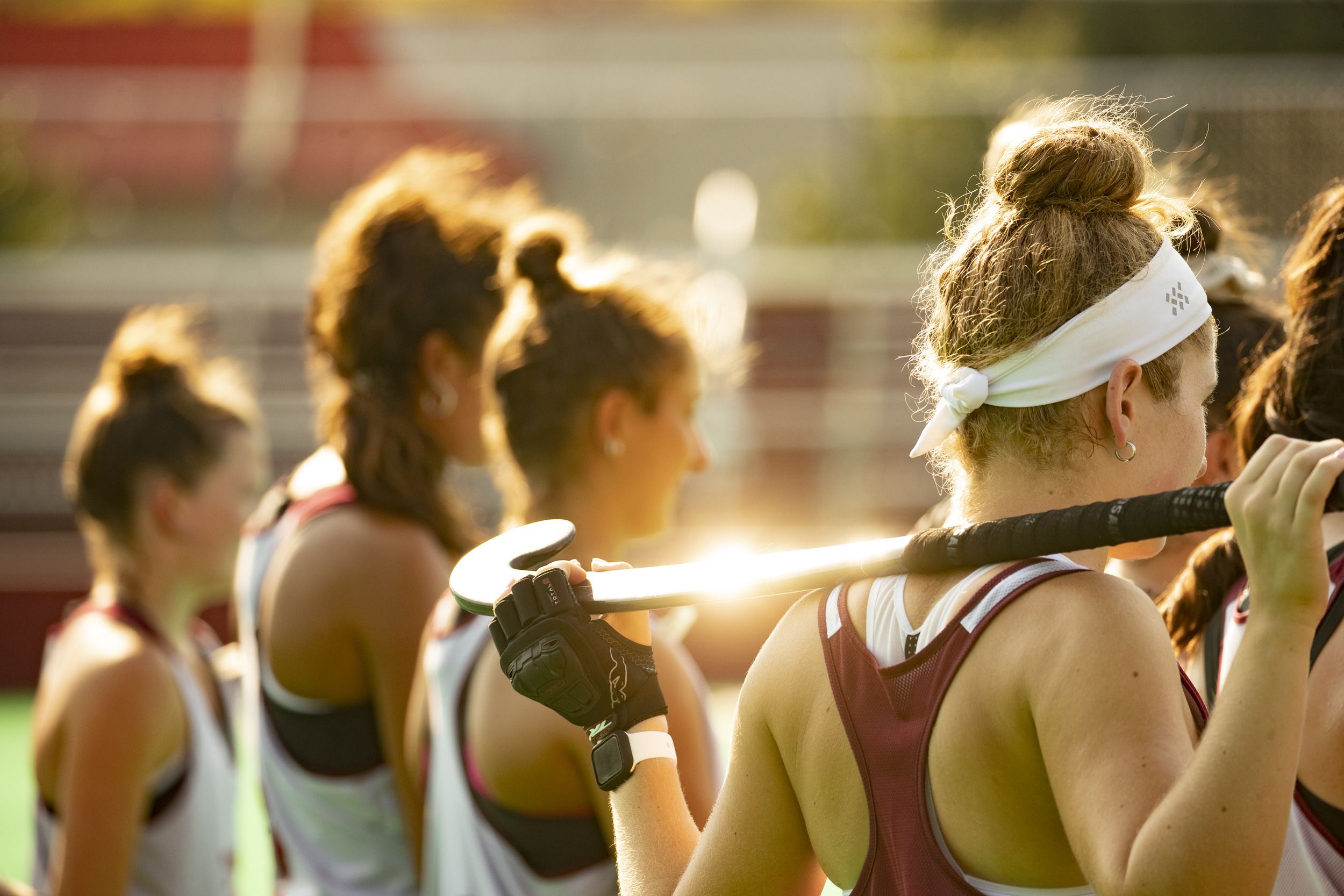 Being a student-athlete presents the daunting task of balancing class, homework, practice, games and life on the road, while still managing to get enough sleep. It can mean ending practice at 6 p.m. with sore muscles just to wake up at 6 a.m. the following day for strength and conditioning drills. It requires sacrifice, time management, unwavering dedication and grit.   
McKenna Burkhardt and Sophia Gulotti, both of whom are Class of 2023, understand the experience firsthand: They are the only two female cadets in the Army Reserve Officers' Training Corps (ROTC) who are also student-athletes at Temple.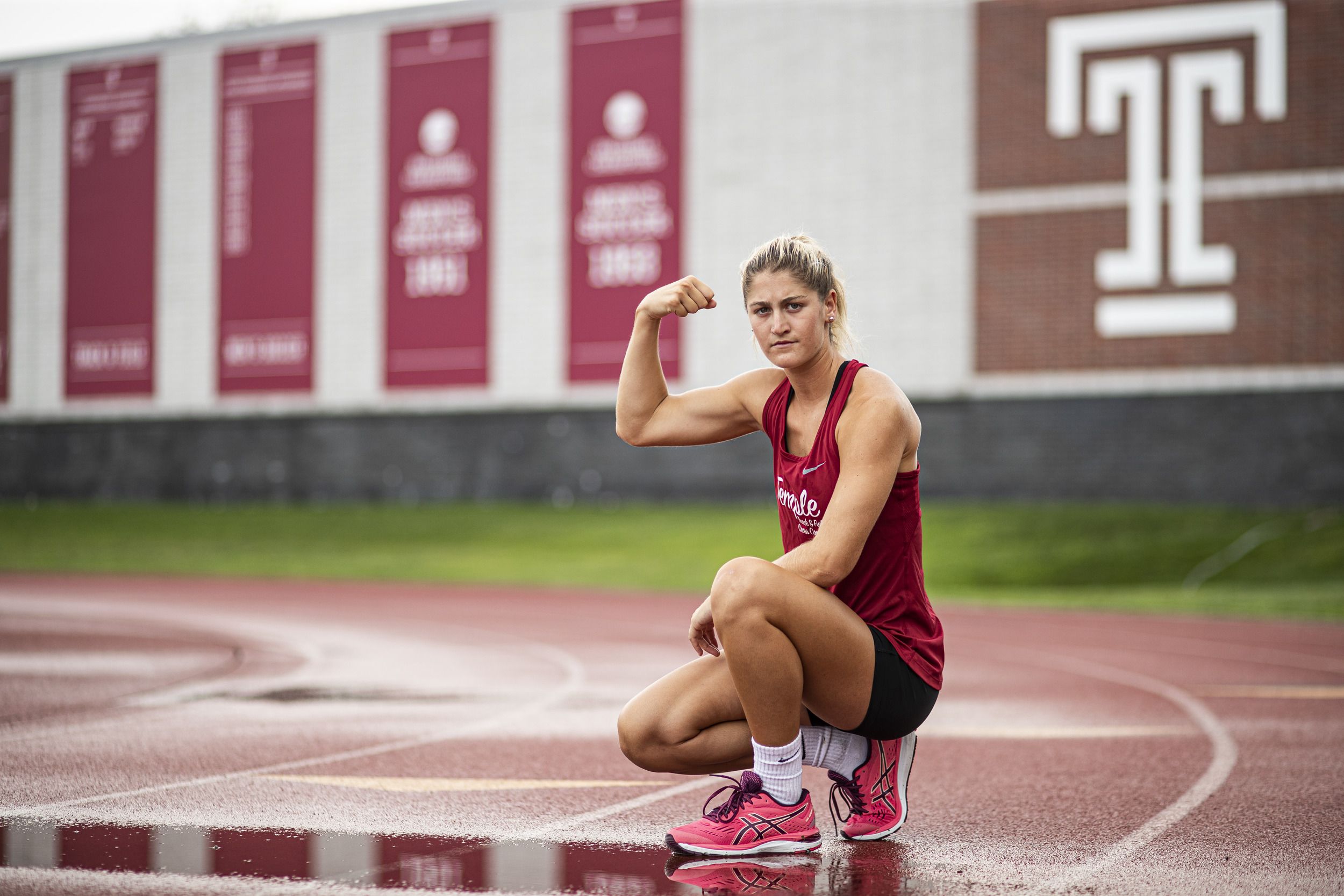 Sophia Gulotti, Class of 2023
Sophia Gulotti, Class of 2023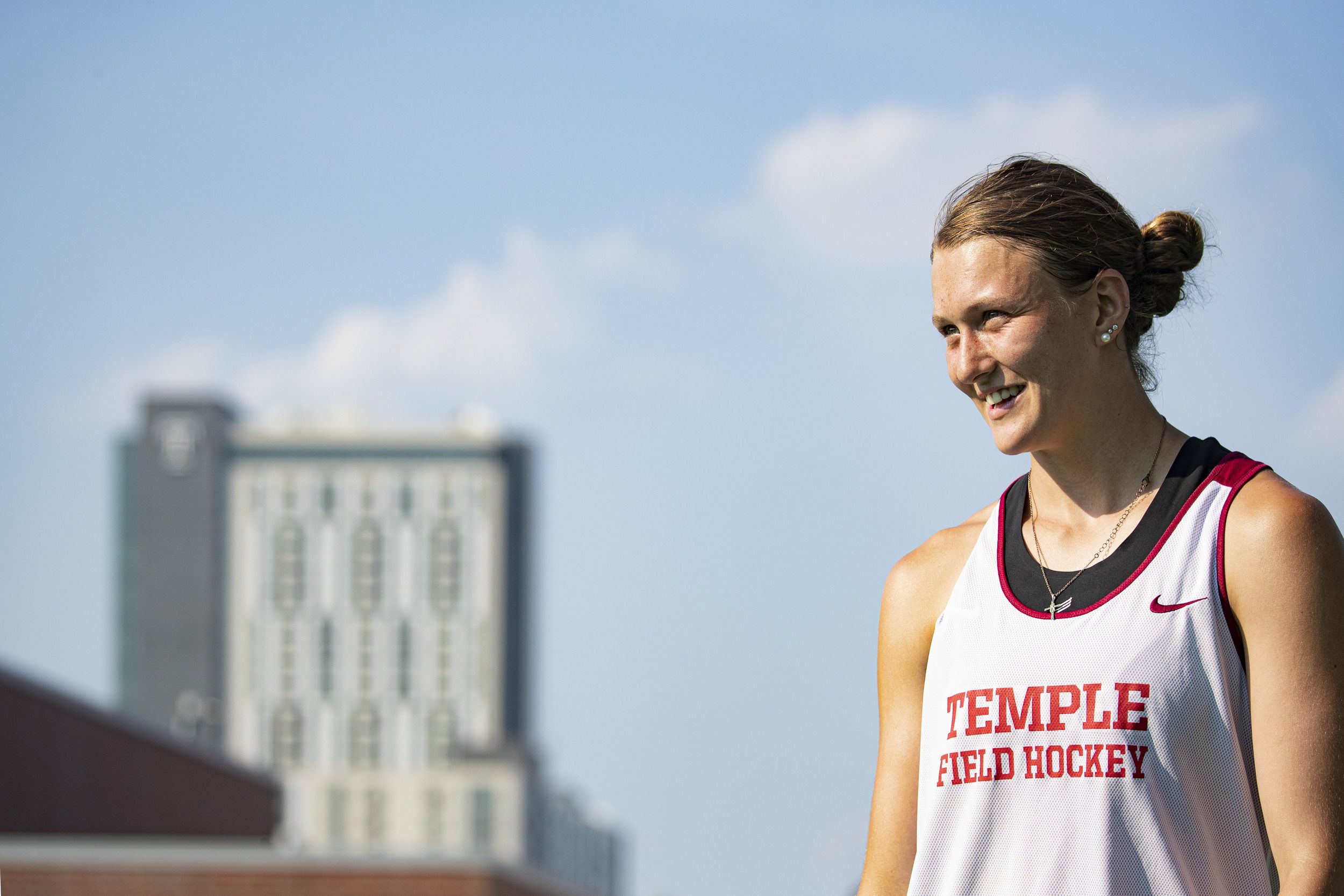 McKenna Burkhardt, Class of 2023
McKenna Burkhardt, Class of 2023
Burkhardt is a left back who anchors the defense for the field hockey team, playing an 18-game schedule that starts in late August and is split between nine home and away games, coupled with a Big East tournament qualification last season, the team's first since 2016. 
Gulotti displays her athletic versatility on the indoor and outdoor track and field teams in the heptathlon, an event that consists of seven different track and field disciplines, including the 100-meter hurdles, high jump, shot put, 200-meter dash, long jump, javelin and 800-meter run. Some of the team's travels have included trips to New Jersey, Texas, Florida and North Carolina.
When Burkhardt and Gulotti are not competing in their respective sports, the two of them have been grinding out hours of duties for Temple's Army ROTC Red Diamond Battalion since their first year. These hours consist of physical training, classroom time, leadership lab and traveling to military bases in order to learn the individual skills and military tactics to become Army officers.  

Burkhardt is a cadet first sergeant in Bravo Company who holds company formations in accordance with the field manual and supervises cadet accountability during training. Gulotti is an assistant cadet S-3, who assists in planning events and training for the university's Army ROTC program.  
Temple's Army ROTC program was activated as a medical corps unit at the Lewis Katz School of Medicine in August 1947. The program is currently composed of approximately 118 cadets. 
Cadets can compete for numerous scholarships on the local and national levels. The scholarships can cover tuition, books, lab fees, housing and other necessities, according to the undergraduate studies in military science's website.
Balancing academics, athletics and Army ROTC
Gulotti, a nursing major in the College of Public Health, is up as early as 4 a.m., fulfills her Army ROTC and nursing clinical training obligations, participates in a weight training session, and attends class, as well as track and field practice for three hours, all in a single day. 
A native of Wilmington, Delaware, she grew up with a passion to serve the country and travel the world and has known since high school that she wanted to join the Army ROTC program to become a United States Army nurse. 
"Becoming an Army nurse checks off all the boxes for me because I've always been an athlete and being in the Army you have to stay physically fit, and being on that strict regimen really drew me in," said Gulotti. "I wanted a career that was going to be exciting, allow me to see the world and meet a bunch of people, but also serve. I want to help people." 
When Gulotti was deciding on colleges, she chose Temple because it felt like home the moment she first set foot on campus. 
"I visited some high school friends who were students at Temple on Labor Day weekend during a music festival and I really liked the city vibe that Philly provided," said Gulotti. "I like the hustle and bustle that the city offers and I like being in North Philly."
Burkhardt shares a similar story: She is up before dawn, too, participates in Army ROTC duties, attends class, and has field hockey practice six days a week that takes up to four hours a day sprinkled with weight training and conditioning. She has wanted to be involved in the ROTC program since high school to join the Army National Guard. 
The Bethlehem, Pennsylvania, native is a health professions major in the College of Public Health and is pursuing a career in the medical field to become a trauma physician assistant.
"I specifically want to work in the emergency room treating trauma, because of the level of adrenaline that comes along with it. I can relate this rush to when I play field hockey," said Burkhardt. "Helping people out has always been a passion of mine and being in those high-intensity situations."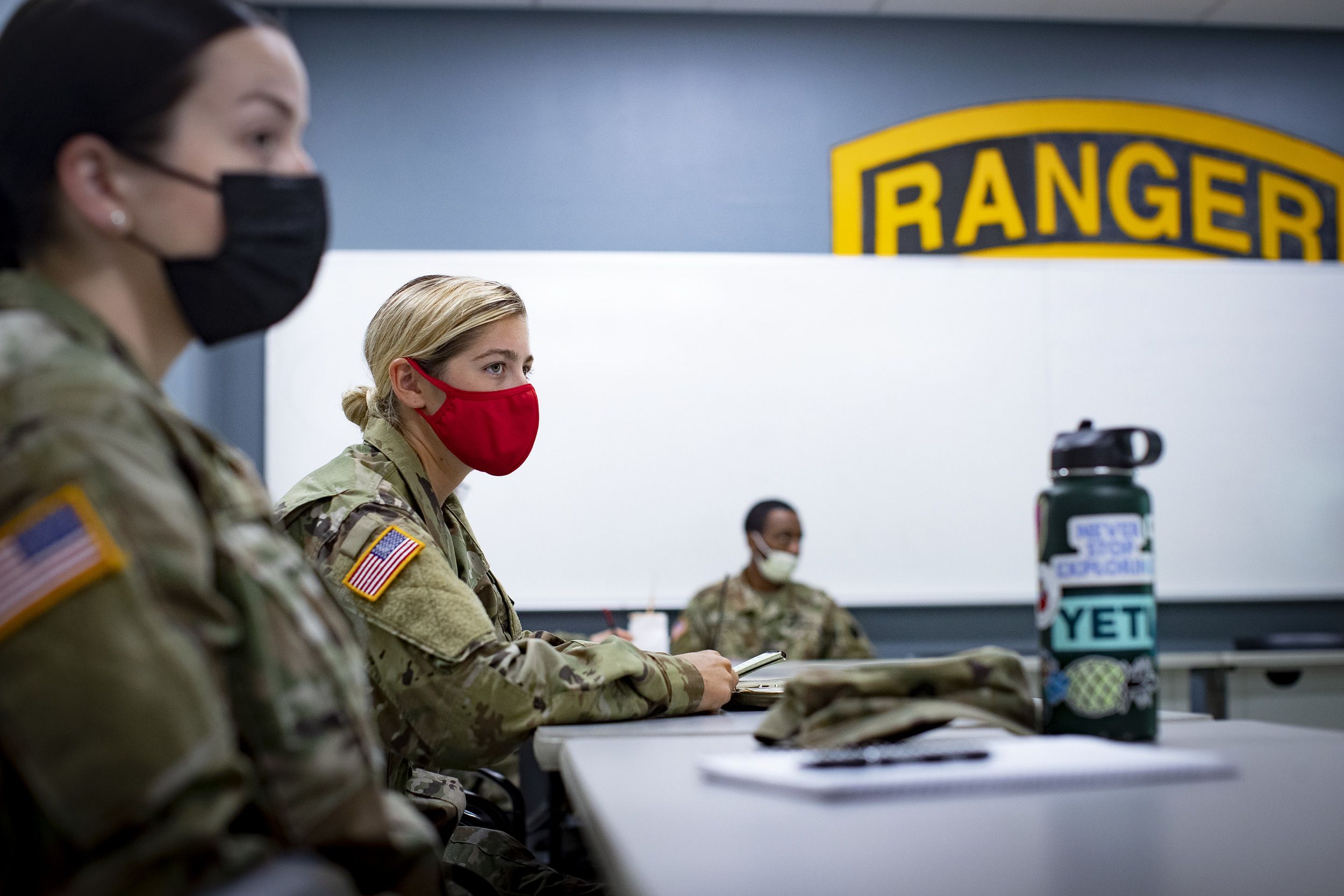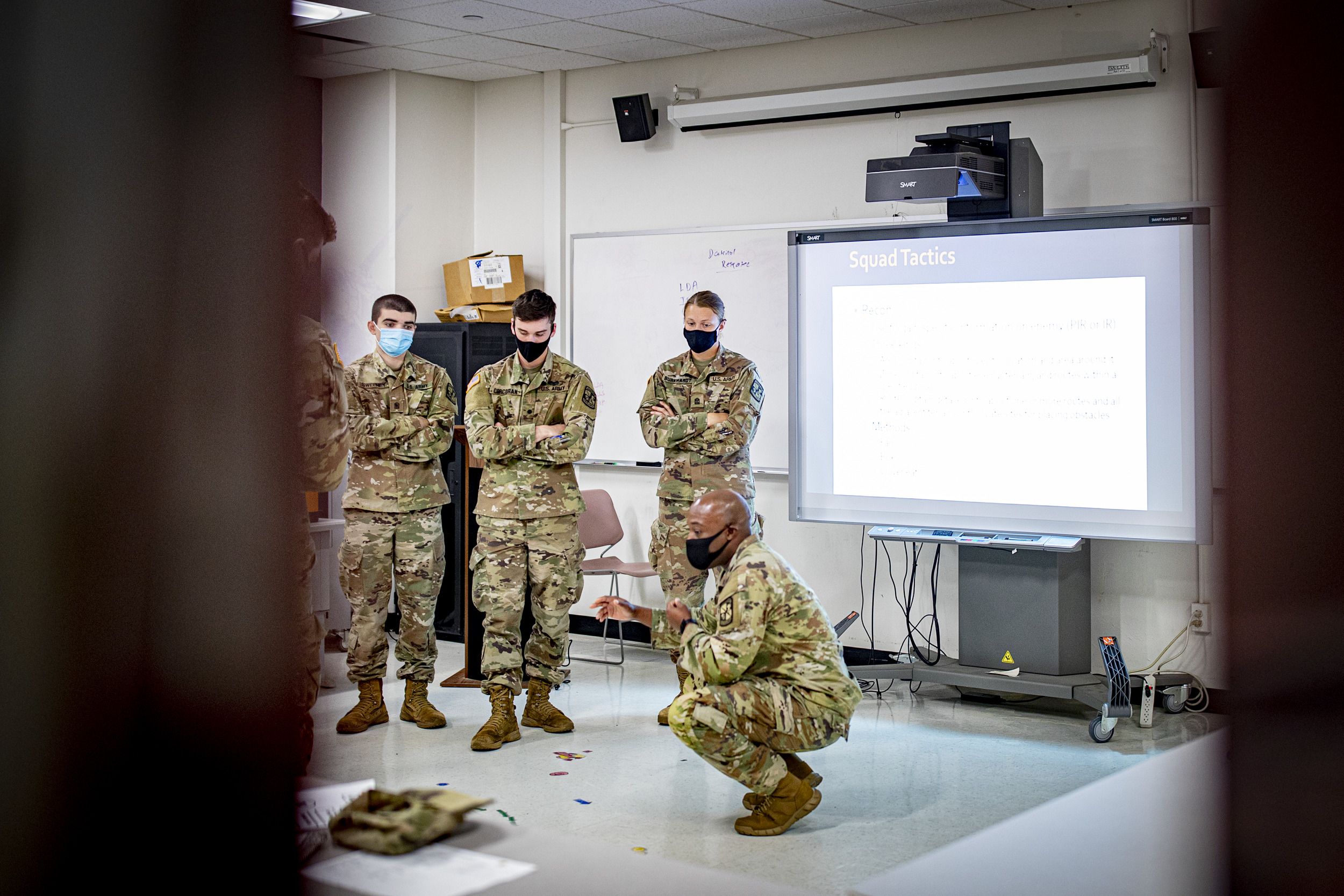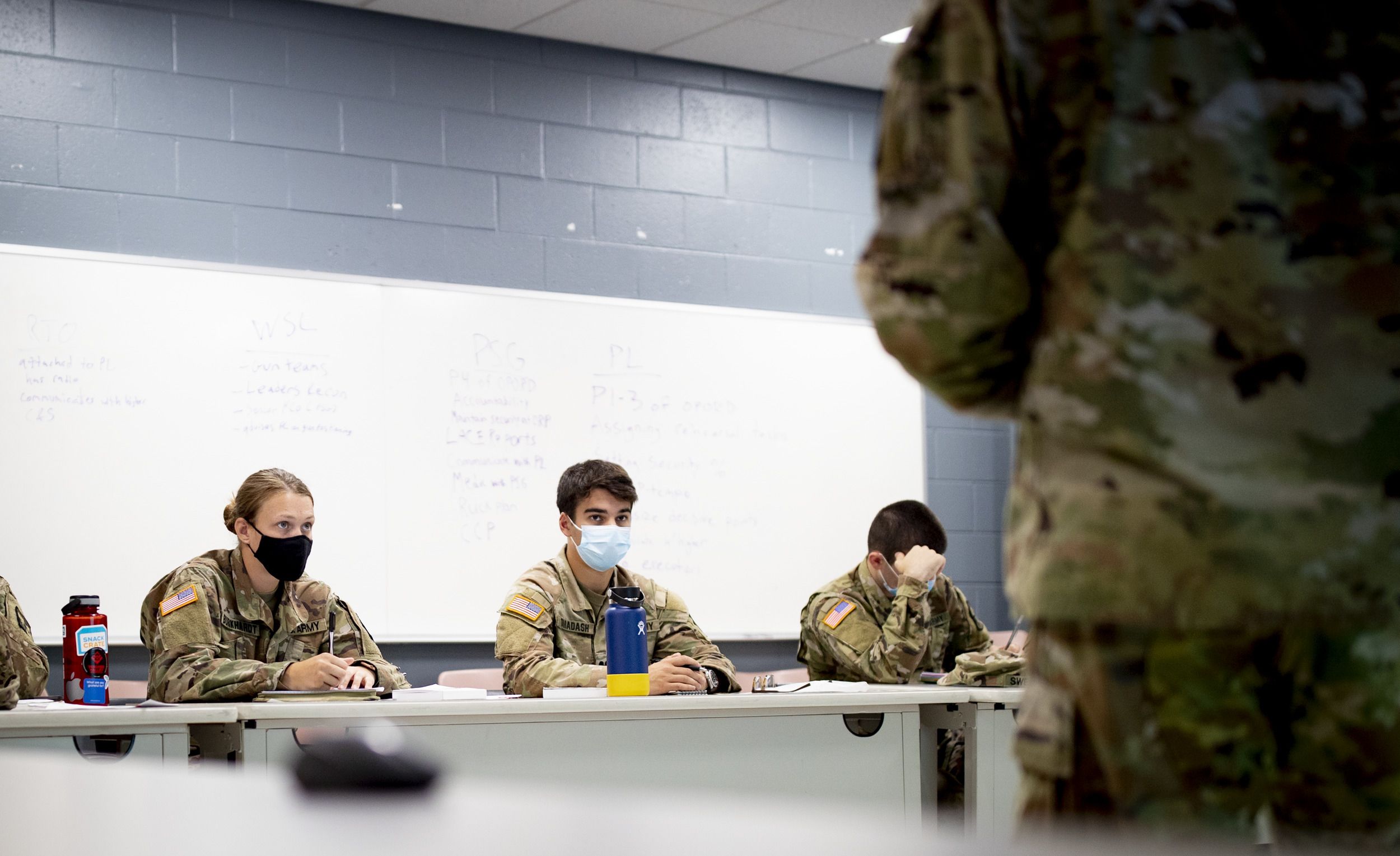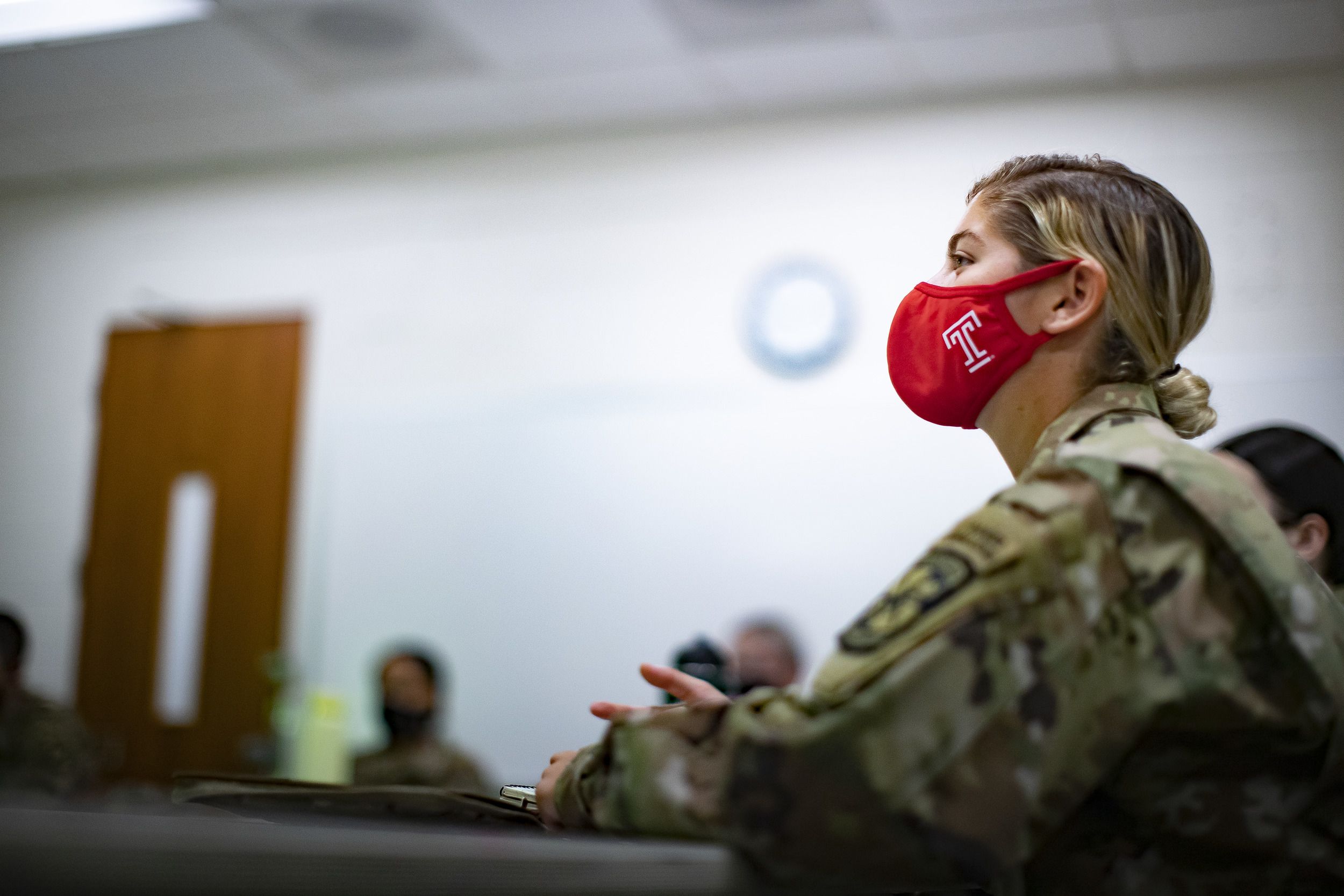 Item 1 of 4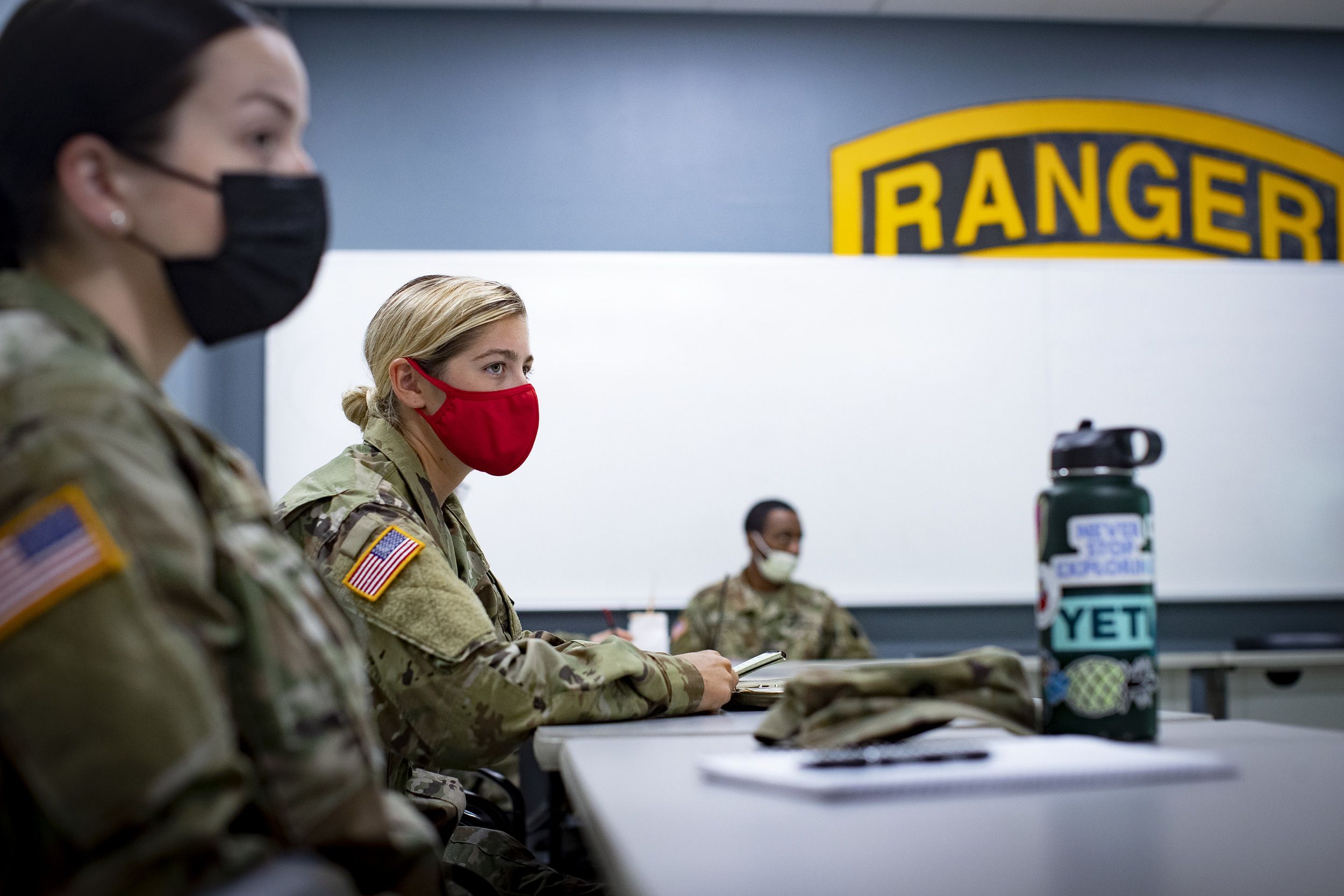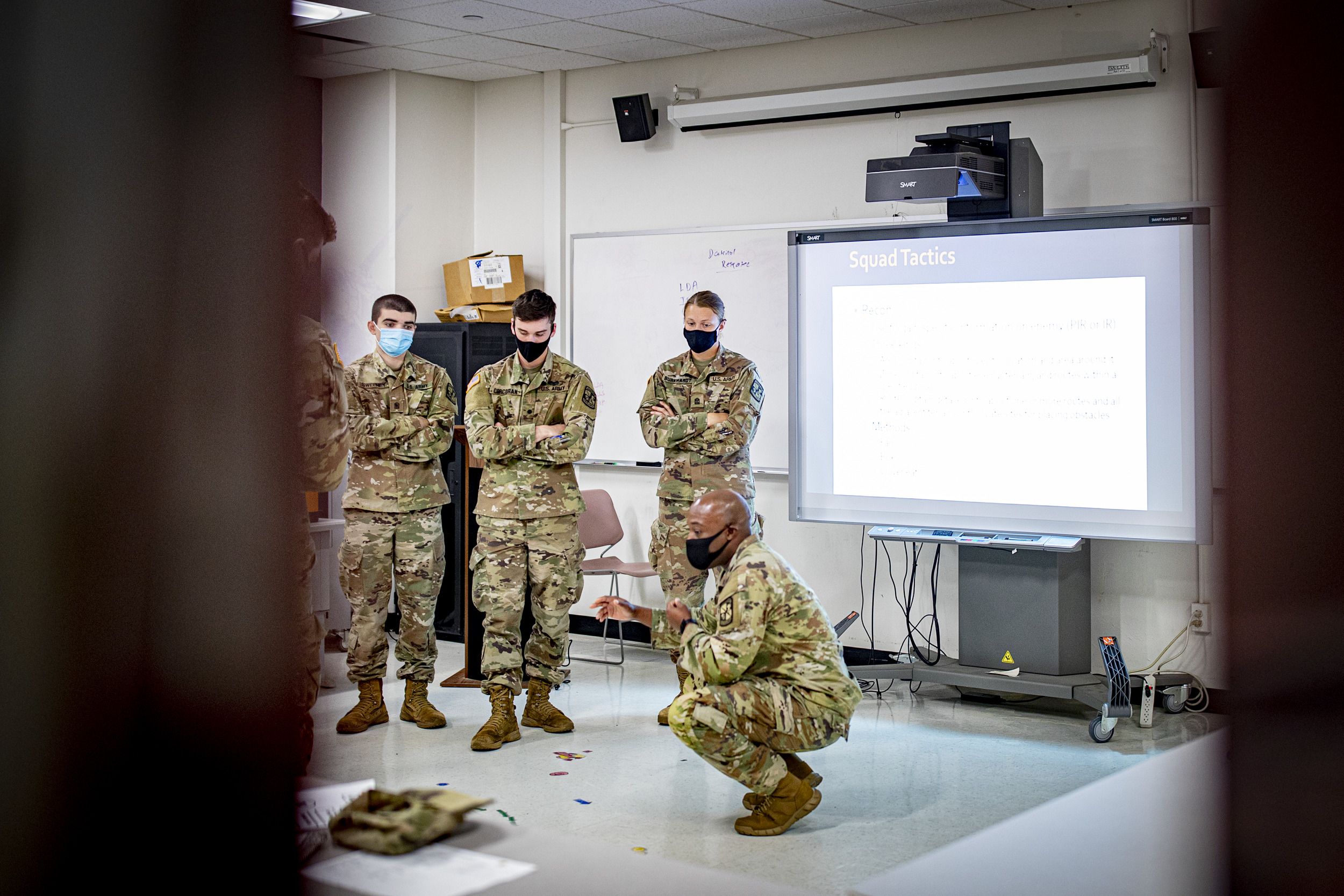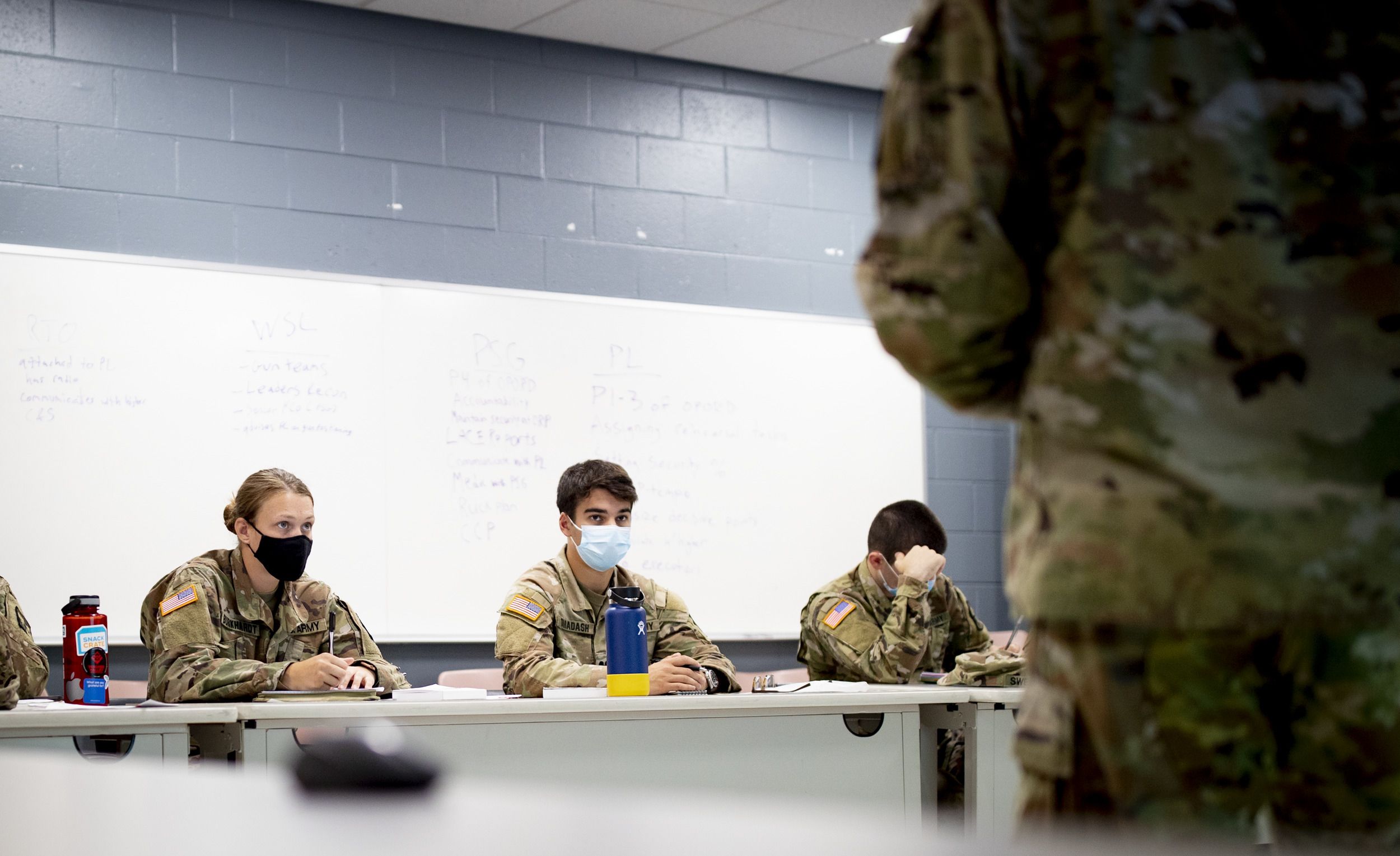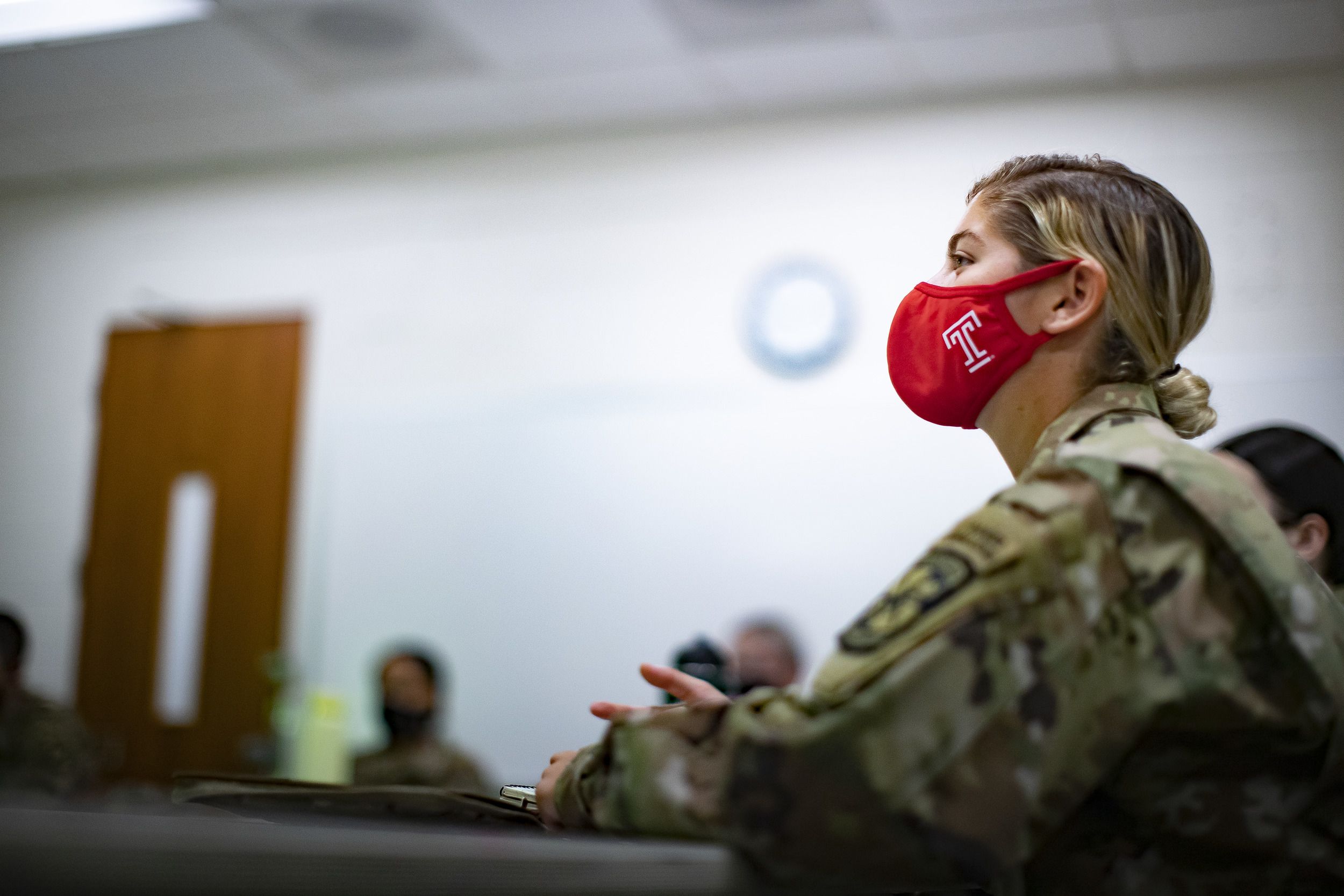 Early morning physical training (PT)
As cadets, Burkhardt and Gulotti face the early morning rigors of the Army ROTC's physical training (PT) sessions that focus on improving a cadet's physical conditioning through a six-event regimen that includes deadlift; push-ups; leg tuck; a two-mile run; standing power throw of a 10-pound medicine ball; and sprint-drag-carry, which involves running five times up and down a 25-meter lane, sprinting, dragging a sled weighing 90 pounds, a lateral dash and carrying two 40-pound kettlebell weights in order to set them up for success on the Army Combat Fitness Test that is taken at least twice a year.
"As part of our physical fitness test we have to deadlift and McKenna is just a powerhouse. I definitely need to get on her level," added Gulotti. "But I try to push McKenna on the runs and it's really fun to push each other in different ROTC events."
"That is awesome she said that about me, but Sophia is a powerhouse too,'" said Burkhardt. "She pushes me to be better in my running and the education part of our ROTC duties, so she's just a great person to have around."
With the PT sessions regularly scheduled for no later than 6:15 a.m. on Monday, Wednesday and Friday at Geasey Field and the majority of track and field and hockey practices running into the early evenings, establishing a routine for homework and time management is pivotal, both Burkhardt and Gulotti echoed.  
"I definitely prioritize at least three to four hours of studying homework and getting organized after practice,'' said Burkhardt. "With my schedule and time management you have to be very disciplined to get stuff done."  
"I think maybe the hardest thing is just trying to get everything done, so time management is a big key," added Gulotti. "It is about finding that balance among work, rest and recovery. My routine is now second nature to me." 
Some days Gulotti is up at 4 a.m. because she is on the Ranger Challenge team, an Army ROTC varsity sport where cadets within the program compete against other schools in competitions like physical fitness and other graded events.
"We have to wake up early because we go on long runs to the Philadelphia Museum of Art and road marches down Kelly Drive," said Gulotti. "Then we'll work on tactical skills and weapons assembly." 
Gulotti added that although there can be scheduling conflicts due to the nature of her busy lifestyle, Temple has been supportive when they do arise.  
"There are days where I have to miss a track practice or a lift session due to an ROTC mandatory, so the staff at Temple has been really understanding and flexible," said Gulotti.  
Building friendship and camaraderie
Both athletics and the Army build strong bonds and camaraderie because teammates spend a lot of time together, pushing through obstacles. Burkhardt and Gulotti said that they had developed a close friendship since their first year at Temple. 
"Right from the beginning, we just clicked because we were both athletes bonding over our athletic schedules," added Gulotti. "It's fun to do both ROTC and athletics with somebody who you know is just as passionate about it as you are."
Burkhardt initially had doubts about if she could balance both field hockey and the Army ROTC program, but she was motivated to do both once she discovered that Gulotti was a fellow Temple student-athlete in ROTC.
"I honestly just didn't think I could do both, but then I saw there was this girl on the track team, who was in ROTC. I thought wow she can do it, so can I," said Burkhardt. "I would definitely call her one of my best friends. She's someone I honestly look up to because she's very passionate, always a great teammate and has always been here for me, helping me out whenever I have questions."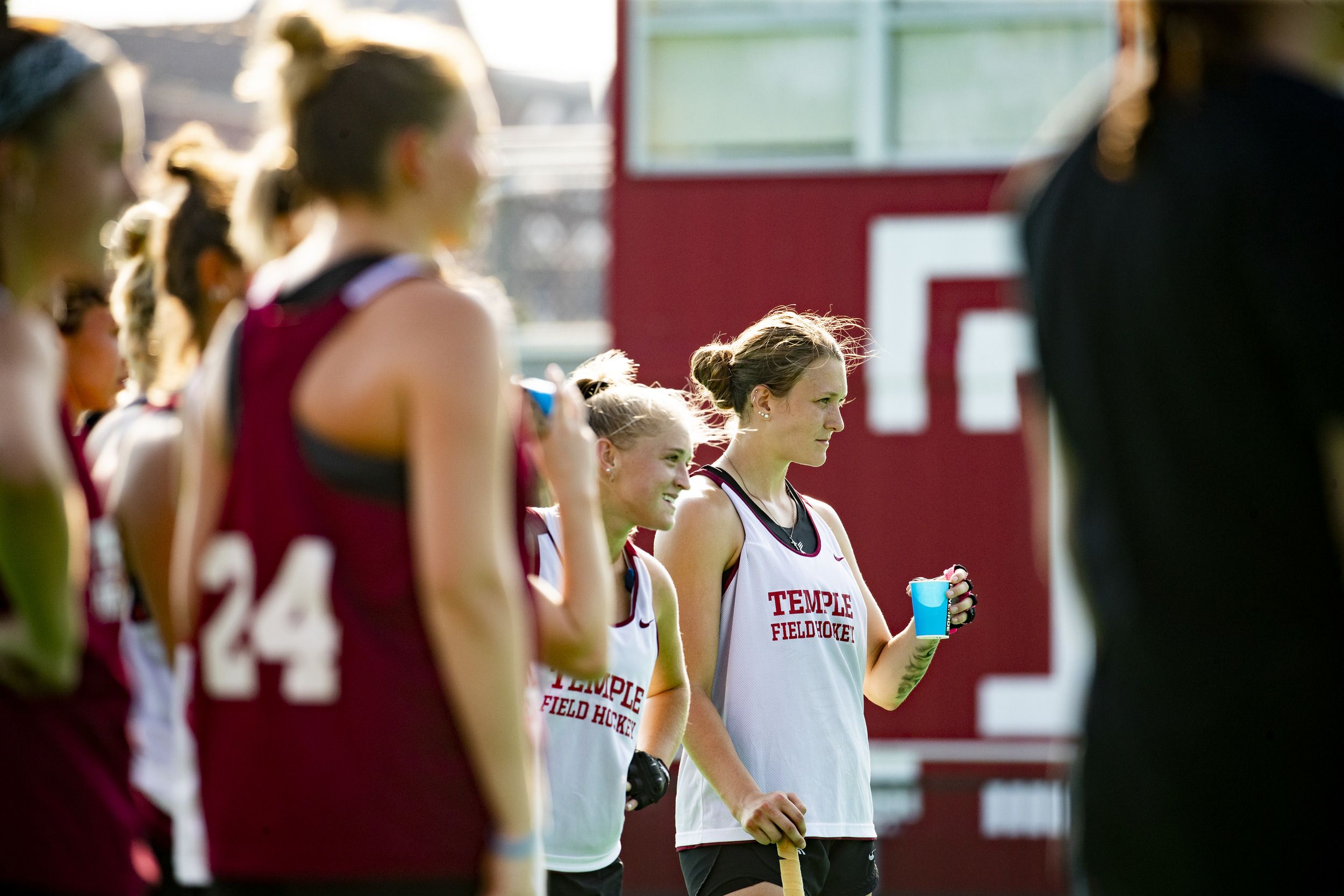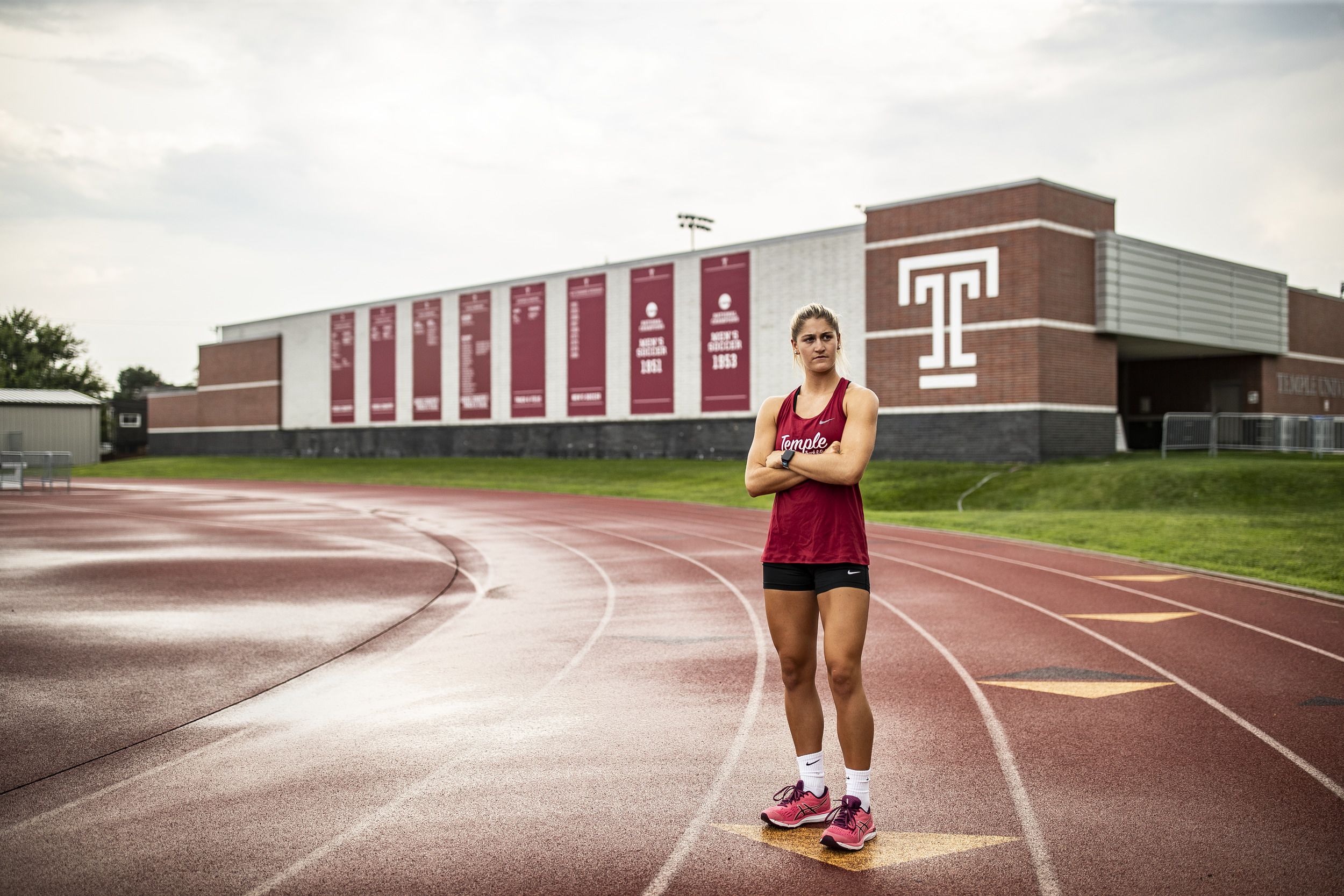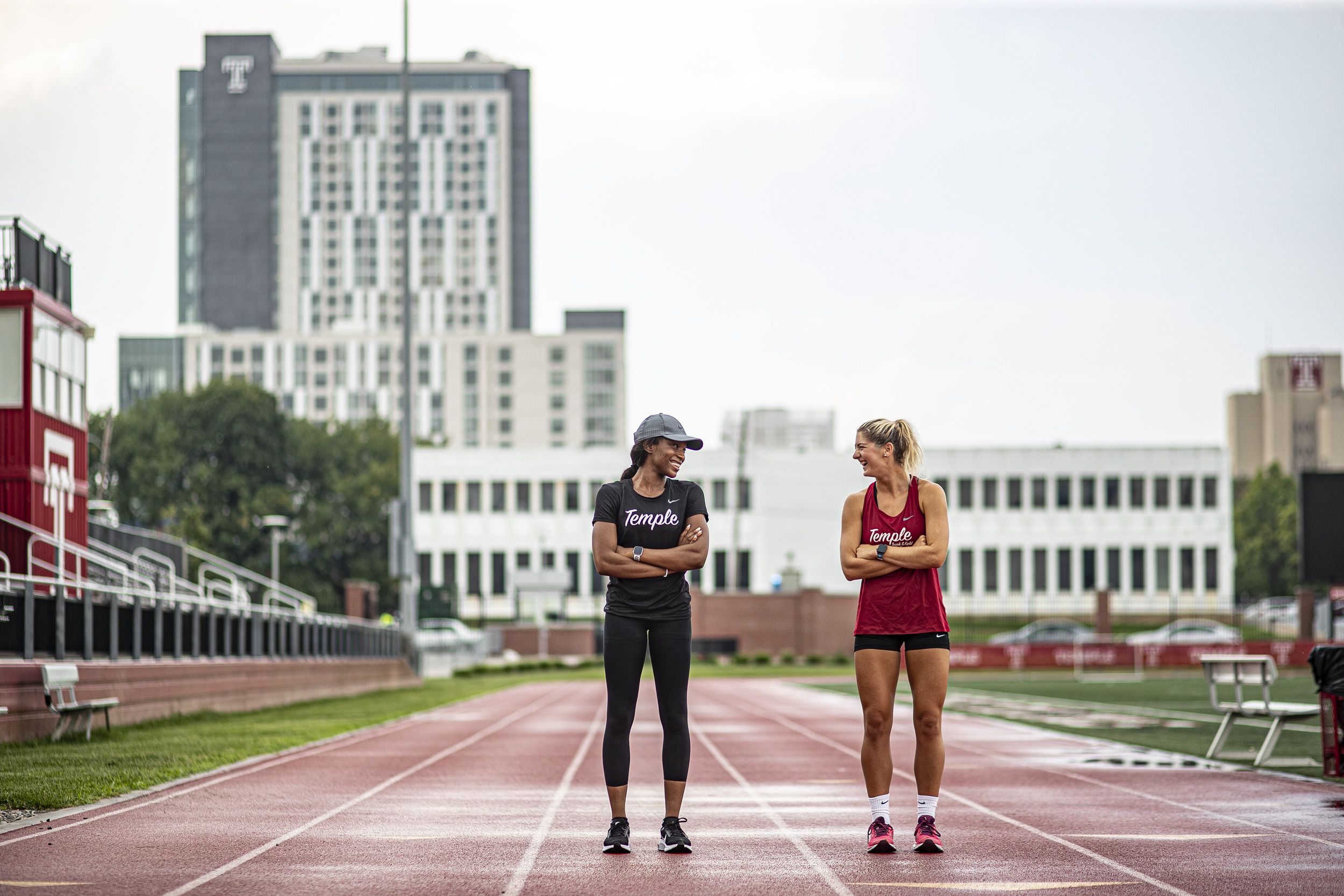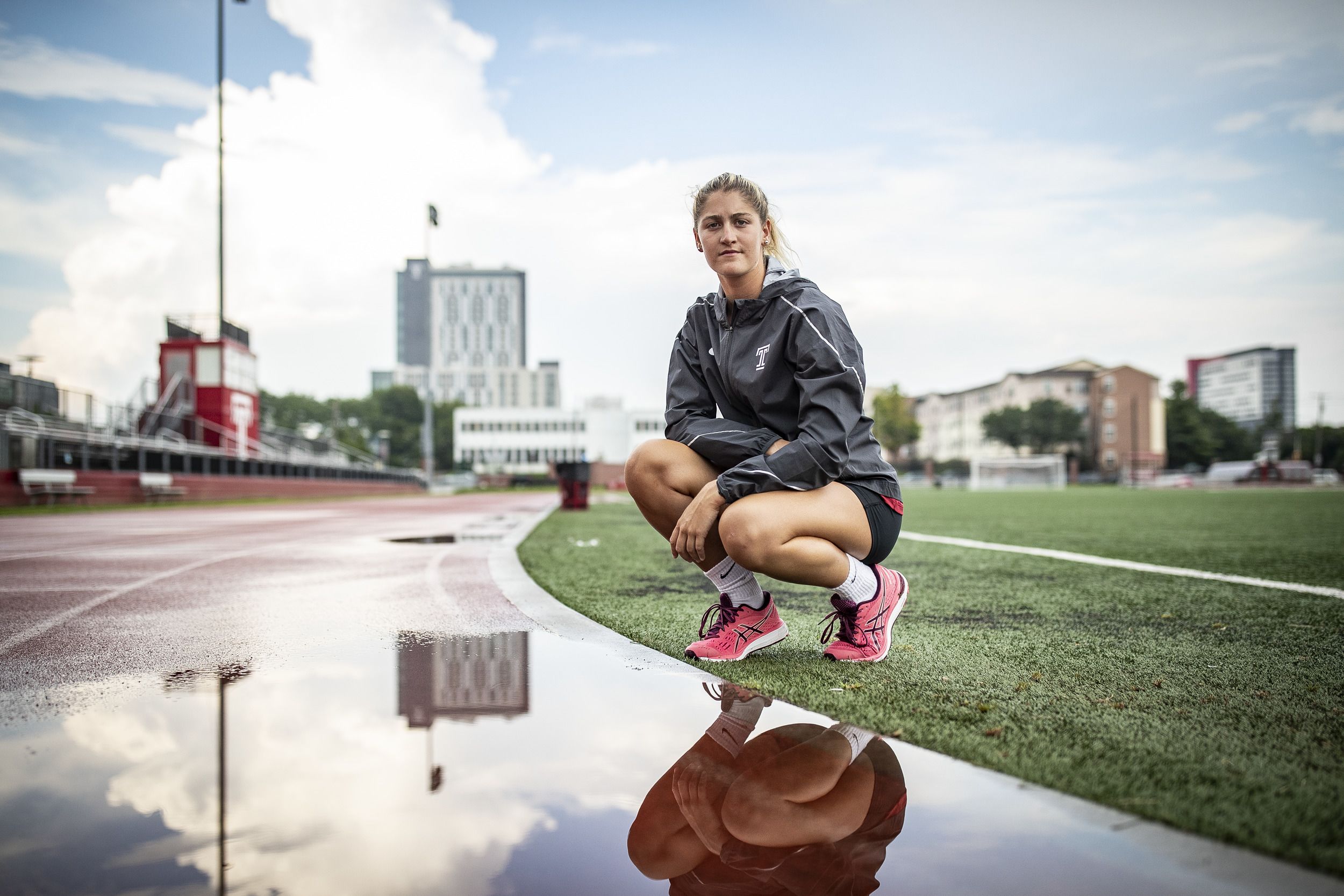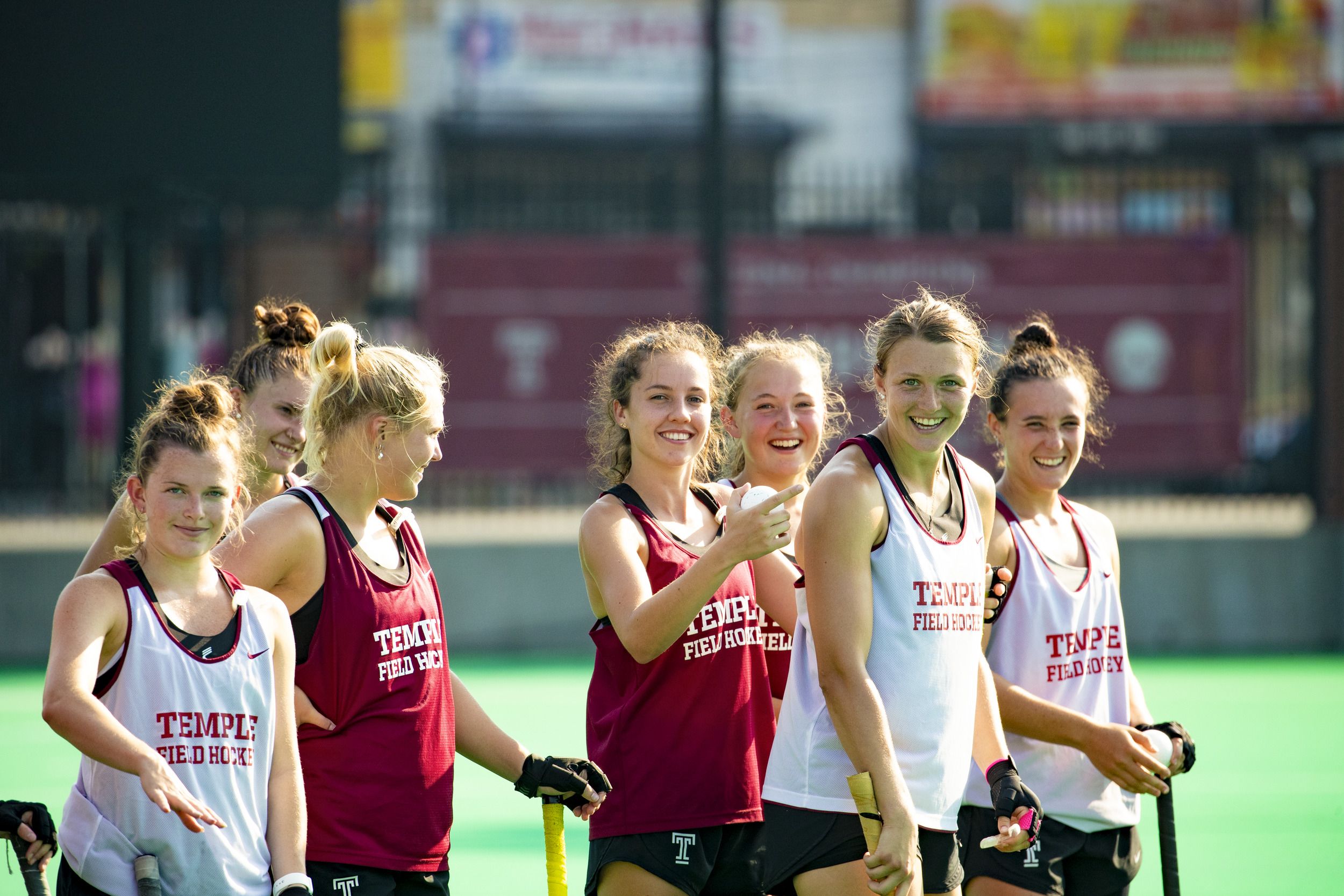 Item 1 of 5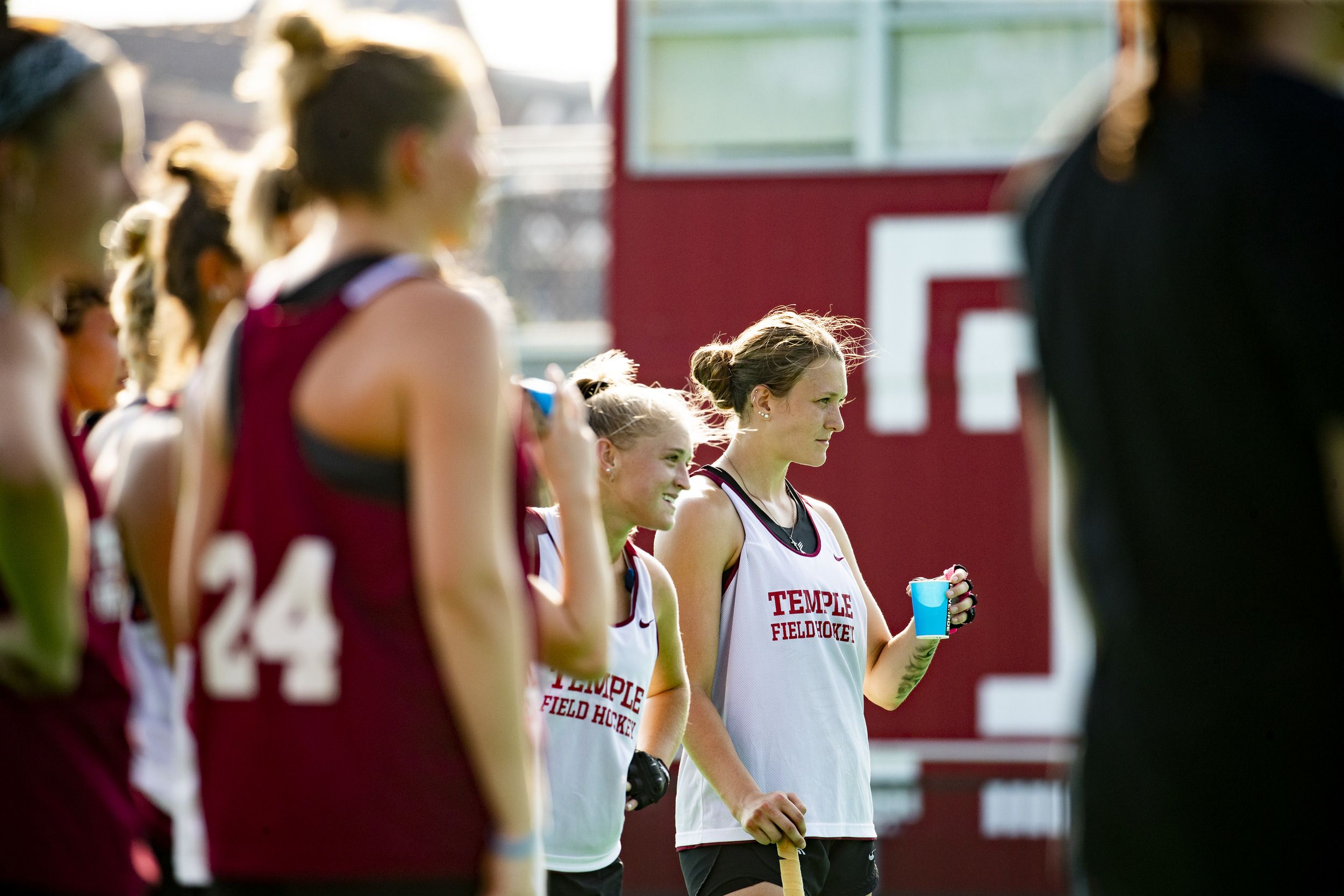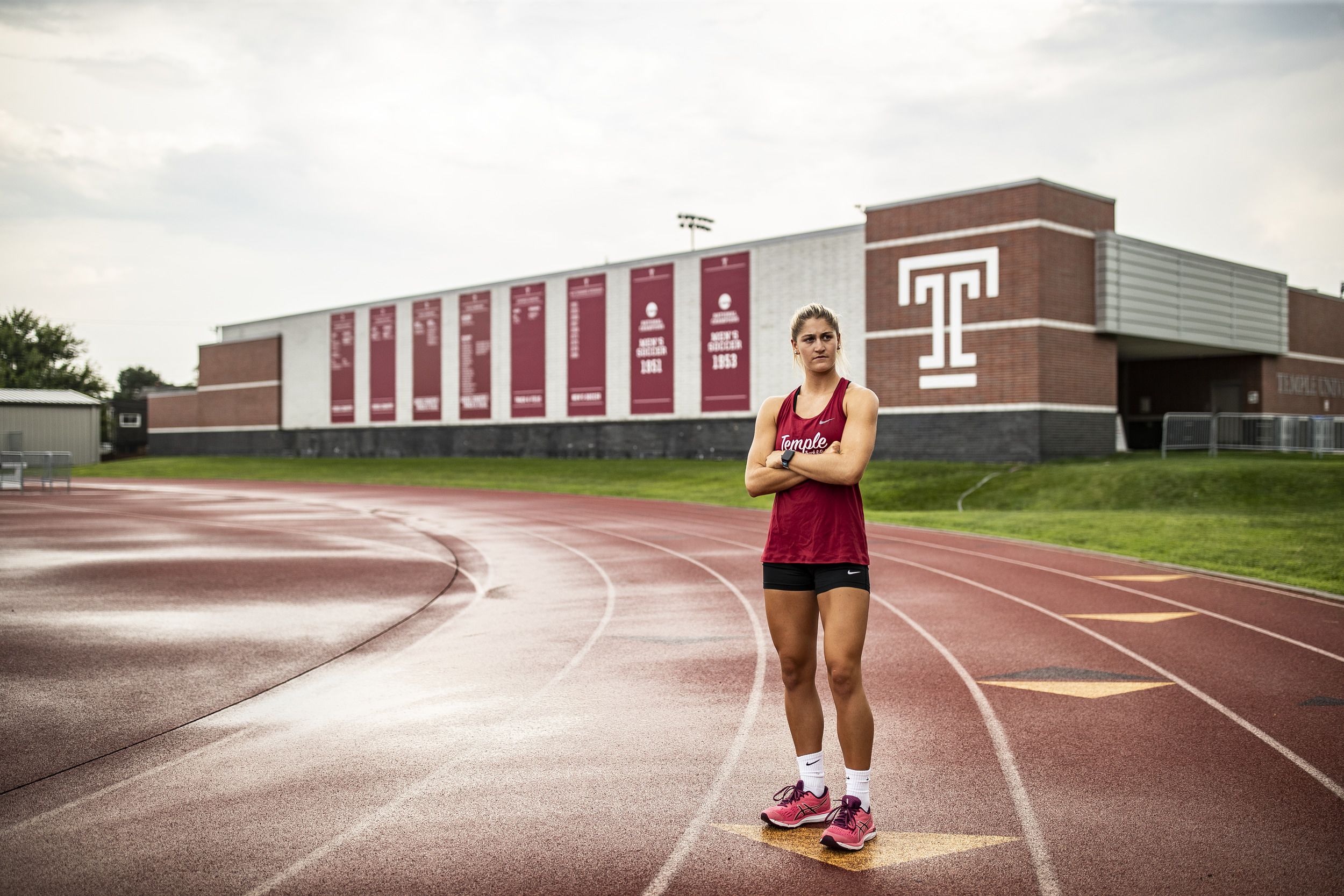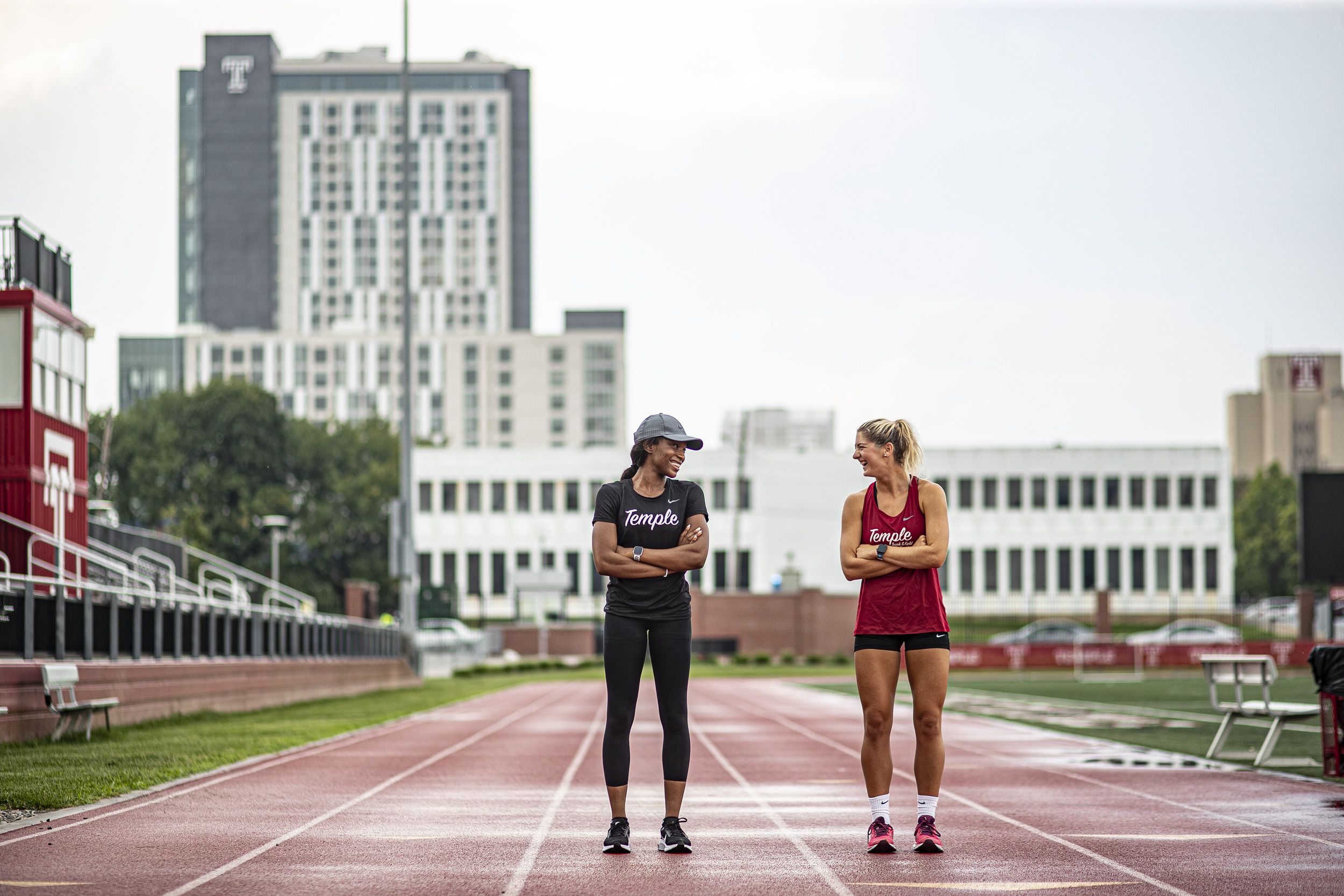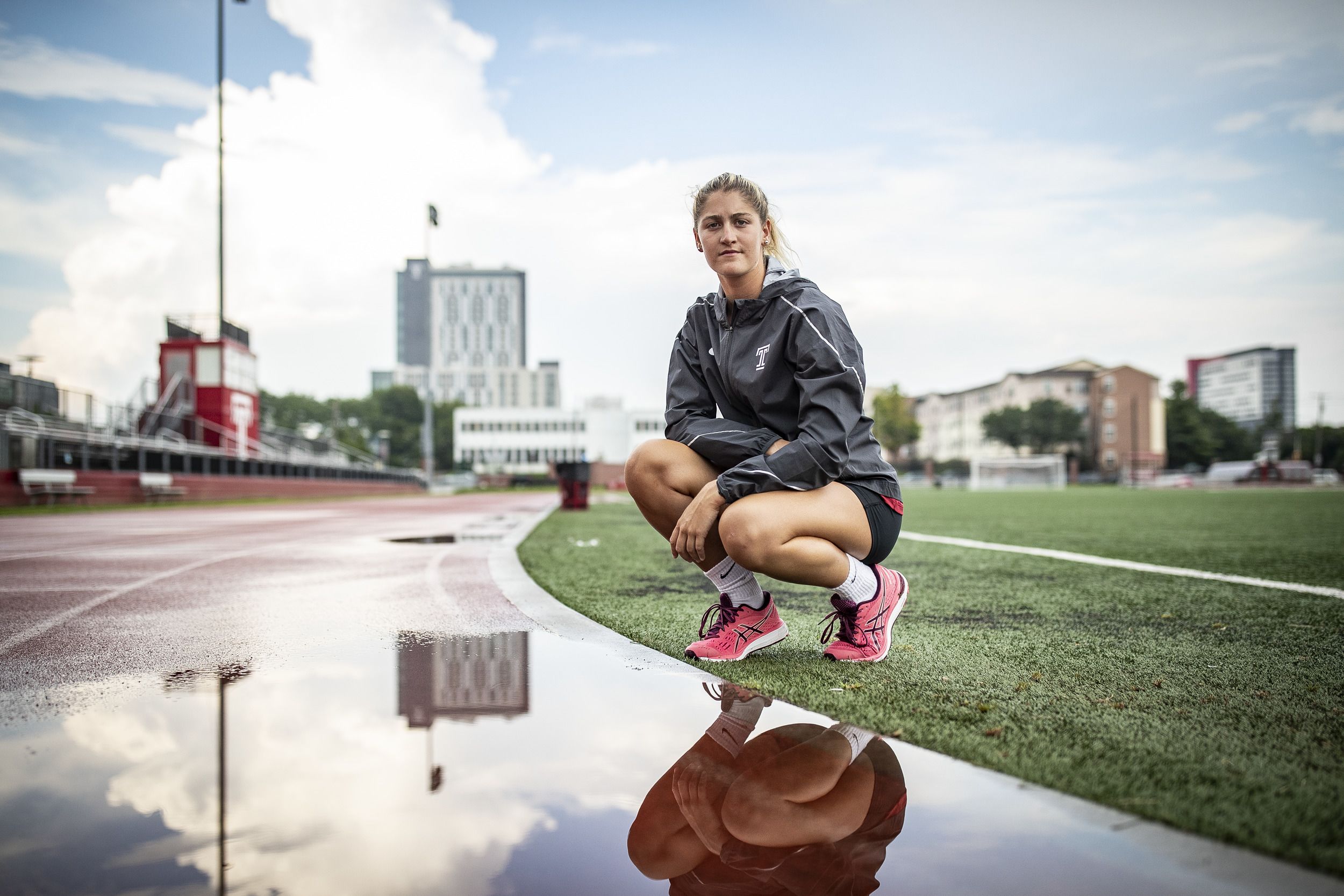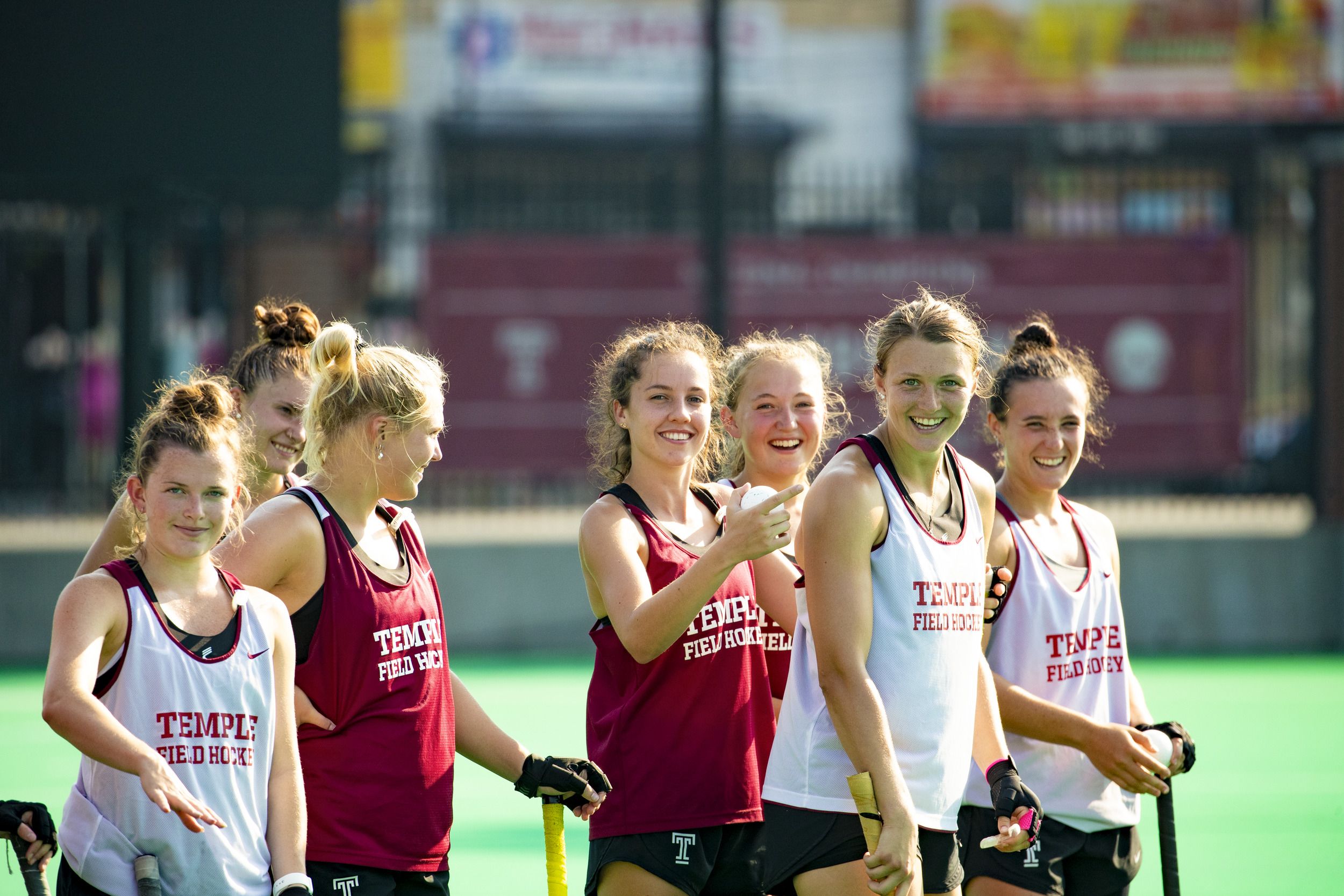 Field training exercise (FTX)
Early last October, Burkhardt and Gulotti geared up for field training exercise (FTX) at Fort Indiantown Gap, Pennsylvania. Cadets have multiple FTX throughout their four years, where they travel to military bases for training during a weekend. During FTX training, cadets perform various situational training exercise lanes, which are simulated combat scenarios. 
Gulotti and Burkhardt used skills and applied tactics from previously learned Army ROTC classes and labs like first aid, land navigation and troop leading procedures to missions in the FTX fall event to display their leadership abilities in unfamiliar territory under stressful conditions.
As part of the FTX training, Gulotti said that it was a new experience sleeping outside in the middle of the woods, under the stars, but she was able to adapt to the conditions rather swiftly. 
"It was definitely something new to get used to sleeping outside in the freezing cold in the middle of the woods," added Gulotti. "You gain a lot of mental strength because sometimes you'll think, 'Oh my gosh, how am I ever going to be able to sleep out here for two nights?' And then you look back and it wasn't so bad."
The FTX training days were a long and grueling schedule, but Burkhardt and Gulotti said it was an experience that they learned a lot from and enjoyed. 
"The medical stuff we learned stood out to me because I want to be a medical corps officer," said Burkhardt. "Yes, the days were long, going from 6 a.m. to 11 p.m. every day, but it didn't even faze me because I was enjoying everything and learning a lot, so I was taking it all in."
"The land navigation stood out to me. You're given a map and coordinates where you have to plot them and figure out how far away they are, and then you have to actually go out onto the land to find those points," added Gulotti. "You're learning new skills and how to lead people, so you're like a sponge soaking up all the information that you're given."
Burkhardt and Gulotti added that the leadership skills learned in the Army ROTC program have also translated well to their respective sports.
"In ROTC we are taught about different leadership styles. We learn that people react differently to different styles of leadership and coaching,'" said Gulotti. "Some learn better when you yell at them and others react better when you talk to them nicely, so you learn how to lead and work as a team with people who are different from one another." 
"I learned leadership qualities being in both. In the beginning of my leadership within field hockey I was a little shy but becoming comfortable with my teammates made me more confident with people in ROTC too," added Burkhardt. 
Perseverance conquers
Beyond the mental and physical challenges of being both a student-athlete and an Army ROTC cadet,  Burkhardt and Gulotti said that these experiences have helped them grow and continue to persevere at Temple. 
"Persevering has helped me. I always want to push forward, knowing that I could do it if I just put my mind to it and discipline myself enough to get through those hardships," said Burkhardt. "I remind myself that you're gonna get through it and you'll be fine."
"I'm surrounded by people that love what they do and individuals who want to push each other to be the best," added Gulotti. "Our lieutenant actually told us during my first days of class that with leadership it's not a rank, it's an honor and a choice."